Puff Pastry Tart with Cream Cheese
Cream cheese tart is the perfect dessert for any occasion, and it's a personal favorite of mine and my family's.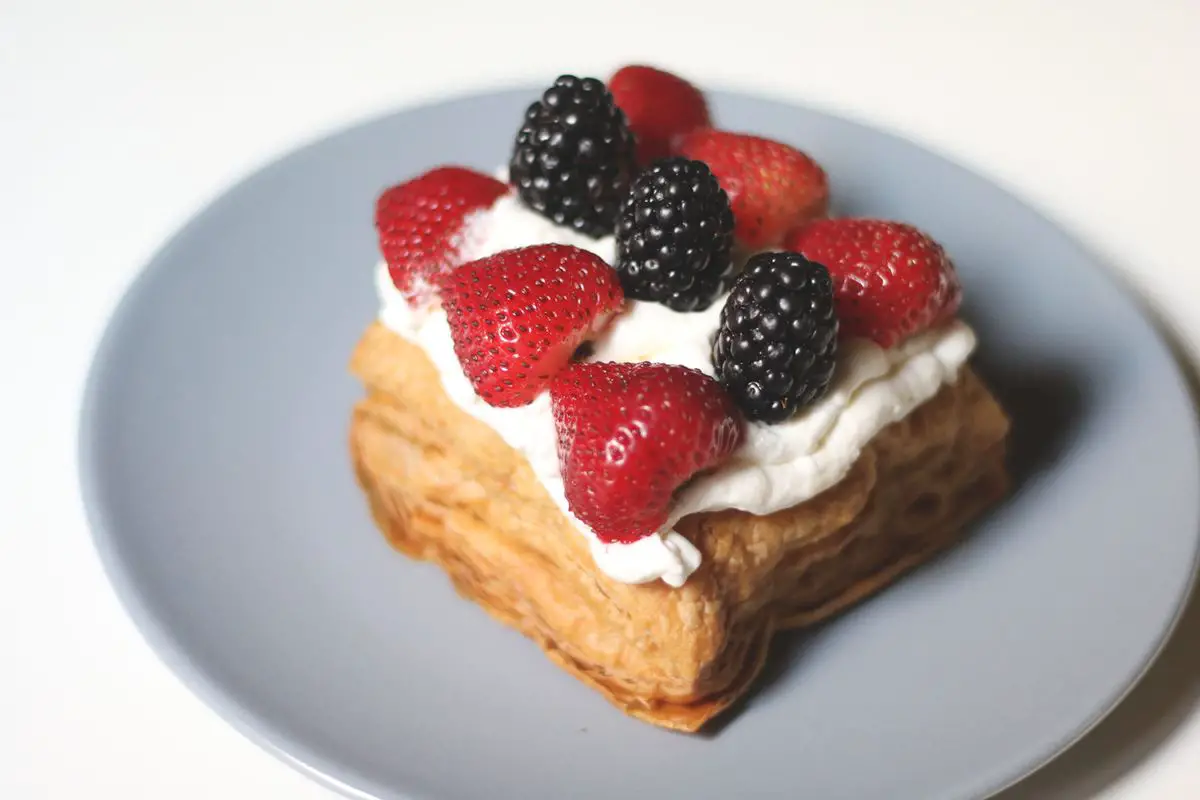 Cream cheese tart is the perfect dessert for any occasion, and it's a personal favorite of mine and my family's. Not only is it delicious, but it's also incredibly easy to make. This recipe is a must-try, and it's the perfect way to incorporate the health benefits of berries into your diet.
Berries are rich in antioxidants and vitamins, making them essential for maintaining good health. In fact, they even play a role in supporting mental health! I've talked about the many benefits of berries in my previous posts, so I won't go into detail here. Suffice it to say that adding berries to your cream cheese tart will make it even better for you.
To make this simple yet elegant dessert, you'll need just three ingredients. First, you'll need a buttery, crisp puff pastry. This can be found at any supermarket, or you can use frozen puff pastry if you prefer. Just be sure to defrost it in the refrigerator overnight.
Next, you'll need a creamy filling made with cream cheese and whipping cream. If you prefer, you can also use mascarpone cheese instead of cream cheese. Finally, you'll need fresh fruit to top your tart. While I used strawberries and blackberries in this recipe, you can use any fruits you like.
Here are a few tips for making the perfect cream cheese tart. First, you can make the puff pastry squares ahead of time, several hours before you plan to serve them. You can also make the cream cheese filling and store it in the refrigerator separately. Just be sure to top the puff with the cream and fruit shortly before serving, or the cream will soften the pastry.
So give this cream cheese tart recipe a try, and let me know what you think in the comments below!
You may also like Vegetable Puff and Blueberry Puff Pastry Tarts.
Puff Pastry Tart with Cream Cheese 2017-06-14 05:21:38
Puff Pastry Tart with Cream Cheese
Serves 4
Prep Time: 00:05
Cook Time: 00:40
Total Time: 00:45
Ingredients
4 store bought puff pastry squares, defrosted
1 egg lightly beaten to glaze
For cream filling:
1/3 cup cream cheese (80 g)
1/2 cup cold heavy whipping cream
1&1/2 tbsp white sugar
1/4 tsp vanilla essence
For garnishing:
10 strawberries, sliced
12 blackberries or raspberries
Instructions
Preheat oven to 190 degree C.
Meanwhile, defrost or thaw puff pastry squares.
Place them on a greased pan or on a parchment lined baking sheet.
By using brush, brush the top of the puff pastry with the egg wash.
Place the pan into the preheated oven and bake it for about 35 to 40 mins or until puffed and golden brown.
Remove from the oven and place on a wire rack to cool.
For cream filling:
Meanwhile, in a bowl of an electric stand mixer or by using hand mixer, beat the cream cheese until smooth.
Then add heavy cold whipping cream, sugar and vanilla essence, beat until soft peak forms.
Once the baked puff pastry squares are cooled, spread or pipe the cream onto them and top with strawberry slices and blackberries.
If you like , you can dust the powdered sugar on top.
Serve immediately or refrigerate.
By Santhi Therese
The Indian Claypot
You may also like my other Healthy Snacks posts and recipes like Easy Bruschetta Recipe, Sweet Paniyaram with Idli / Dosa Batter, Oats Chocolate Brownie Recipe, Ragi Aval Sweet Kozhukattai, Instant Wheat Flour Sweet Appam, Mysore Bonda Recipe, Pottukadalai / Fried Gram Murukku Recipe, Wheat Butter Cookies, Fried Gram / Pottu Kadalai Urundai, Baked Chakli/Murukku, Green Gram Payasam/Kheer, Black Gram Laddu, Moong Dal Susiyam, Banana Oatmeal Cookies, Microwave Chocolate Mug Cakes, Homemade Peanut Butter, Vazhaipoo Vadai, Eggless Raspberry Pudding, Raspberry Bread, Coconut Sweet Bun .