Strawberry Soup
How to Make Delicious and Refreshing Strawberry Soup at Home
How to Make Delicious and Refreshing Strawberry Soup at Home
If you're a fan of strawberries, you're in for a treat with this delicious and refreshing Strawberry Soup recipe! This chilled soup is a great option for hot summer days and is perfect for those who are looking for a healthy and unique way to enjoy their favorite fruit.
To make this soup, start by processing medium-sized chunks of strawberries in a food processor until they are slightly broken up. You don't want to over-process them as you would for a smoothie. If you don't have a food processor, simply mash the strawberries with sugar using a potato masher or fork.
Next, add some Greek yogurt to the mixture to give it a smooth texture, and add some tanginess with freshly squeezed orange juice. Adjust the amount of sugar to your liking and consider adding some finely chopped strawberries for extra texture.
Once the soup is mixed, chill it in the refrigerator for a few hours before serving. You can also add milk or cream instead of orange juice and sour cream instead of yogurt.
For garnish, top the soup with whipped cream or sour cream and fresh strawberries. This recipe is perfect for those who want a unique way to enjoy strawberries and is sure to be a hit with your family and friends!
Try this delicious and refreshing Strawberry Soup recipe at home and let us know what you think in the comments!
You may also like Strawberry Smoothie and Strawberry Smoothie Pops.
Strawberry Soup 2018-04-24 06:31:34
Strawberry Soup
Serves 3
Prep Time: 00:15
Total Time: 00:15
Ingredients
1 pound (450 g) Fresh Strawberries
1/4 cup White Sugar
1/3 cup (80g) Yogurt
1/2 cup Fresh Orange Juice
1 tsp Fresh Lemon Juice
Sour Cream or Whipped Cream
Fresh Strawberries
Instructions
Wash and then cut the strawberries in half or quarters if using large sized strawberries.
Place them into your food processor and pulse until just to break up the strawberries.
Then add the sugar, yogurt, lemon juice and orange juice and process just until combined.
Pour it into the serving bowl and finally, garnish it with whipped cream or sour cream and fresh strawberries.
You can serve immediately or chilled.
By Santhi Therese
The Indian Claypot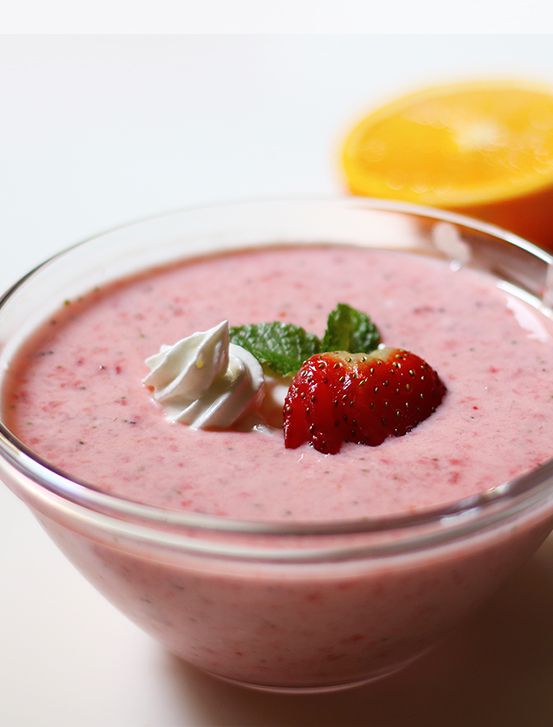 You may also like my other Healthy Drinks posts and recipes like Carrot Beetroot Juice, Masala Chai Recipe, Raspberry Lemonade, Strawberry Milkshake, Pomegranate Lemonade, Peach And Mango Smoothie, Peach And Strawberry Smoothie, Indian Gooseberry Juice (Healthy Drinks), Strawberry And Pomegranate Smoothie .