Dry fruits Kozhukattai
Delightful and Healthy: Dry Fruits Kozhukattai - A Unique Breakfast Option!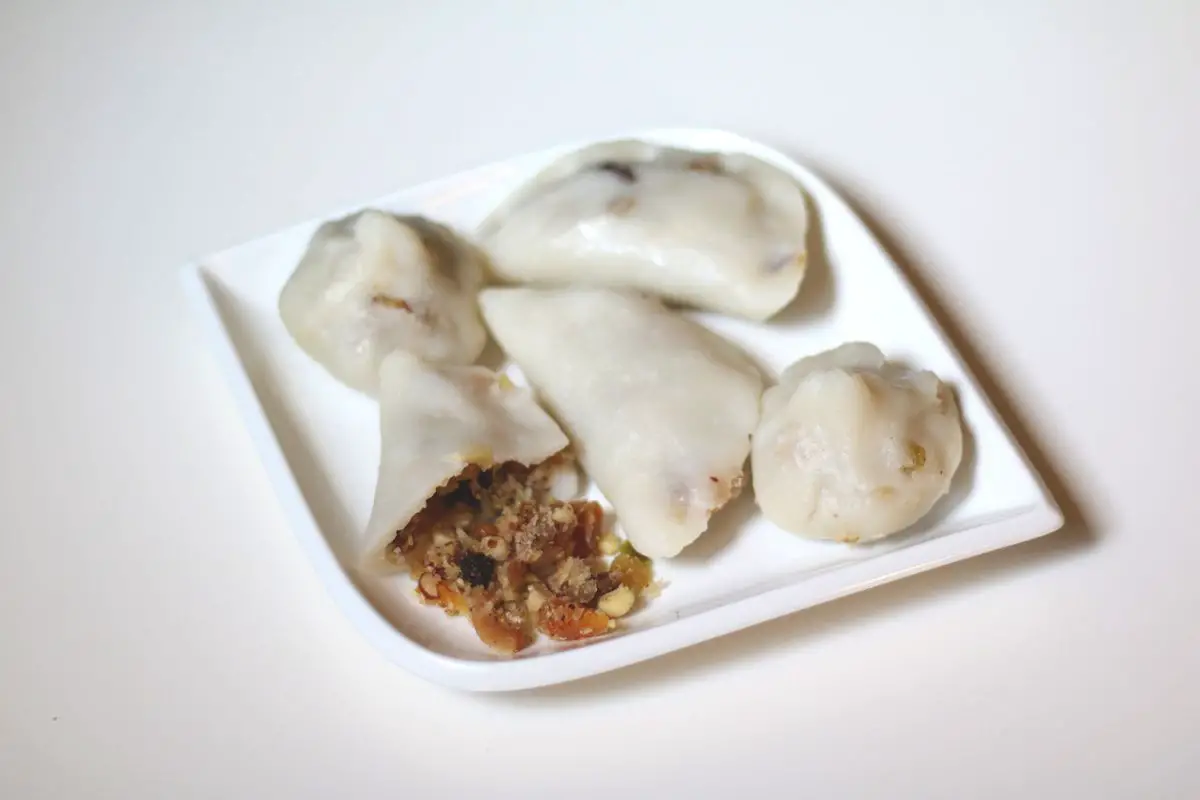 Delightful and Healthy: Dry Fruits Kozhukattai - A Unique Breakfast Option!
Discover the flavors of South India's beloved breakfast dish, Kozhukattai, with a twist! Traditionally made with coconut and jaggery stuffing, I decided to venture into new territory by trying out a delicious dry fruit filling. The result? Dry Fruits Kozhukattai - a delectable and nutritious treat that will leave you wanting more. If you've already tried my 'Paal Kozhukattai' (Milk Kozhukattai) recipe, this variation will add another level of excitement to your culinary repertoire. I invite you to embark on this gastronomic journey, giving Dry Fruits Kozhukattai a try, and sharing your thoughts in the comments below!
Dry Fruits kozhukattai 2017-08-24 05:01:21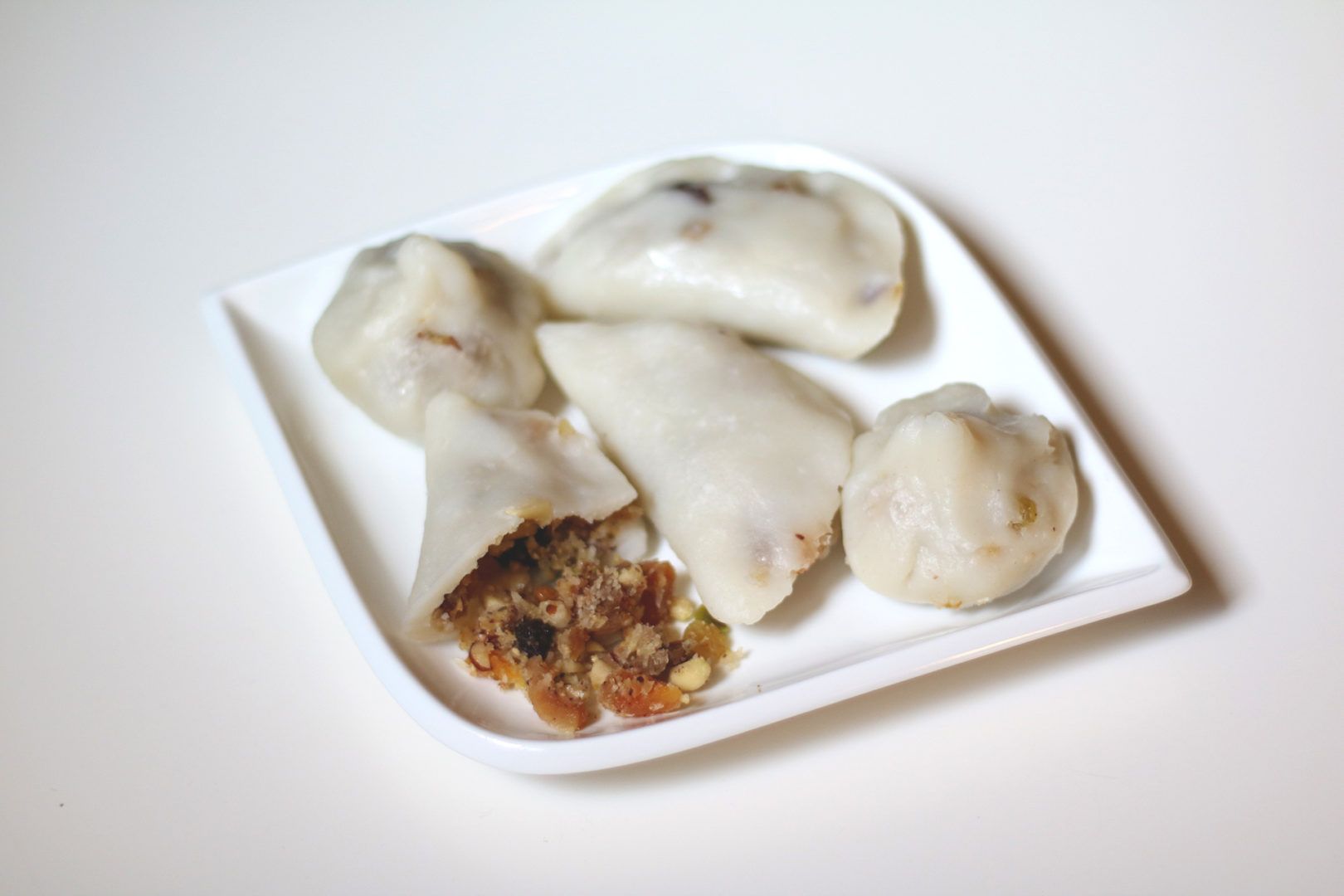 Dry fruits Kozhukattai
Serves 5
Prep Time: 00:30
Cook Time: 00:20
Ingredients
1 cup store bought idiyappam rice flour
1&1/2 cup water
1 tsp oil
salt as needed
For Stuffing:
1/2 cup grated coconut
1 handful fried gram (optional)
1/4 cup chopped mixed nuts (cashews, pistachios and almonds)
1/4 cup chopped dry fruits (dates, apricot, fig, raisins and cherries)
1 to 2 tbsp -according to your taste sugar
3 or 1/4 tsp cardamoms or cardamom powder
Instructions
How to make dough:
Dry roast the rice flour for one minute or until the flour becomes hot over low heat. Remove from the heat and keep it aside.
Then heat a pan with water, over medium heat. When the water starts to boil, add oil, salt and rice flour. (reduce the heat to low) Stir continuously with the back of the ladle to avoid lumps. Cook until the dough becomes like a ball.
Then remove from the heat, transfer to a bowl and let it cool for some time. Now grease your hand with oil.
Once the dough is cooled, knead once until a smooth dough.
Then divide the dough into 10 equal parts and make small balls. Cover them with a damp cloth and keep it aside.
How to make stuffing:
Place the fried gram and cardamoms in a blender and grind until a coarse powder. In a wide bowl, add grated coconut, fried gram powder, chopped nuts, chopped dry fruits and sugar, mix well until incorporated.
How to make kozhukattai:
Now grease your hand with oil, place a ball of dough on your palm and flatten it into a small circle until 8 cm in diameter.
Then place 1 tbsp of stuffing in the center or at one side and fold it with other side and press the corners properly. Repeat the same process for remaining flour balls also.
Meanwhile, heat an idli pan or steamer with enough water. Arrange all these kozhukattais on a greased idli plate and steam cook for about 12 to 15 mins or until fully cooked. Then remove from the heat and let it cool for some time and enjoy!
By Santhi Therese
The Indian Claypot
You may also like my other Healthy Breakfast posts and recipes like Appam Recipe, Thinai Sakkarai Pongal /Foxtail Millet Sweet Pongal, Healthy Breakfast Recipe, Kara Kuzhi Paniyaram with Idli/Dosa Batter, Oats Chocolate Brownie Recipe, Healthy Aval/Poha/Red Rice Flakes Breakfast Recipe, Ragi Aval Sweet Kozhukattai, Ragi Paal Kozhukattai, How To Make Soft Layered Chapati, Soft and Chewy Granola Bars, Vendhaya Kali, Strawberry Apple Smoothie, Pasi Payaru Aval Pongal, Homemade Granola Recipe, Moringa Adai Dosa Recipe, Ragi Puttu, Green Gram Payasam/Kheer, Whole Wheat Bread Recipe, Kavuni Arisi Sweet, Banana Oatmeal Cookies .