Homemade Granola Recipe
Homemade Granola is the perfect breakfast recipe that is healthy, comforting and delicious.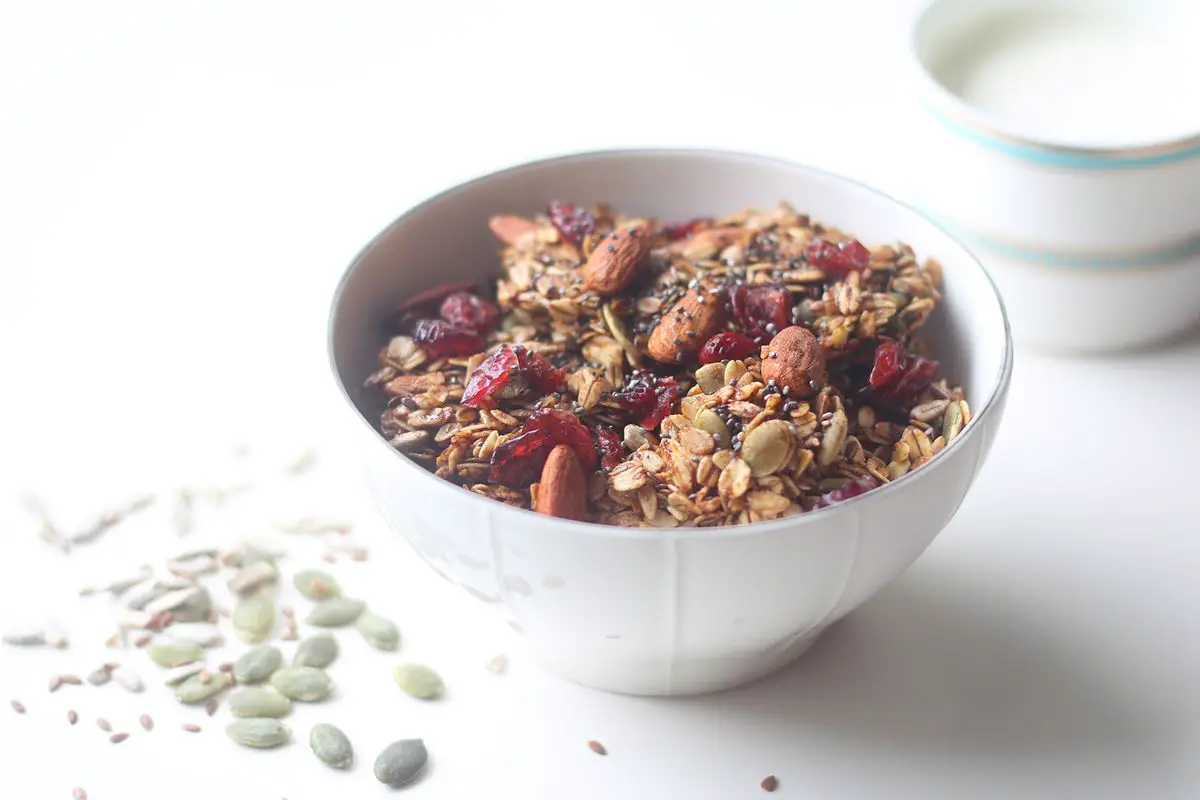 Homemade Granola Recipe with video. Homemade Granola is the perfect breakfast recipe that is healthy, comforting and delicious. The rich caramelized flavors of the honey on oats mixed with a variety of crunchy and delicious nuts and seeds together makes one of the best recipes for not just as your breakfast, but for a healthy snack in the evening as well! Having this home made granola with warm milk gives you warm feeling that can not be recreated by any other meal. You can also serve it as a snack with Greek Yogurt. Most of the store bought granola is high in sugar and it has unhealthy fats and oils.
This healthy homemade granola recipe is one of the best breakfast recipes in my blog and that is exactly why my family and I have this recipe every day. So if you want to try it out and put into your own everyday breakfast menu as well, please go ahead and let us know how it came out! Enjoy!

Furthermore, I would like to share the health benefits of Oats, Pumpkin Seeds, Sunflower Seeds, Flax Seeds, Almonds and Chia seeds. Firstly, Oats contain both soluble and insoluble fiber. Soluble fiber forms a viscous gel that helps to lower cholesterol and stabilize blood glucose levels. The insoluble fiber in oats helps provide a "moving" experience by curtailing constipation and improving intestinal health. Oats can also keep you feeling fuller longer, thereby helping you control your weight.
Pumpkin Seeds: They may be small, but pumpkin seeds are little powerhouses of nutrients and health benefits. Like nuts, pumpkin seeds are a great source of protein and unsaturated fats, including omega-3 and omega-6 fatty acids. They also contain a good range of nutrients, including iron, calcium, B2, folate and beta-carotene, which the body converts into vitamin A.
Sunflower seeds: They are rich in Vitamin E. The seeds also contain anti-inflammatory properties that can iron out the symptoms of cold and cough. They are also rich in dietary fiber that keeps the stomach sated, eases digestion of foods, and curbs excessive hunger pangs. Sunflower seeds are known for their high magnesium. Magnesium also possesses nerve-calming properties and may also help in managing blood pressure levels.
Flaxseed: It contains a plant-based type of omega-3 fatty acid called alpha-linolenic acid. Research shows that these fats may also help fight osteoporosis by reducing the risk of bone fractures, and offering modest protection against type 2 diabetes.
Almonds: It helps you to live healthily. They lower LDL (bad) cholesterol and are packed with protein, vitamin E, magnesium and potassium, which helps oxygen and nutrients flow more freely through the blood. Furthermore, almonds are a bone-building food. They are also considered one of the best 'Brain Foods' because it contains riboflavin and L – carnitine which helps to prevent cognitive decline.
Finally, Chia seeds are good sources of omega-3 fatty acids, fiber, antioxidants, iron and calcium. Just one ounce of chia seeds also provides 10 grams of fiber. It is almost half the daily recommendation for women over 50 years.
Finally, you may also like my other healthy breakfast recipes like Whole Wheat Bread Recipe, Multi grain bread recipe, Healthy Bread Pizza, Whole wheat mixed berry bread, Lemon Blueberry Bread,Raspberry bread, Peanut Butter Recipe, Ragi Roti, Homemade Strawberry Jam, Soft Chapati recipe, Ven Pongal, Steel-cut Oats Porridge, Eggless Buttermilk Pancakes, Whole wheat pancake, Aloo Gobi Paratha, Turkey Frittata, Fruit and Nut Chocolate Bars, Stuffed Palak Paneer Paratha and Whole Wheat Banana Bread.
Homemade Granola Recipe 2020-10-15 05:13:03
Homemade Granola Recipe
Serves 15
Prep Time: 00:15
Cook Time: 00:40
Total Time: 00:55
Ingredients
4 cups Old-fashioned rolled oats
1/2 cup Raw sunflower seeds
1/2 cup Raw pumpkin seeds
1/4 cup Flax seeds
1/2 cup Almonds
25 grams Brown sugar
1/2 tablespoon Ground cinnamon
1/4 teaspoon Salt
1/4 cup Extra virgin olive oil or coconut oil
1/4 cup Honey
1/2 cup Dried fruits
1 tsp for 1 serving Chia seeds
Instructions
Preheat oven to 160 degrees C and place rack in the center of the oven.
Then line a baking sheet with parchment paper.
In a small bowl, stir together the oil and honey until well combined.
In a large bowl combine the rolled oats, nuts, seeds, brown sugar, ground cinnamon, and salt.
Then pour the oil-honey mixture over the dry ingredients and mix well until all the dry ingredients are coated with the liquid.
Spread onto the prepared baking sheet evenly by using a spatula and bake for about 40 - 45 minutes or until golden brown.
After 20 minutes, take it out of the oven and stir well so that the mixture browns evenly.
Place on a wire rack to cool. It seems to be sticky when it is removed from the oven but it will become crisp and dry as it cools.
Once the granola has completely cooled, store in an airtight container or plastic bag in the refrigerator. It will keep for several weeks.
Once the granola has cooled completely, add cranberries and chia seeds.
By Santhi Therese
The Indian Claypot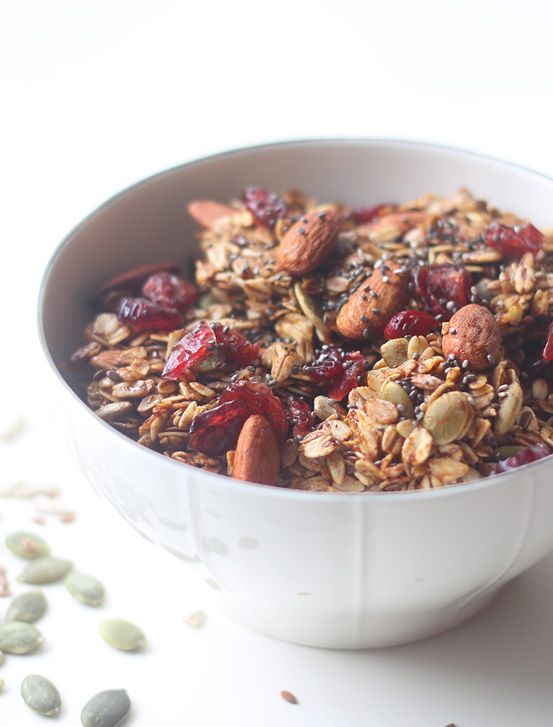 You may also like my other Healthy Breakfast posts and recipes like Appam Recipe, Thinai Sakkarai Pongal /Foxtail Millet Sweet Pongal, Healthy Breakfast Recipe, Kara Kuzhi Paniyaram with Idli/Dosa Batter, Oats Chocolate Brownie Recipe, Healthy Aval/Poha/Red Rice Flakes Breakfast Recipe, Ragi Aval Sweet Kozhukattai, Ragi Paal Kozhukattai, How To Make Soft Layered Chapati, Soft and Chewy Granola Bars, Vendhaya Kali, Strawberry Apple Smoothie, Pasi Payaru Aval Pongal, Moringa Adai Dosa Recipe, Ragi Puttu, Green Gram Payasam/Kheer, Whole Wheat Bread Recipe, Kavuni Arisi Sweet, Banana Oatmeal Cookies, Homemade Peanut Butter .