Eggless Blueberry Pancakes
Looking for a fluffy, light, and soft pancake recipe that's both eggless and made with whole wheat? Look no further than these delicious eggless blueberry pancakes!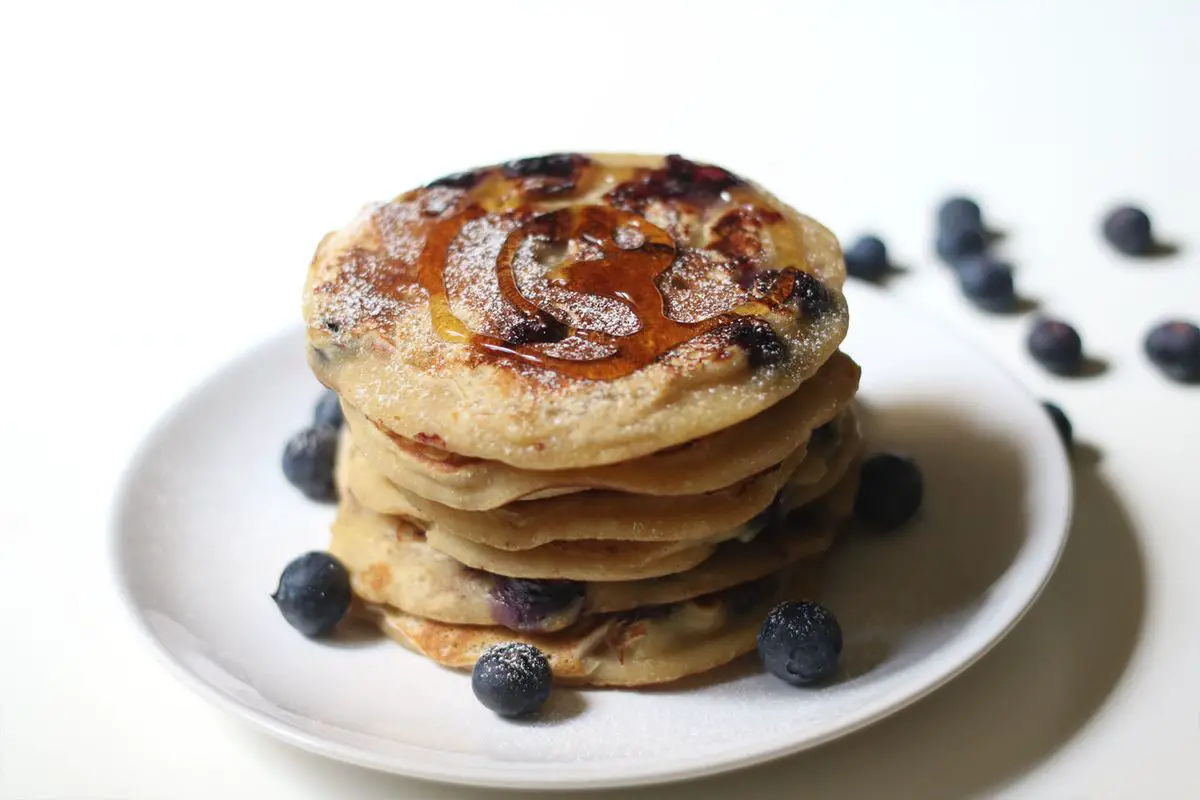 Looking for a fluffy, light, and soft pancake recipe that's both eggless and made with whole wheat? Look no further than these delicious eggless blueberry pancakes!
Despite being made with whole wheat and without eggs, these pancakes are incredibly delicious and satisfying. You won't even believe that they're healthy!
Give this recipe a try and let us know how it turns out. We're confident that you'll love these eggless blueberry pancakes just as much as we do.
If you're looking to make the perfect batch of pancakes, we have a few tips to share. Firstly, you can use 1 cup of whole wheat flour and 1/4 cup of all-purpose flour, or you can use 1 and 1/4 cups of whole wheat flour. Secondly, if you prefer a sweeter pancake, feel free to add more sugar.
To cook the perfect pancake, we recommend brushing a non-stick pan with oil or butter over moderately high heat until hot but not smoking. Then reduce the heat to medium and pour 1/4 cup of batter into the hot pan. Cook until bubbles appear on the surface and the bottom becomes golden. Then flip the pancake with a spatula and cook until the bottom becomes golden and it is cooked through. Lower the heat if the pancake browns too quickly and the inside is not set. Finally, brush some oil between batches to ensure that your pancakes turn out perfectly every time.
You may also like my other pancake recipes buttermilk pancakes, baked raspberry pancakes and banana pancakes. If you are a crepe person, then be sure to check out Crepes With Mixed Berry Sauce. Speaking of berries try out my favorite Oatmeal and Blueberry Pancakes!
Eggless Blueberry Pancakes 2018-06-29 06:20:11
Eggless Blueberry Pancakes
Serves 3
Prep Time: 00:10
Cook Time: 00:15
Total Time: 00:25
Ingredients
1 cup whole wheat flour
1/4 cup all purpose flour
1 teaspoon baking powder
1 tbsp sugar
1/4 tsp salt
1 cup (240ml) low fat milk
2 tbsp olive oil
2 tbsp water
1 cup blueberries
to grease the pan oil or butter
Instructions
In a wide bowl, mix together the flours, baking powder, salt and sugar, until well combined.
In a separate bowl, combine milk, oil and water, mix well until incorporated.
Make a well in the center of the dry ingredients and then pour in the milk mixture, all at once and stir gently until combined.
Also, add blueberries and mix gently.
Meanwhile, heat a frying pan over medium-high heat until a few sprinkle of water dropped on the pan splatter.
Then grease the pan with oil or melted butter and pour 1 ladle of batter onto the hot pan.
When the bottom of the pancake becomes brown and bubbles start to appear on the top surface of the pancake, turn over.
Cook until lightly browned. Repeat the same process for the remaining batter also.
Decorate the eggless blueberry pancakes with honey or maple syrup.
By Santhi Therese
The Indian Claypot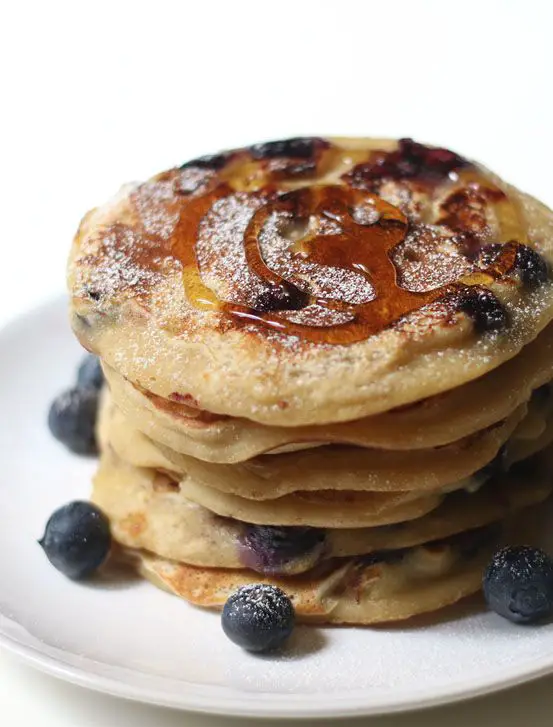 You may also like my other Healthy Breakfast posts and recipes like Appam Recipe, Thinai Sakkarai Pongal /Foxtail Millet Sweet Pongal, Healthy Breakfast Recipe, Kara Kuzhi Paniyaram with Idli/Dosa Batter, Oats Chocolate Brownie Recipe, Healthy Aval/Poha/Red Rice Flakes Breakfast Recipe, Ragi Aval Sweet Kozhukattai, Ragi Paal Kozhukattai, How To Make Soft Layered Chapati, Soft and Chewy Granola Bars, Vendhaya Kali, Strawberry Apple Smoothie, Pasi Payaru Aval Pongal, Homemade Granola Recipe, Moringa Adai Dosa Recipe, Ragi Puttu, Green Gram Payasam/Kheer, Whole Wheat Bread Recipe, Kavuni Arisi Sweet, Banana Oatmeal Cookies .