Hot Cross Buns
With Good Friday around the corner, it's time to indulge in the traditional and delicious Hot Cross Buns.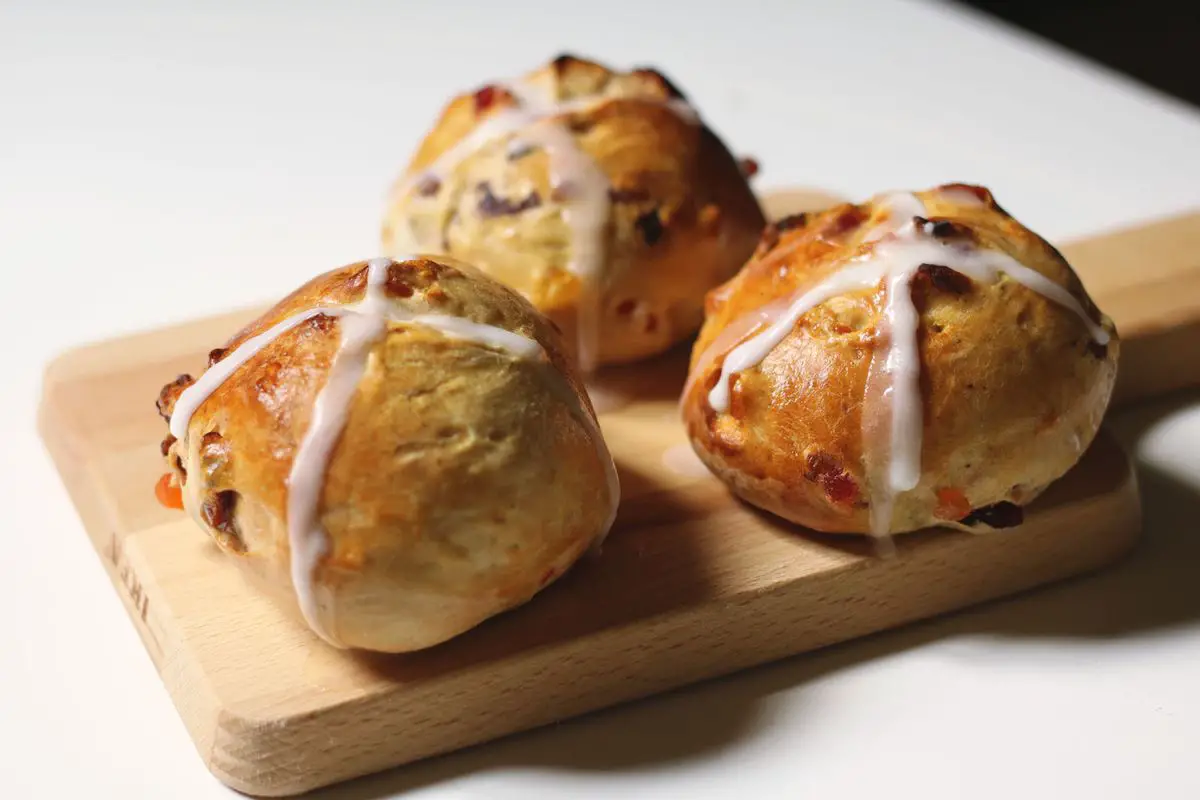 Traditional Hot Cross Buns Recipe for Good Friday
With Good Friday around the corner, it's time to indulge in the traditional and delicious Hot Cross Buns. These buns, marked with a cross on the top, are usually made with currants or raisins and are traditionally eaten on Good Friday. They are easy to make and will definitely tantalize your taste buds. So, give this recipe a try and let us know your thoughts in the comments section.
Hot Cross Buns can be served plain or with butter, and the cross marked on top symbolizes the Cross of Christ and the Crucifixion. To make the perfect Hot Cross Buns, we have some suggestions for you. Firstly, add dry yeast and sugar to lukewarm milk (around 100 degrees F or 38 degrees C) and let it sit for 5-10 minutes to activate. It's important to use lukewarm milk to activate the yeast as hot milk can kill it.
Secondly, try to use all the spices mentioned in the recipe for a special and aromatic flavor. While we've used light brown sugar in the dough, you can replace it with white sugar. If it's difficult to find candied fruits, you can use currants or a combination of dried cranberries and cherries.
Although making Hot Cross Buns is not difficult, it takes around 2-3 hours as the dough needs to rise twice. Once the dough has risen, bake the buns in a hot oven until browned. After they cool, pipe a cross on top using a glaze made from powdered sugar and milk.
Give this traditional Hot Cross Buns recipe a try and enjoy the delicious flavors and aromas.
You may also like Spicy Potato Buns.
Hot Cross Buns 2018-03-23 10:45:17
Hot Cross Buns
Serves 6
Prep Time: 03:00
Cook Time: 00:15
Total Time: 03:15
Ingredients
240 ml warm milk
8 grams active dry yeast
1/2 tsp white sugar
455 to 520 g all purpose flour
55 g light brown sugar
1/4 tsp cloves powder
1 tsp cinnamon powder
1/4 tsp dry ginger powder
1/2 tsp salt
1/4 tsp nutmeg powder
70 g (5 tbsp) unsalted butter
1 large egg
1/3 cup candied fruit
1/3 cup raisins or currants or dried cherries
1 tsp oil
1 egg
1 tbsp milk
60 g powdered sugar
Instructions
Heat milk until lukewarm. Then add yeast and sugar, mix it well and set aside for 10 mins or until the yeast is foamy.
Meanwhile, in a wide bowl or in the bowl of your electric mixer, with the paddle attachment, combine 3 & 1/2 cups of flour, all spices, sugar and salt.
Once the yeast is foamy, gradually add to the flour mixture and beat until the dry ingredients are moistened.
Then add melted butter and beaten egg, mix well until incorporated.
Change the dough hook and gradually add the candied and dried fruits, knead the dough continuously until the dough is silky smooth and elastic. Add more flour if needed.
Place the dough in a lightly greased bowl and apply 1 tsp of oil over the dough and cover the bowl with plastic wrap and place in a warm place for about 1&1/2 to 2 hours or until it has doubled in size.
After 2 hours, gently punch it down to release the air and divide it into 12 equal parts.
Shape it like a small round ball and place them on a parchment-lined baking tray.
Place 3 buns in a row with enough space as they will double in size while baking.
Apply egg wash over the buns by using a brush.
Cover the tray with lightly greased plastic paper and set it aside for about 1 hour or until it has doubled in size.
Meanwhile, preheat the oven to 200 degrees C.
Again brush the top of the buns with the egg wash, and cut a cross on top of the buns by using a sharp knife or kitchen scissors.
Place the tray in the preheated oven and bake it for about 15 mins until a toothpick inserted in the middle comes out clean.
Remove from the oven and place on a wire rack to cool completely before glazing.
Combine the powdered sugar and milk and mix until smooth.
Place the glaze in a small plastic bag and cut the edge of the bag and pipe a cross on the top of each bun.
By Santhi Therese
The Indian Claypot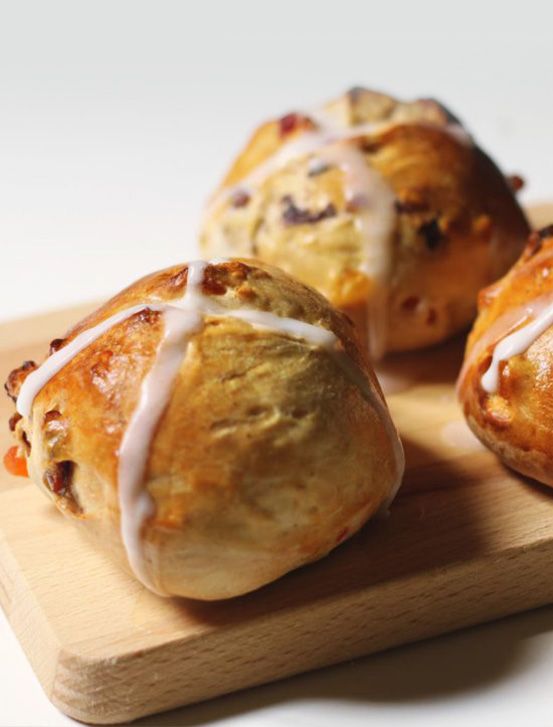 You may also like my other Healthy Breakfast posts and recipes like Appam Recipe, Thinai Sakkarai Pongal /Foxtail Millet Sweet Pongal, Healthy Breakfast Recipe, Kara Kuzhi Paniyaram with Idli/Dosa Batter, Oats Chocolate Brownie Recipe, Healthy Aval/Poha/Red Rice Flakes Breakfast Recipe, Ragi Aval Sweet Kozhukattai, Ragi Paal Kozhukattai, How To Make Soft Layered Chapati, Soft and Chewy Granola Bars, Vendhaya Kali, Strawberry Apple Smoothie, Pasi Payaru Aval Pongal, Homemade Granola Recipe, Moringa Adai Dosa Recipe, Ragi Puttu, Green Gram Payasam/Kheer, Whole Wheat Bread Recipe, Kavuni Arisi Sweet, Banana Oatmeal Cookies .