Mushroom Biryani
Celebrate this Diwali with a delicious and healthy vegetarian dish - Mushroom Biryani!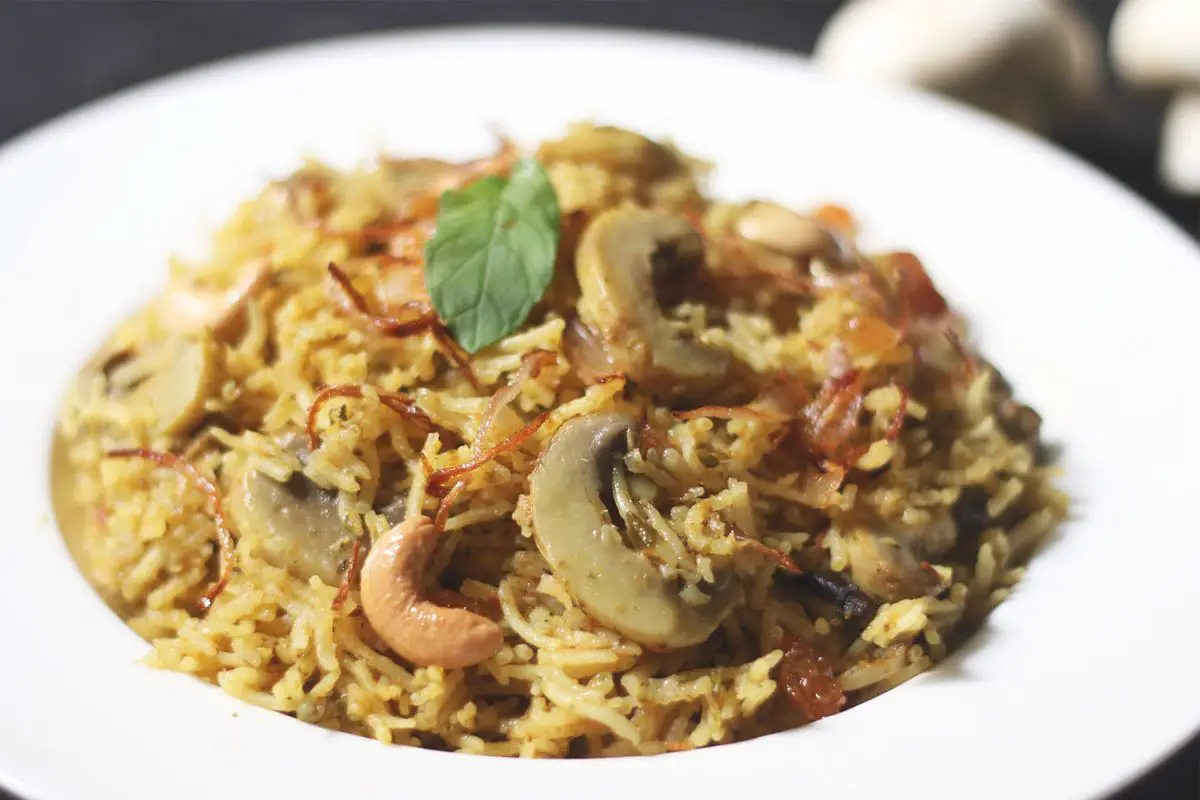 Celebrate this Diwali with a delicious and healthy vegetarian dish - Mushroom Biryani! Not only is mushroom rich in vitamin D, but this biryani is also bursting with flavor. Whether you're a vegetarian or just looking for a new dish to try, this mushroom biryani is the perfect addition to your menu.
To make the perfect mushroom biryani, start by selecting good quality mushrooms. They should be firm and plump, without any slime or spots. Wipe each mushroom with a damp cloth or paper towel, and avoid soaking them in water as they will absorb it.
Next, soak the basmati rice for 30 minutes before cooking. This helps to evenly cook the rice and speeds up the process. You can also use seeraga samba rice, a traditional rice used in many south Indian biryanis.
When cooking the biryani, check the salt and spice levels by tasting the mixture before adding the rice. Don't worry if it tastes a little too salty or spicy - the rice will absorb the flavors as it cooks.
This mushroom biryani is also perfect for packing in a lunchbox for kids. Try it out and let us know what you think in the comments! And if you're looking for more biryani recipes, check out our Hyderabadi Chicken Dum Biryani, Prawn Biryani, Vegetable Biryani, and Mutton Biryani. Happy Diwali!
Mushroom Biryani 2016-10-03 07:53:35
Mushroom Biryani
Serves 3
Prep Time: 00:10
Cook Time: 00:40
Total Time: 00:50
Ingredients
1&1/2 cup Basmati Rice
1/2 tsp Salt
3 cups Water
200 gm Button Mushroom
1 large sized (100 gm) Onion
1 big sized (100 gm) Tomato
2 tsp Ginger and Garlic Paste
1/2 tsp Red Chili Powder
1 tsp Garam Masala Powder
1/4 tsp Turmeric Powder
1/2 tsp Salt
one full tablespoon Yogurt
1 tbsp (I used olive oil) Oil
1 tsp Ghee
2 Green Chillis
1/4 cup Mint Leaves
1/4 cup Coriander Leaves
1/2 tsp Fennel Seeds
3 Cloves
1 Cardamon
2 - 1 inch Cinnamon Sticks
1/2 Bay Leaf
10 Cashew Nuts
15 Raisins
1 tbsp of finely chopped Coriander Leaves or Mint Leaves
Instructions
Clean the mushroom well and remove the stem. Then cut the onion and mushrooms lengthwise.
Place the tomatoes in a blender, blend until pureed. Then place the ingredients given under 'to grind' in a blender, and blend until coarsely without adding water.
Wash and soak the rice in water (3 cups) with salt for 30 minutes.
Heat a pan over medium heat, add oil and ghee. When the oil heats, fry cashew nuts till they turn golden brown, then add raisins and saute until puffed. Remove them from the pan and keep it aside.
In the same pan, add one handful of onions and fry them till golden brown and keep it aside. These nuts, raisins and onions are used for garnishing.
Heat the remaining oil and saute the ingredients given under ''To temper'', until spluttering and then add the remaining onion and fry till it turns golden brown.
Then add ginger and garlic paste and saute well till the raw smell goes away.
Then add ground mint, coriander and chili mixture and fry for one minute.
Now add mushrooms and saute well for one minute.
Then add tomato puree and saute well till raw smell goes away.(close the lid)
(At this stage, switch on the electric cooker and cook the rice side by side)
When the tomato gravy becomes slightly thick, add red chili powder, turmeric powder, garam masala powder and salt. Stir well.
When it becomes thick, add yogurt and mix.
Bring the heat down to low, and cook for 5 more minutes or till the gravy separates from the oil along the sides of the pan. Remove from the heat and keep it aside.
When the rice starts to boil, add this masala to the rice and mix well.Check the salt and spice.
Close the lid and cook till the electric cooker switches to 'Keep warm'. It takes a maximum of around 10 mins.
Every 5 minutes open the lid and mix the rice gently.
When it comes to the 'Keep Warm' switch off the electric cooker, leave it for another 10 minutes. Now the Mushroom Biryani is ready to serve.
Finally, garnish the dish with nuts, raisins, fried onions and coriander leaves.
By Santhi therese
The Indian Claypot
You may also like my other Biryani Recipes posts and recipes like 8 Mouth-Watering Indian Biryani Recipes, Soya Chunks Biryani, Navratan Pulao, Prawn Biryani, Baby Corn Peas Pulao, Vegetable Biryani, Hyderabadi Chicken Dum Biryani, Mutton Biryani .