Navratan Pulao
Add a Splash of Color to Your Meal with Delicious Navratan Pulao!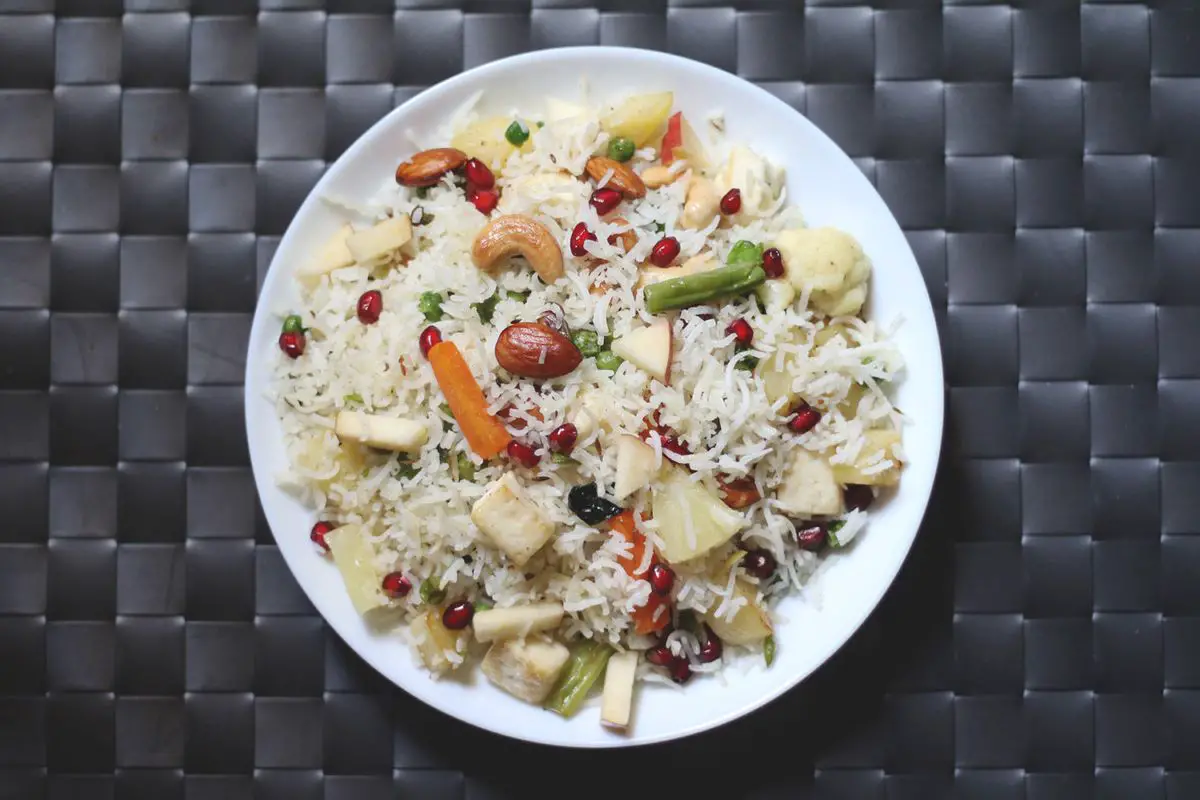 Add a Splash of Color to Your Meal with Delicious Navratan Pulao
If you're looking for a flavorful and colorful addition to your meal, Navratan Pulao is the perfect choice. This pulao is made with fresh vegetables, fruits, and nuts with mild spices, making it a treat for your taste buds and your eyes. It pairs perfectly with coconut chicken curry or vegetable coconut korma.
Here are some tips to make your Navratan Pulao even more delicious:
Wash and soak 1 cup of basmati rice for 30 minutes and cook in an electric cooker or pan until cooked through.
Don't stir-fry the paneer cubes for too long as they can become rubbery. Just 1 to 2 minutes of roasting is enough. Roast the veggies one by one in the order mentioned until they are slightly browned and crunchy. Add some oil if needed while roasting.
Try to add all the veggies, fruits, and nuts for a tasty Navratan Pulao. If you're missing some items, don't worry. The basic veggies, fruits, and nuts (carrot, peas, potato, paneer, pineapple or apple, pomegranate seeds, cashews, almonds, and raisins) are a must. Navratan means nine natural stones, which are believed to bring good luck, so try to add 9 kinds of veggies, fruits, and nuts to this pulao.
With its vibrant colors and delicious flavor, Navratan Pulao is sure to become a new favorite dish in your home. So give it a try and let us know what you think in the comments!
You may also like Navratan Korma.
Navratan Pulao 2018-04-14 03:41:32
Navratan Pulao
Serves 4
Prep Time: 15 minutes
Cook Time: 30 minutes
Total Time: 45 minutes
Ingredients
2 cups, cooked Basmati Rice
1/2 cup Paneer Cubes
1/2 cup Green Peas
1/2 cup Cauliflower florets
1 Carrot
5 nos French beans
1 Small sized Potato
2 tsp Ghee
3 tbsp, divided Oil
10 Cashews
10 Almonds
10 Pistachios
15 Raisins
to taste Salt
1/4 tsp Pepper powder
2 tsp Lemon juice
1/2 tsp Cumin seeds
1/2 Bayleaf
4 Cloves
2 Green cardamom
1 inch Cinnamon stick
2, slitted Green chilies
One handful Mint leaves
1 inch, grated or julienned Ginger
1/4 cup Pineapple slices
1/4 cup Apple slices
2 tbsp Pomegranate seeds
Instructions
Firstly, wash, peel and then chop the potatoes in small chunks.
Secondly, cut the carrot and french beans into 2 inch pieces.
Finally, blanch the cauliflower florets in hot water.
Meanwhile, heat 2 tbsp of olive oil in a pan over medium heat.
When the oil heats, fry cashews until lbrowned.
Then add almonds and pistachios as well and fry for a minute and then add raisins and fry until they puffed.
Transfer them to a plate for further use.
In the same pan, add paneer cubes and fry until slightly browned and transfer to the plate.
Then add potatoes and cauliflower florets, roast till they get slightly brown.
Also add all the veggies and roast until crunchy.
Then add some salt and pepper and give a good stir and transfer them to the plate for further use.
Now heat a pan with remaining oil and ghee, when the oil heats, fry cumin seeds and then add bayleaf, cloves, cardamoms and cinnamon stick until spluttering.
Then add green chilies, ginger julienne and mint leaves, fry for a while.
Then add cooked rice, salt, lemon juice, roasted veggies, paneer and roasted dry fruits.
Mix everything well until combined. Switch off the heat and transfer it to the serving plate.
Finally, garnish it with some pineapple slices, apple slices and pomegranate seeds.
Now tasty Navratan Pulao is ready to eat.
By Santhi Therese
The Indian Claypot
You may also like my other Biryani Recipes posts and recipes like 8 Mouth-Watering Indian Biryani Recipes, Soya Chunks Biryani, Prawn Biryani, Baby Corn Peas Pulao, Vegetable Biryani, Hyderabadi Chicken Dum Biryani, Mutton Biryani, Mushroom Biryani .