Prawn Biryani
Celebrate Diwali with a delicious and spicy Prawn Biryani that is sure to impress seafood lovers!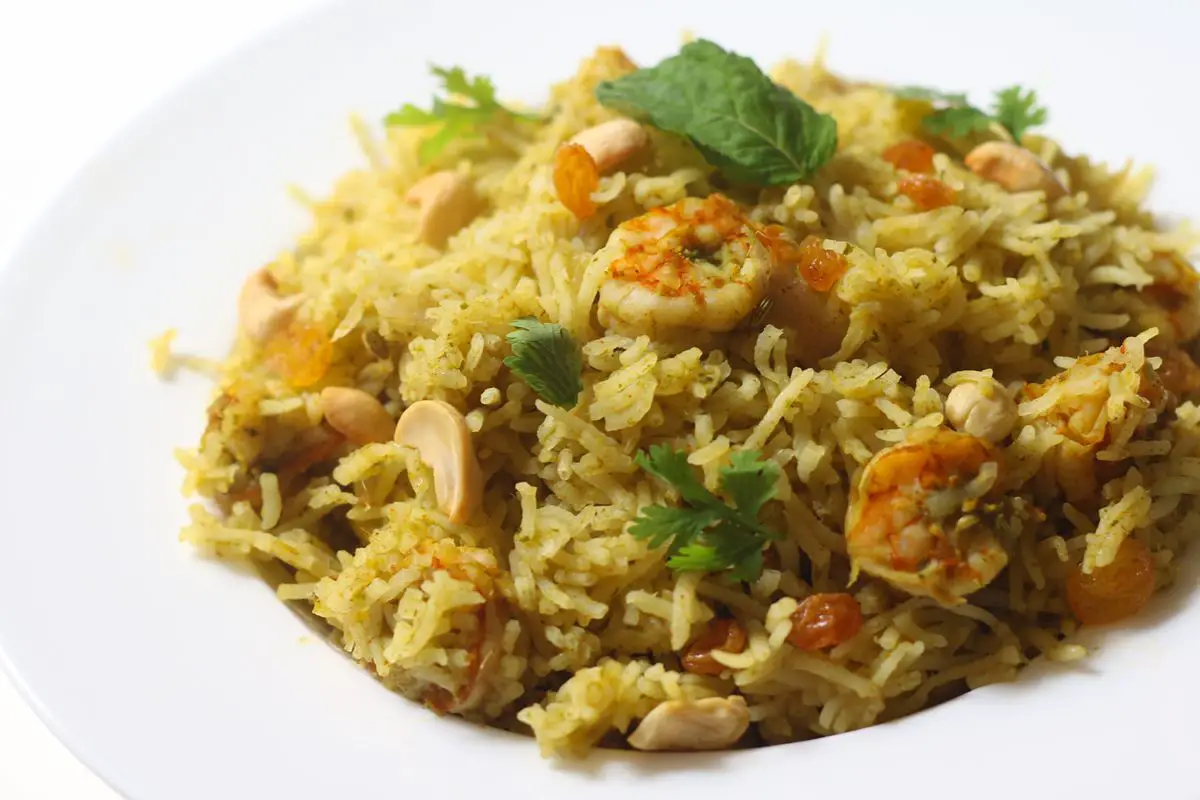 It's time to celebrate Diwali! There is Mutton Biryani & Chicken Biryani for Non-Vegetarians and Vegetable Biryani & Mushroom Biryani for all you Vegetarians in my previous posts. Check em out! So I want to prepare this spicy Prawn Biryani for SeaFood lovers for this Diwali. It is very simple and easy to make and at the same time it tastes awesome So try this biryani for this Diwali and gives a pleasant surprise to your family. Happy Diwali!!!
When you want to eat biryani and you have very less time to prepare it, Prawn biryani is the best option.  Because the cooking time is very less, unlike mutton and chicken biryanis.
To make this biryani, I used yogurt and lemon juice for the gravy instead of tomatoes, but if you prefer tomatoes, try adding some coconut milk for a great taste and flavor. For the prawns, you can use frozen ones, but be sure to soak them in water with vinegar or lemon juice and rinse them properly.
If you want to make the most of the flavor, try using ghee instead of other oils, as it will give a delicious aroma to the biryani and also reduce the spiciness.
You may also like my other seafood recipes such as Grilled Kingfish Steak, Golden Fried Prawns, Shrimp Stir Fry and Shrimp Tacos.
Prawn Biryani 2017-10-09 06:06:58
Prawn Biryani
Serves 3
Prep Time: 00:40
Cook Time: 00:30
Total Time: 01:10
Ingredients
2 cups Basmati Rice
4 cups Water
1 tsp Salt
3 tsp Oil
1 tbsp Ghee
1 large sized, thinly sliced Onion
2 tsp Ginger and Garlic Paste
1/4 tsp Turmeric Powder
1/2 tsp Red Chili Powder
2 tbsp Yogurt
1/2 tsp Garam Masala Powder
2 tsp Lemon Juice
300 g cleaned and de vained Prawns
1&1/2 tsp Ginger and Garlic Paste
1 tsp Red Chili Powder
1/4 tsp Garam Masala Powder
1/8 tsp Turmeric Powder
as needed Salt
3 to 4 Green Chillis
one handful Mint Leaves
one handful Coriander Leaves
1/2 tsp Fennel Seeds
3 Cloves
1 Cardamon
2 - 1 inch Cinnamon Sticks
1/2 Bay Leaf
10 Cashew Nuts
15 Raisins
1 tbsp finely chopped Coriander Leaves or Mint Leaves
Instructions
Cut the onion lengthwise.
Grind the ingredients given under 'To Grind' until coarselywithout adding water.
Wash and soak the rice with 4 cups of water in the pot of an electric cooker itself for 30 minutes. Also add 1 tsp of salt and keep it aside.
Marinate the prawns with the ingredients given under 'For Marination' in a bowl and set it aside for 30 mins.
Heat a pan over medium heat, add oil and ghee. When the oil heats, fry cashew nuts till they turn golden brown, then add raisins and saute for 10 seconds. Remove them from the pan and keep it aside. In the same pan, add one handful of onions and fry them till golden brown and keep it aside. These nuts, raisins and onions are used for garnishing.
Heat the remaining oil (if you want, add one more tbsp of oil) and saute the ingredients given under ''To temper''until spluttering. Then add the remaining onions and fry till it turns golden brown. Also add ginger and garlic paste and saute well till the raw smell goes away. Place the ground mint, coriander and chili mixture and fry for one minute. (At this stage, switch on the electric cooker and cook the rice side by side) Then add red chili powder, turmeric powder and garam masala powder, saute for few more seconds. Now add the marinated prawns, saute well for another 1 minute. Then add yogurt and mix well. Bring the heat down to low, and cook for 3 to 5 minutes or till the gravy separates from the oil along the sides of the pan. Remove from the heat and keep it aside.
When the rice starts to boil, add this masala to the rice and mix well. Check the salt and spice. (If the mixture tastes slightly more salty and spicy than normal then you've got the correct level of salt and spice in it. Do not worry, it will reduce as the rice starts to absorb the gravy while getting cooked.) Close the lid and cook till the electric cooker switches to 'Keep warm'. It takes a maximum of around 10 mins. Every 5 minutes open the lid and mix the rice gently. When it comes to the 'Keep Warm' switch off the electric cooker, leave it for another 10 minutes. Sprinkle the lemon juice and flip the rice gently by using a fork. Now the Prawn Biryani is ready to serve.
Garnish the dish with nuts, raisins, fried onions and coriander leaves. Enjoy!!!
By Santhi Therese
The Indian Claypot
You may also like my other Biryani Recipes posts and recipes like 8 Mouth-Watering Indian Biryani Recipes, Soya Chunks Biryani, Navratan Pulao, Baby Corn Peas Pulao, Vegetable Biryani, Hyderabadi Chicken Dum Biryani, Mutton Biryani, Mushroom Biryani .