Mutton Biryani
Are you looking for a perfect mutton biryani recipe to celebrate Diwali? Look no further!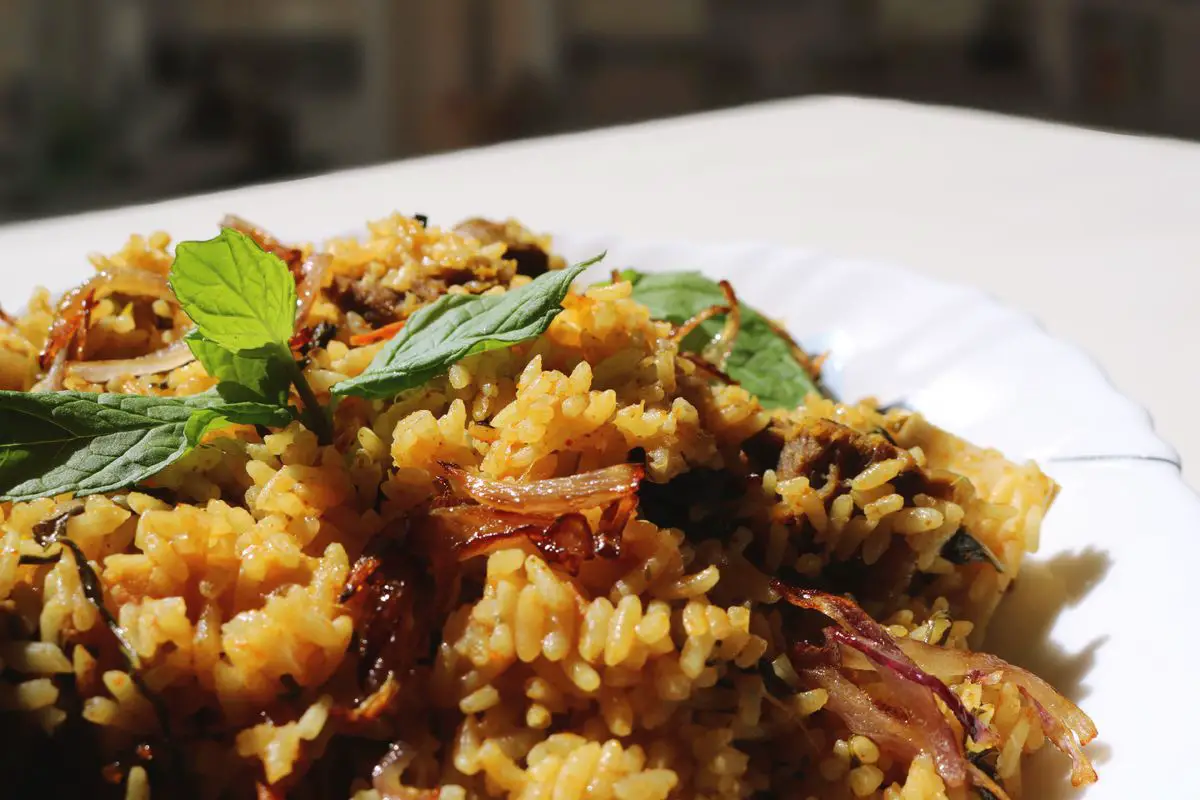 Are you looking for a perfect mutton biryani recipe to celebrate Diwali? Look no further! Follow along with my simple yet delicious recipe for a plate of steaming hot mutton biryani that will leave your taste buds craving for more. Don't forget to share your thoughts with us in the comments below!
Here are a few tips to make sure your mutton biryani is perfect. Firstly, this recipe uses seeraga samba rice instead of basmati rice, giving the biryani a unique aroma. However, you can use basmati rice as well. Secondly, there's no need to add ghee to this recipe as the fat from the mutton will suffice. Green chilies are also not used in this recipe.
Finally, if you don't have an electric cooker, don't worry! You can still make this biryani by pouring the mixture (gravy plus soaked rice with water and mutton stock) into a heavy-bottomed pan, mixing well, and bringing it to boil. Cover with a lid and dum cook for 25 minutes over low heat, and remember to place a griddle or tawa under the biryani vessel to prevent sticking. Try out this recipe and enjoy a plate of perfect mutton biryani this Diwali!
You may also like Hyderabadi Chicken Dum Biryani, Prawn Biryani, Vegetable Biryani and Mushroom Biryani.
Mutton Biryani 2016-10-17 05:32:22
Mutton Biryani
Serves 1
Prep Time: 00:10
Cook Time: 01:00
Total Time: 01:10
Ingredients
2 cups jeeraga sala rice or basmati rice
To cook mutton:
500g mutton or lamb (with bones)
1 tsp ginger and garlic paste
1/2 tsp turmeric powder
1/2 tsp salt
2 cups water
For biryani:
1&1/2 tbsp ginger and garlic paste
150g, sliced onion
150g, chopped tomatoes
2 tsp red chili powder
1 tsp garam masala powder
1 tsp salt
3 tbsp yogurt or curd
1 tsp lemon juice
1/2 cup chopped mint leaves
1/2 cup chopped coriander leaves
To saute:
4 tbsp oil
1 tsp fennel seeds
5 cloves
2 one inch cinnamon sticks
1 star anise
1 bay leaves
3 cardamom pods
Instructions
Wash and then soak the rice in 2 cups of water and keep it in the vessel of the electric cooker for 30 mins.
How to cook mutton:
Meanwhile, in a pressure cooker, add cleaned mutton pieces, ginger garlic paste, turmeric powder, salt and water. Mix well, close the lid and cook for 10 mins after the first whistle comes or until it is fully cooked.
Let it cool down naturally. I got 1&3/4 cup of mutton stock from this. Reserve this mutton stock for further use.
How to cook mutton biryani:
Then add this mutton stock to the soaked rice and bring it to boil in an electric cooker.
Meanwhile, heat a pan with oil over medium heat. When oil heats, add the ingredients given under for saute and fry until spluttering.
Then add onions, fry till they become golden brown. Take 2 tbsp of fried onions and keep it aside for further use.
Then add ginger garlic paste and saute well till the raw smell leaves.
Also add red chili powder, salt, and garam masala powder and give a quick stir until its raw smell leaves.
Then add tomatoes and cook till it becomes mushy.
Also add 3 tbsp of yogurt or curd and stir well.
Then add minced coriander and mint leaves and stir well.
Now add the cooked mutton pieces and stir well till the gravy becomes thick.
When the rice starts to boil, add this mutton gravy and mix well until combined.
Then squeeze one tsp of lemon juice and stir well.
At this point check the salt and spice.
Close the lid and cook till the electric cooker switches to ' keep warm'. It takes a maximum of 10 to 15 mins. Every 5 mins open the lid and mix the rice gently.
When it changes to the 'Keep Warm' switch off the electric cooker and remove the vessel from the base and cover it with aluminum foil and close the lid and keep it aside for 10 more mins.
Finally, garnish the mutton biryani with the reserved fried onions.
By Santhi Therese
The Indian Claypot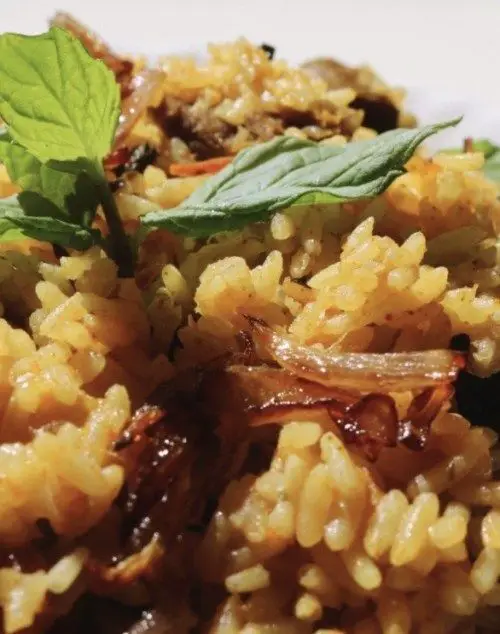 You may also like my other Biryani Recipes posts and recipes like 8 Mouth-Watering Indian Biryani Recipes, Soya Chunks Biryani, Navratan Pulao, Prawn Biryani, Baby Corn Peas Pulao, Vegetable Biryani, Hyderabadi Chicken Dum Biryani, Mushroom Biryani .