Poori Masala
Looking for a simple yet delicious breakfast recipe? Look no further than poori masala!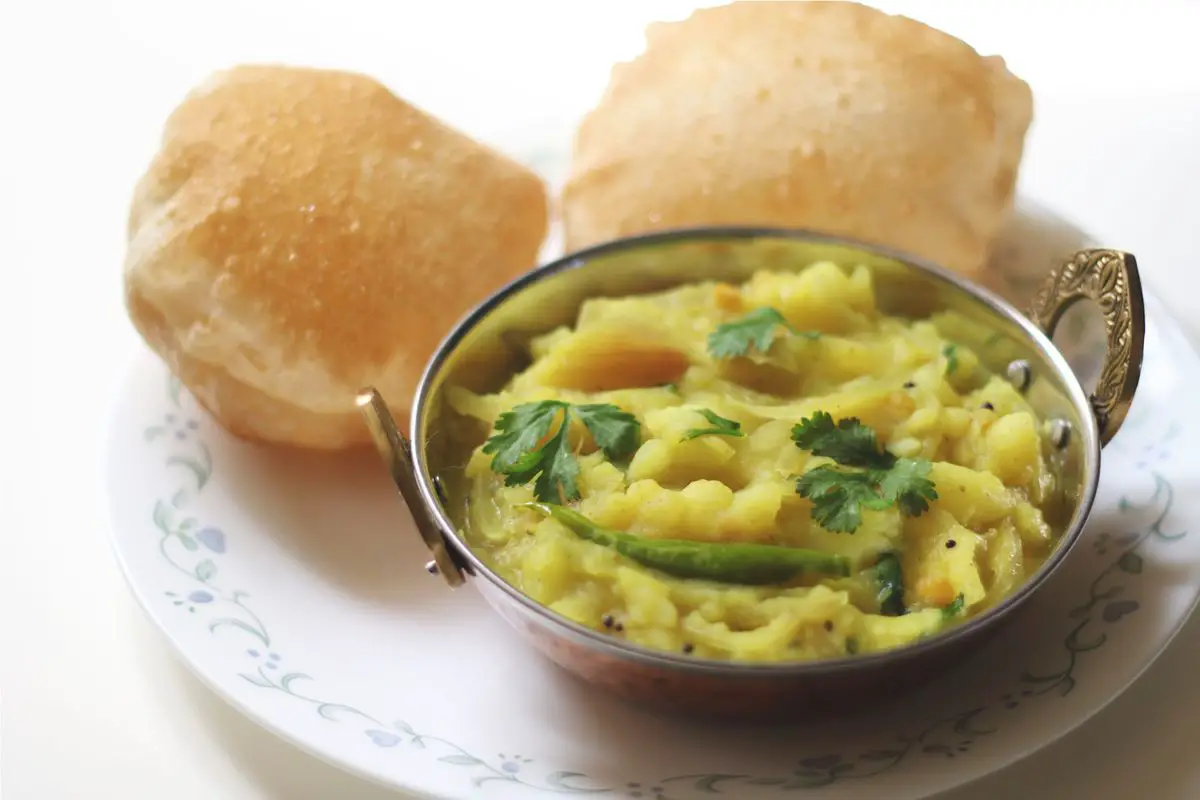 Looking for a simple yet delicious breakfast recipe? Look no further than poori masala! This dish is the perfect accompaniment to wheat flour pooris and is a beloved South Indian favorite, particularly in Tamil Nadu. It's a classic dish that even kids love, and makes for a hearty and satisfying breakfast.
If you're looking to recreate this beloved dish at home, you're in luck. The recipe for poori masala is incredibly easy to follow, and yields delicious results every time. In addition to the masala, we'll also be sharing a recipe for Kizhangu - the perfect pairing for your breakfast.
To get started, simply follow our step-by-step instructions and you'll have a delicious breakfast in no time. Don't forget to leave a comment and let us know how it turned out!
There are some useful tips for making poori. First of all, the dough for poori should be harder as compared to chapati dough. otherwise, it would absorb more oil while deep frying. Secondly, adding rava/semolina to the wheat flour makes the poori crisper. Finally, once the dough is prepared, start rolling the pooris immediately.
For poori masala, You may also add some green peas or finely chopped carrots or chopped tomatoes while cooking poori masala. Some people also like to add 1/4 to 1/2 tsp black pepper powder at the end.
You may also like my other South Indian Breakfast recipes like Urad dal Vadai, Paruppu vadai, Paal Kozhukattai and sweet Pongal.
Poori Masala 2018-02-20 04:19:03
Poori Masala
Serves 1
Prep Time: 00:20
Cook Time: 00:20
Total Time: 00:40
Ingredients
2, boiled, peeled and mashed large-sized potatoes
3, sliced thinly medium-sized onions
3 to 4, slitted green chilies
2 tsp grated ginger
1/4 tsp turmeric powder
to taste salt
few curry leaves
some for garnishing chopped coriander leaves
To temper:
1 tbsp sesame oil
1 tbsp channa dal
1/2 tsp mustard seeds
1/2 tsp urad dal
a pinch asafoetida
To Poori:
2 cups wheat flour
1 tsp oil or ghee
1 tbsp (optional) rava/semolina
to taste salt
water as needed
enough oil for deep frying
Instructions
How To Cook Poori Masala:
Mash the potatoes roughly. Don't mash completely, just break into pieces roughly.
Heat oil in a pan over medium heat.
When the oil heats, add channa dal and fry until browned.
Then add mustard seeds, urad dal and curry leaves, fry until spluttering. Add asafoetida and let it sizzle.
Then add in thinly sliced onions, grated ginger and green chilies, and fry until transparent.
Pour 1 cup of water, turmeric powder and salt, bring it to boil and then cover the pan with a lid and cook for 5 mins over low heat till the onions turn soft.
At this stage, add mashed potatoes and mix well and cook until the masala becomes thick in consistency.
Finally, garnish it with some chopped coriander leaves.
How To Make Poori:
Place wheat flour, semolina and salt in a wide bowl then add ghee or oil over the flour and mix well until combined.
Then add water little by little and knead well in between your palms for few mins until it becomes smooth. Start rolling immediately.
Make small lemon sized balls.
Then dust the balls in flour and make small sized poori of palm size in medium thickness. If you make it thin, pooris won't puff up.
Meanwhile, heat a pan with enough oil over high heat.
When the oil heats, drop a poori in oil, press on top by using slotted ladle till puffy, flip over and fry until browned.
Serve hot with poori masala.
By Santhi Therese
The Indian Claypot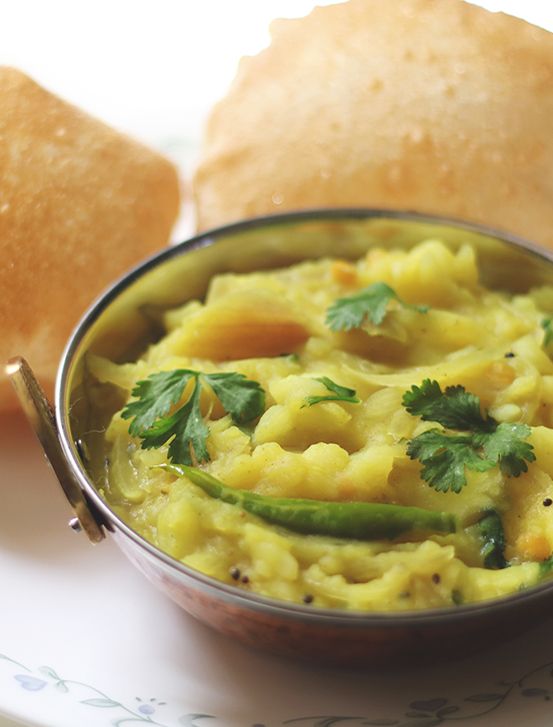 You may also like my other Healthy Breakfast posts and recipes like Appam Recipe, Thinai Sakkarai Pongal /Foxtail Millet Sweet Pongal, Healthy Breakfast Recipe, Kara Kuzhi Paniyaram with Idli/Dosa Batter, Oats Chocolate Brownie Recipe, Healthy Aval/Poha/Red Rice Flakes Breakfast Recipe, Ragi Aval Sweet Kozhukattai, Ragi Paal Kozhukattai, How To Make Soft Layered Chapati, Soft and Chewy Granola Bars, Vendhaya Kali, Strawberry Apple Smoothie, Pasi Payaru Aval Pongal, Homemade Granola Recipe, Moringa Adai Dosa Recipe, Ragi Puttu, Green Gram Payasam/Kheer, Whole Wheat Bread Recipe, Kavuni Arisi Sweet, Banana Oatmeal Cookies .