Navratan Korma
Looking for a delicious and healthy vegetarian curry? Look no further than Navratan Korma!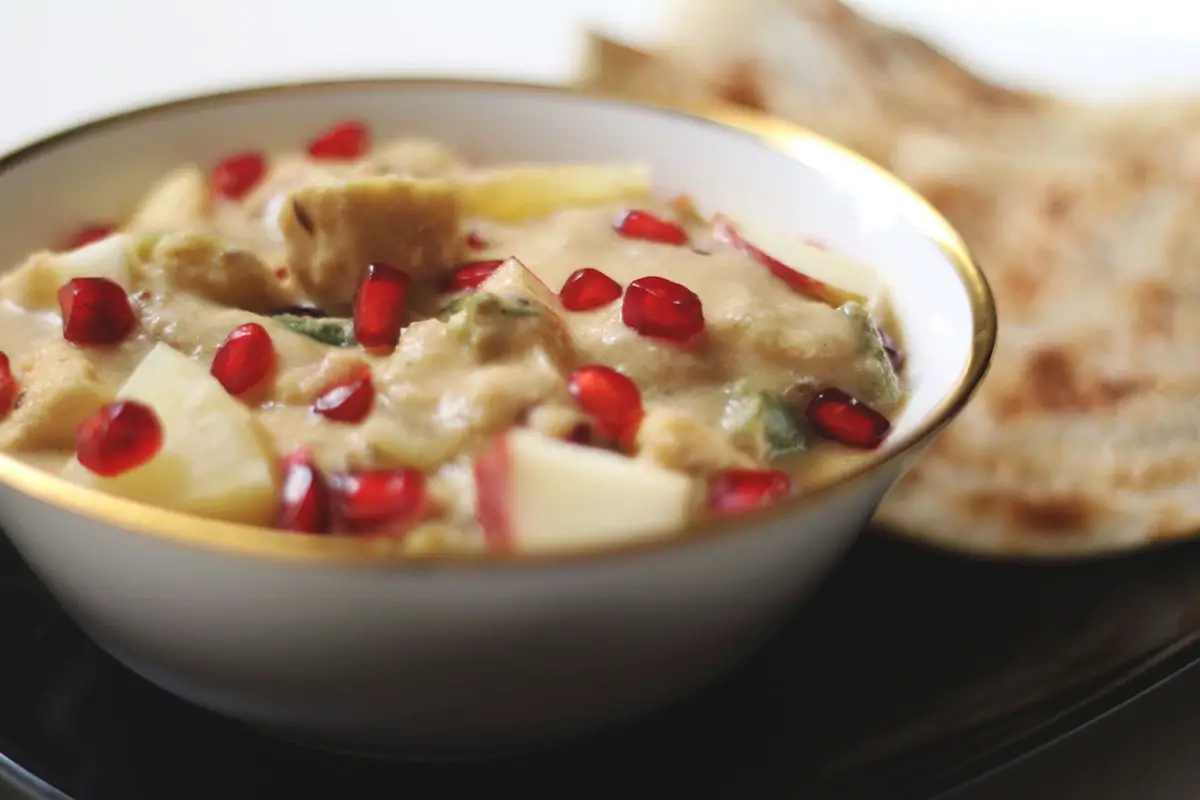 Looking for a delicious and healthy vegetarian curry? Look no further than Navratan Korma! This creamy and semi-sweet vegetable curry is a popular Indian dish that combines paneer, veggies, fruits and nuts. In fact, the nine fruits and veggies in this flavorful dish are believed to promote good health and well-being, just like the nine natural stones in a Navarathanam ring.
To make this dish even more delicious, try serving it with plain paratha, rotis, or jeera rice. And for the perfect Navratan Korma, be sure to follow these tips: steam the potatoes until they're half-cooked before adding the other veggies, don't overcook the vegetables, add pineapple chunks for a fruity flavor, and use white pepper powder instead of black pepper powder to preserve the dish's beautiful white color.
So why not give this unique blend of flavors, tastes, and textures a try? Your taste buds (and your body) will thank you!
You may also like Soya Chunks Paneer Korma and Vegetable Coconut Korma.
Navratan Korma 2017-01-16 06:23:39
Navratan Korma
Serves 3
Prep Time: 00:15
Cook Time: 00:25
Total Time: 00:40
Ingredients
2 medium-sized Onions
8 Cashew Nuts
2 Green Chilies
1 tsp Ginger and Garlic Paste
vegetables:
1 medium-sized Carrot
4 Green Beans
1 small Potato
5 Cauliflower Florets
1/4 cup Frozen Peas
2 tbsp (cashews, almonds and pistachios) Mixed Nuts
20 Raisins
150 grams Paneer Cubes
1/2 cup Pineapple and Apple Pieces
1/4 cup Pomegranate Seeds
1/2 tsp White or Black Pepper Powder
1 tsp Sugar
1 tsp Coriander Powder
1/4 tsp Garam Masala Powder
To temper:
2 tbsp Oil
1/2 tsp Cumin Seeds
1 Bay Leaf
2 Cardamoms
2 Cloves
1 small piece Cinnamon Stick
2 tbsp Milk Cream
Pinch Saffron
Instructions
Soak paneer cubes in hot water until you cook it.
Then cut all vegetables in cube size and onions in lengthwise.
Stir-fry paneer cubes until they become golden brown, remove them and add in dry fruits, fry them until browned.
Then wash cauliflower florets in hot water and drain them.
Finally, steam cook all the vegetables in a steamer until half cooked.
For Onion paste:
Cook the onions and cashews with 1/2 cup of water until cashews are slightly tender.
Then drain the water and cool it for few mins.
Place it in a blender and blend until smooth, keep it aside.
How to coo Navratan Korma:
Then heat a pan with oil, add all the ingredients for temper and fry until spluttering.
Also add chopped green chilies and ginger garlic paste, fry until raw small leaves.
Then place the ground paste, stir-fry until it begins to leave the pan.
Furthermore, add coriander powder and garam masala powder along with salt, stir-fry for 30 seconds until its raw smell goes.
Then pour 1 cup of water and bring it to boil.
Now add all the steamed veggies and cook them for 3 mins until the veggies are fully cooked. Then add the fried paneer cubes, nuts and raisins.
When the gravy becomes thick, add saffron, milk or cream and mix well until combined.
Then add white pepper powder and sugar, mix well.
Switch off the heat and finally, add all the fruits and serve immediately.
By Santhi Therese
The Indian Claypot
You may also like my other Indian Curries posts and recipes like Mutton Kulambu, Vendakkai Mor Kuzhambu / Okra Yogurt Gravy, Kadai Paneer Recipe, Mutton Peas Masala, Kadai Paneer Masala, Bitter Gourd Curry, Pachai Mochai Curry / Fresh Field Beans Curry, Spinach Cottage Cheese Curry/Palak Paneer, Egg Omelette Curry, Fish Curry Recipe, Mutton Liver Stir fry, Homemade Ginger Garlic Paste, Mutton Chukka, Paneer Jalfrezi Recipe, Chole Bhature / Chola Poori, Crab Masala, Chettinad Egg Masala, Peas Paneer Masala, Mutton Curry, Paneer Butter Masala .