Butter Murukku
If you're looking for a delicious and spicy snack to enjoy during Diwali, look no further than this butter murukku recipe from Tamil Nadu!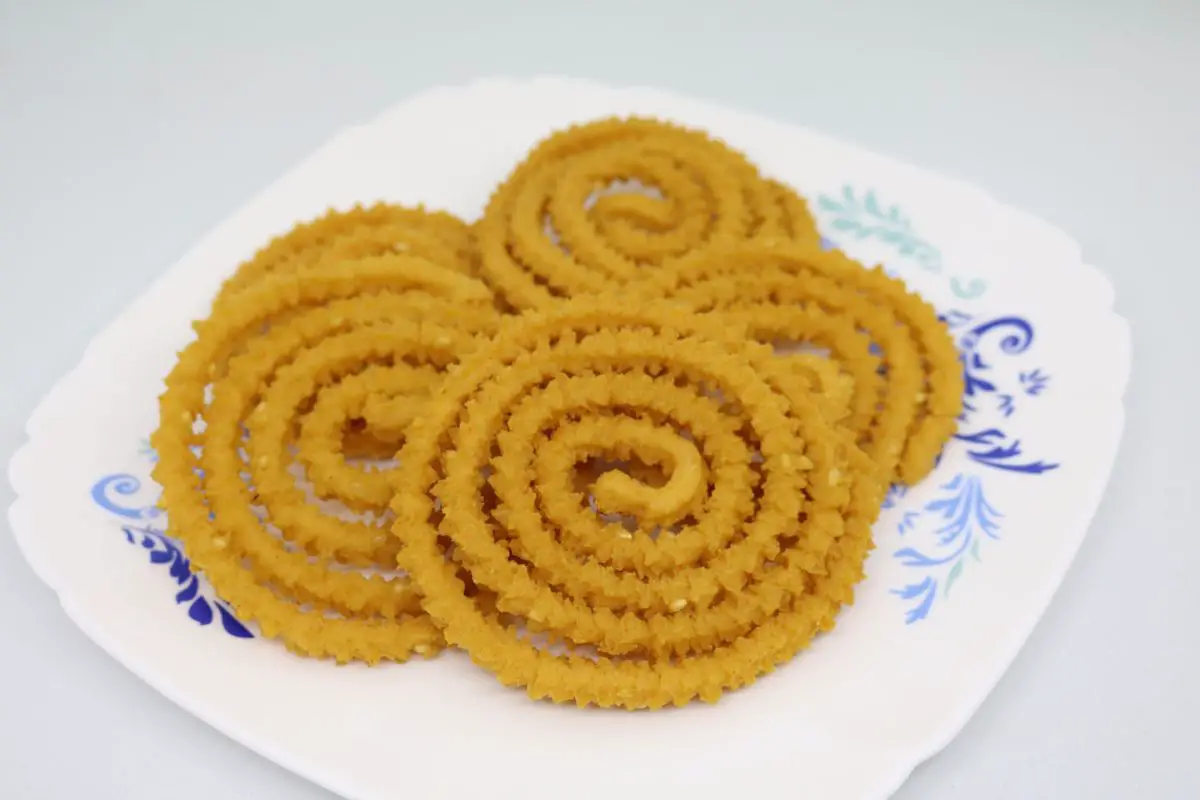 If you're looking for a delicious and spicy snack to enjoy during Diwali, look no further than this butter murukku recipe from Tamil Nadu! This crispy and flavorful snack is perfect for tea time or anytime you need a quick bite. And if you want to learn even more murukku variations, stay tuned for more recipes from us next week.
To ensure your butter murukku turns out crispy and delicious, follow these tips: First, make sure your dough is smooth and not too hard or too soft. If it breaks while making the murukku, add 1 or 2 tsp of water to the dough and mix well. Second, once your dough is ready, start making the murukku immediately to avoid it becoming hard and brittle. If you like it spicy, add some red chili powder, otherwise skip it.
To form the murukku, use a spatula or ladle and move the murukku maker in a spiral motion with one hand while twisting the handle of the machine with the other hand. You can make as many or as few murukku as you like. To check if the oil is at the correct temperature, add a small "flat" piece of dough to the hot oil. It should rise immediately, but be sure not to use a ball shape, as it can burst. Use fresh oil to deep fry the murukku for optimal freshness for up to 15 days.
Once you've fried your butter murukku, let it cool for a bit and then store it in an airtight container to maintain its crispiness. Try this recipe out and share your comments with us!
I have already posted Thenkuzhal Murukku. You may also like it. So please check it.
Butter Murukku 2016-10-19 06:49:24
Butter Murukku
Serves 10
Prep Time: 00:10
Cook Time: 00:20
Total Time: 00:30
Ingredients
2 cups Rice Flour
1/4 cup Fried Gram Powder
1/4 cup Gram Flour (Besan Flour / Kadalai Mavu)
15 gm Butter
1/2 tsp Salt
1&1/2 tsp Red Chili Powder
Generous pinch Asafoetida Powder
2 tsp White Sesame Seeds
To deep fry Oil
Instructions
Sieve the rice flour, gram flour and fried gram powder in a wide bowl.
Add in butter, asafoetida powder, white sesame seeds, red chili powder and salt. Mix well until combined.
Then add warm water as needed (I used 1&1/2 cups) and mix well until you get a smooth dough.
Place a star plate or murukku plate in the murukku maker. Grease it with oil.
Fill the mould with enough dough and cover the rest of it with a moist cloth.
Meanwhile, heat a pan with oil over medium heat.
Squeeze dough from the murukku maker onto the flat spatula or perforated ladle (back side) and gently drop the murukku in the hot oil.
Fry both sides evenly. When they turn golden brown, remove from the oil and place them on a kitchen tissue.
Repeat the same process for the leftover dough.
Cool murukku and store it in an airtight container.
By Santhi Therese
The Indian Claypot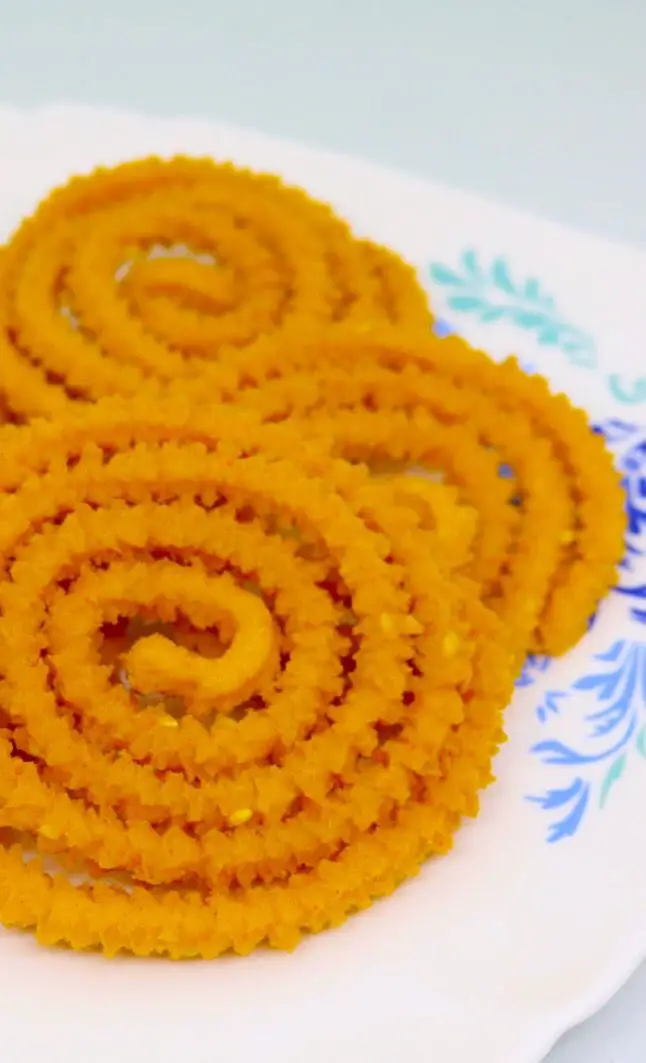 You may also like my other Diwali Sweets posts and recipes like Exploring the Rich Flavors of Popular Indian Sweets and Savouries, Javvarisi Semiya Payasam Recipe, Pasi Paruppu Halwa / Ashoka Halwa, Milk Cake Recipe, Pottukadalai / Fried Gram Murukku Recipe, Mango Sago Dessert, Restaurant Style Rava Kesari Recipe, Badusha Recipe, Kasi Halwa Recipe / White Pumpkin Halwa Recipe, Sweet Shakarpara Recipe / Kalakala / Diamond Biscuit, Moong Dal Murukku, Traditional Mysore Pak Recipe, Baked Chakli/Murukku, Green Gram Payasam/Kheer, Kozhukattai Recipe, Kara Boondi Recipe, Moong Dal Susiyam, South Indian Mixture Recipe, Pepper Kara Sev Recipe, Sweet Boondi .