Paneer Jalfrezi Recipe
Looking for a delicious and easy-to-make Indian recipe to spice up your meals? Look no further than the Paneer Jalfrezi!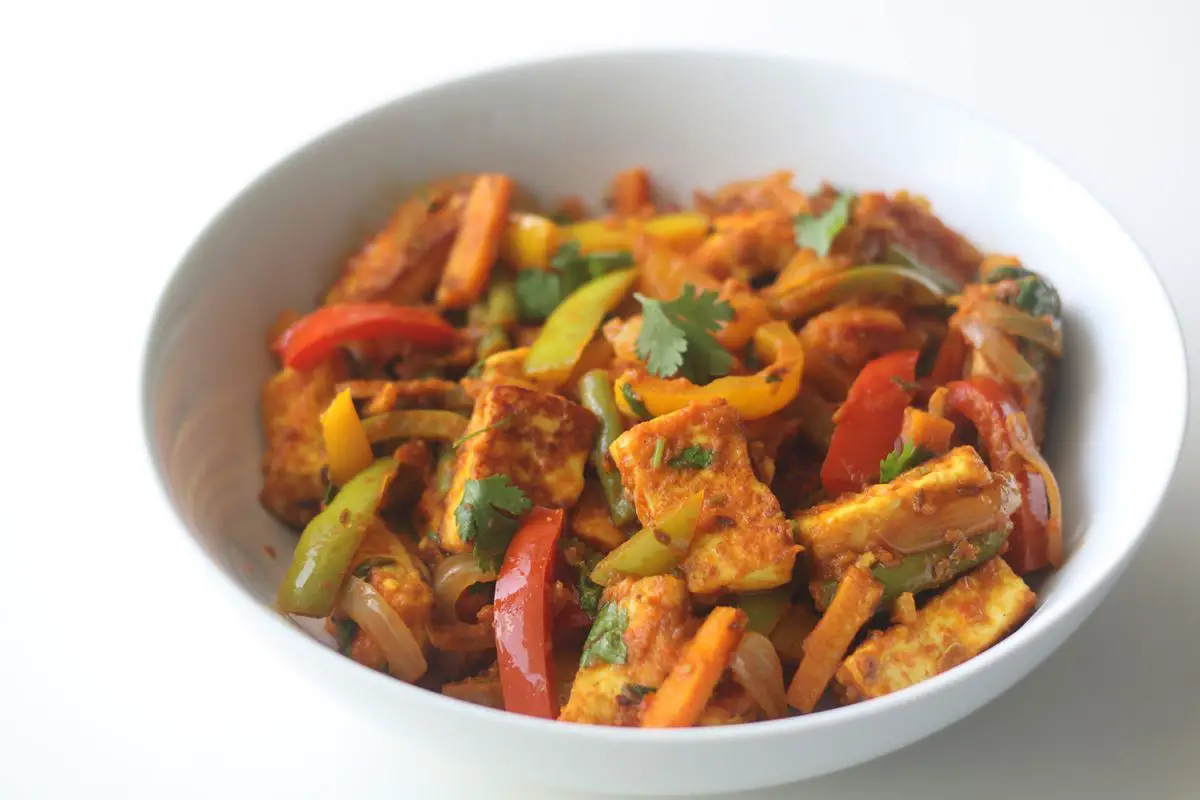 Looking for a delicious and easy-to-make Indian recipe to spice up your meals? Look no further than the Paneer Jalfrezi! This North Indian favorite is a mouth-watering combination of paneer, a variety of veggies, and aromatic spices that will tantalize your taste buds.
With its semi-dry consistency, this dish is the perfect side dish for any meal. Whether you're serving it with naan, roti, or rice, the Paneer Jalfrezi is sure to be a crowd-pleaser.
But don't take our word for it – try this recipe for yourself and let us know what you think! It's quick and easy to make, so you can enjoy the delicious flavors of this classic dish in no time. Don't forget to leave a comment and share your thoughts!
You may also like my other Paneer recipes like Mattar Paneer Masala, Kadai Paneer, Shahi Paneer, Paneer 65, Paneer Soya bite Korma, Paneer Lababdar, Paneer Butter Masala, Spicy Paneer Tacos, Paneer Bhurji and Palak Paneer Paratha.
Paneer Jalfrezi Recipe 2019-04-09 04:06:33
Paneer Jalfrezi Recipe
Serves 3
Prep Time: 00:20
Cook Time: 00:20
Total Time: 00:40
Ingredients
2 tbsp olive oil
200 grams paneer
1/2 tsp cumin seeds
1 red chili
1 medium sized onion
1/3 cup thinly sliced carrot
6 to 7 sliced french beans
1/4 cup sliced green capsicum
1/2 cup sliced red and yellow capsicum
1 inch julienned ginger
3/4 cup tomato puree
1/4 tsp turmeric powder
1&1/2 tsp red chili powder
1/2 tsp garam masala powder
1 tsp coriander powder
to taste salt
1/4 cup water
1/4 tsp sugar
1/2 tsp vinegar
1 tbsp finely chopped coriander leaves
Instructions
Heat a pan with one tbsp of olive oil over medium heat.
When the oil heats, add the paneer pieces and stir fry.
Once you get a light golden color on one side, flip them and fry the other side.
Remove the fried panner from the pan and place them in a bowl of warm water and keep it aside.
Meanwhile, heat a pan with the remaining 1 tbsp oil.
When the oil heats, add cumin seeds and fry until spluttered.
Then add red chili and fry for few seconds.
Then add ginger julienned, onion, carrot, beans and capsicums one by one and saute for 2 mins.
Also, add salt, turmeric powder, red chili powder, coriander powder and garam masala powder.
Mix well until all the masala is coated with the vegetables. Just saute for a minute.
Now add tomato puree and cook for 5 to 6 mins or until veggies are cooked.
Then add sugar and vinegar and give a good stir.
Then add 1/4 cup water.
At this stage, add the slightly squeezed fried paneer cubes and cook until the gravy becomes thick and also the gravy is coated well to the paneer pieces.
Finally, garnish with finely chopped coriander leaves and serve hot with puloa or chapatis.
By Santhi Therese
The Indian Claypot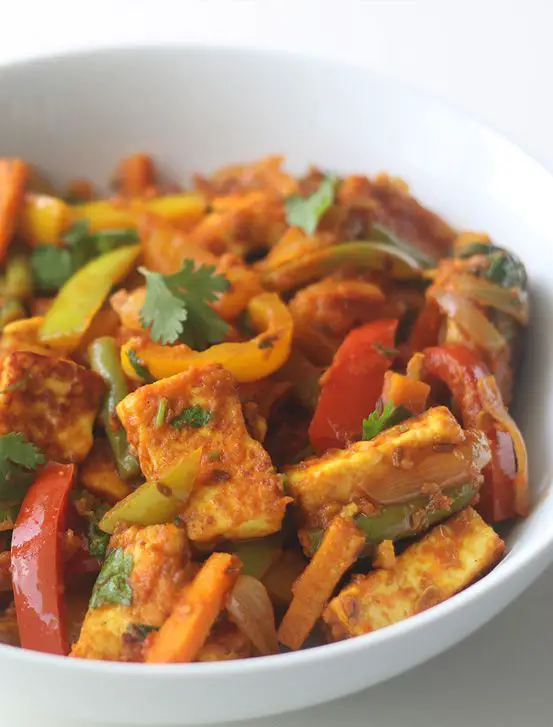 You may also like my other Indian Curries posts and recipes like Mutton Kulambu, Vendakkai Mor Kuzhambu / Okra Yogurt Gravy, Kadai Paneer Recipe, Mutton Peas Masala, Kadai Paneer Masala, Bitter Gourd Curry, Pachai Mochai Curry / Fresh Field Beans Curry, Spinach Cottage Cheese Curry/Palak Paneer, Egg Omelette Curry, Fish Curry Recipe, Mutton Liver Stir fry, Homemade Ginger Garlic Paste, Mutton Chukka, Chole Bhature / Chola Poori, Crab Masala, Chettinad Egg Masala, Peas Paneer Masala, Mutton Curry, Paneer Butter Masala, Soya Chunks Paneer Korma .