Pineapple kesari
Looking for a simple and delicious sweet recipe? Try Pineapple Kesari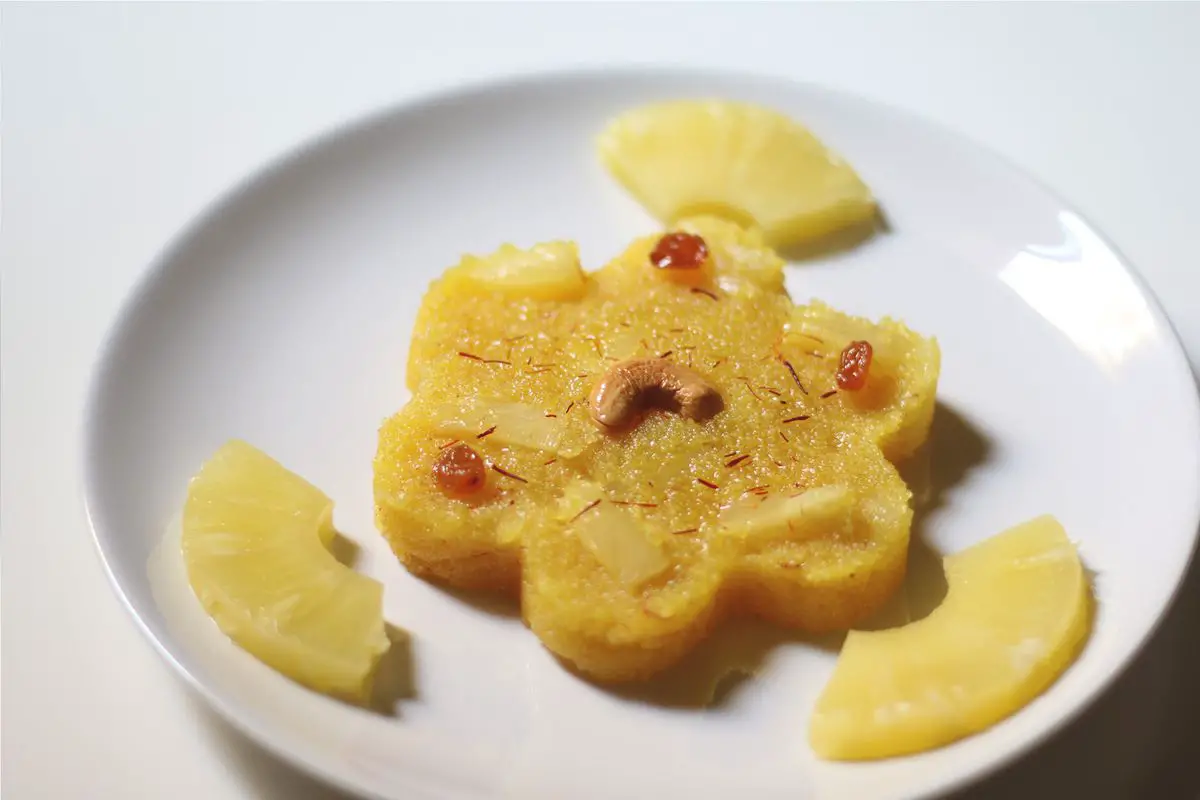 Looking for a simple and delicious sweet recipe? Try Pineapple Kesari, a popular dish from Bangalore, Karnataka. This tasty treat is made with semolina, pineapple pieces, ghee and sugar, and is perfect for festivals and special occasions.
To make the perfect Pineapple Kesari, start by frying the semolina in low heat until it is roasted. Then, add boiling water and keep stirring to avoid any lumps. For added color and flavor, consider using saffron instead of food color. Spread the kesari evenly on a greased plate to cool, and cut into square pieces.
Pineapple Kesari is a versatile dish that can be enjoyed for breakfast or as a dessert. It stays fresh at room temperature for a day, and up to two days in the refrigerator. Whether you're celebrating a special occasion or just craving something sweet, Pineapple Kesari is a must-try recipe.
You can also like Rava Kesari.
Pineapple kesari 2018-03-11 13:26:57
Pineapple kesari
Serves 3
Prep Time: 00:05
Cook Time: 00:15
Total Time: 00:20
Ingredients
1/2 cup Semolina/ Rava
3/4 cup Sugar
1/3 cup Pineapple pieces
1&1/2 cup Water
A pinch of saffron
2 tbsp Hot milk
2 tbsp +2 tsp Ghee
1 tbsp chopped Cashew
12 Raisins
1/8 tsp Cardamom powder
Instructions
Soak saffron in hot milk and set aside for further use.
Heat 2 tsp of ghee in a pan over low heat, fry chopped cashews until browned then add raisins and fry until puffed, transfer them to a plate.
In the same pan add rava and fry until nice aroma comes and lightly browned.
Meanwhile, heat a small saucepan with 1&1/2 cups of water.
When it starts to boil, add chopped pineapples, cook until it becomes slightly soft.
Add this boiling pineapple water to rava and stir continuously, cover and cook it for 3 to 4 mins over low heat or until the rava is fully cooked.
While adding the boiling water, take care not to form lumps even if it forms break down it.
Furthermore, add saffron milk and mix well.
Then gradually add sugar. Now it will start to loosen keep stirring continuously.
Then add 2 tbsp of ghee and keep stirring till the kesari separates from the pan.
Additionally add fried cashews and raisins.
Finally, sprinkle the cardamom powder, mix well until combined and switch off.
By Santhi Therese
The Indian Claypot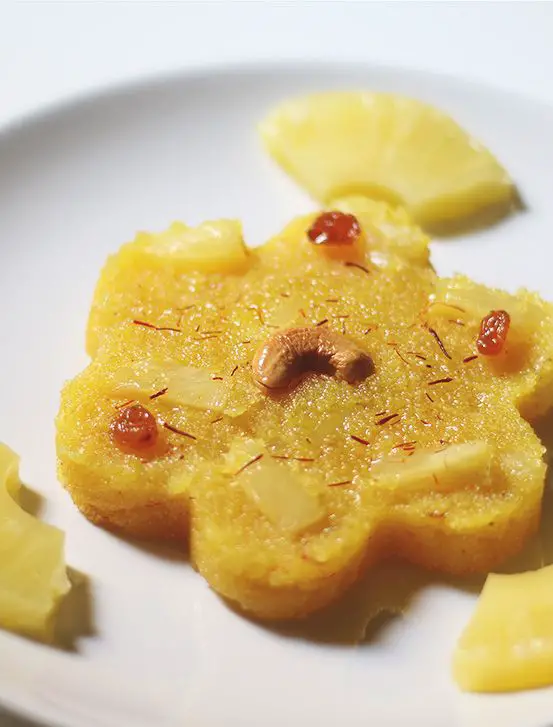 You may also like my other Diwali Sweets posts and recipes like Exploring the Rich Flavors of Popular Indian Sweets and Savouries, Javvarisi Semiya Payasam Recipe, Pasi Paruppu Halwa / Ashoka Halwa, Milk Cake Recipe, Pottukadalai / Fried Gram Murukku Recipe, Mango Sago Dessert, Restaurant Style Rava Kesari Recipe, Badusha Recipe, Kasi Halwa Recipe / White Pumpkin Halwa Recipe, Sweet Shakarpara Recipe / Kalakala / Diamond Biscuit, Moong Dal Murukku, Traditional Mysore Pak Recipe, Baked Chakli/Murukku, Green Gram Payasam/Kheer, Kozhukattai Recipe, Kara Boondi Recipe, Moong Dal Susiyam, South Indian Mixture Recipe, Pepper Kara Sev Recipe, Sweet Boondi .