Thenkuzhal Murukku
If you're looking for a delicious festival snack from Tamil Nadu, Thenkuzhal Murukku is the perfect choice!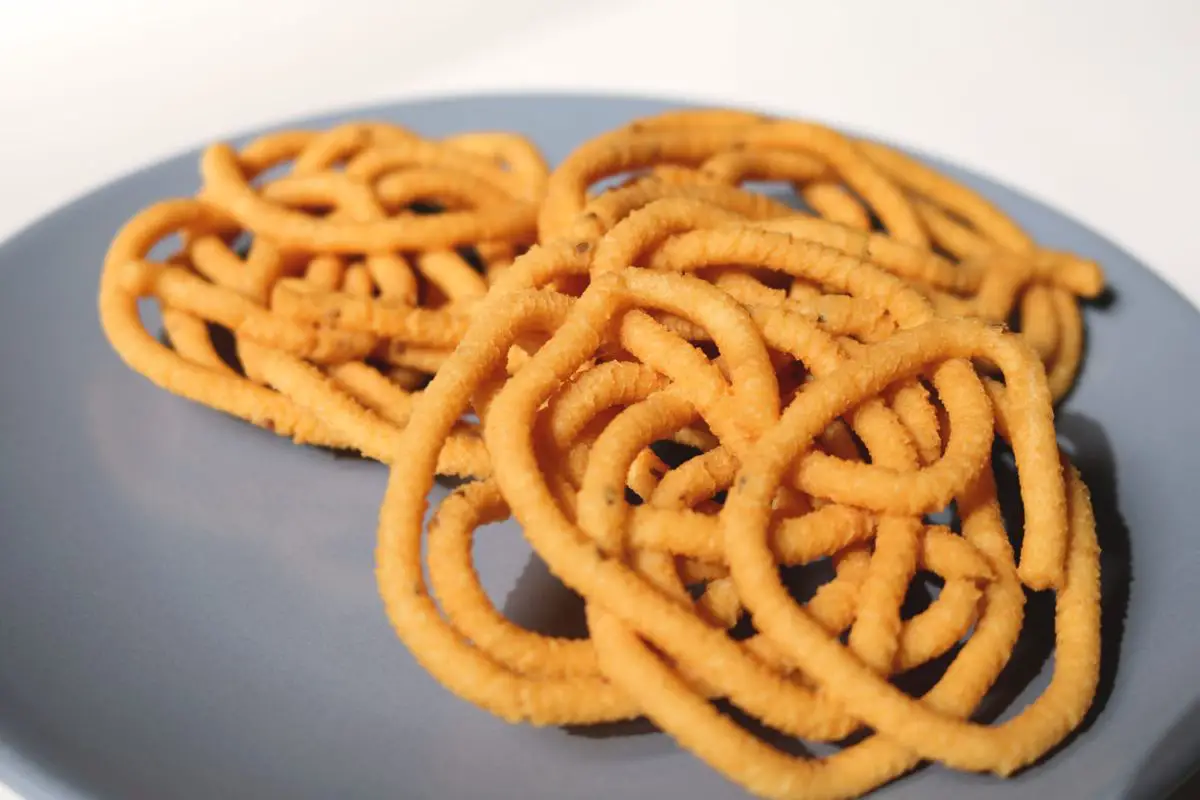 If you're looking for a delicious festival snack from Tamil Nadu, Thenkuzhal Murukku is the perfect choice! This crispy and savory snack is loved by all and is very easy to make. It's perfect for munching on a rainy day too. So why not give this recipe a try and share your thoughts with us?
In addition, I'd like to share some tips to help you make the perfect crispy thenkuzhal murukku. Firstly, dry roast urad dal until it turns golden brown and then grind it to a fine powder. Ensure that the dough is smooth and not too hard or soft. If it breaks while making murukku, add a teaspoon or two of water to the dough and mix it well. Secondly, to check if the temperature of the oil is correct, add in a small, flat piece of the dough to the hot oil. The dough should rise immediately. This is important, as if you use a ball-shaped piece, it might burst. Finally, instead of adding butter, you can also add one tablespoon of hot oil to the flour mixture. Give this recipe a try and let us know what you think!
Thenkuzhal Murukku 2016-11-28 06:08:55
Thenkuzhal Murukku
Serves 10
Prep Time: 00:20
Cook Time: 00:30
Total Time: 00:50
Ingredients
2 cups Rice Flour
1/2 cup Urad Dal
1 tbsp (at room temperature) Butter
1/2 tsp Salt
1 tsp Ajwain Seeds or Cumin Seeds
1/8 tsp Asafoetida Powder
1&1/2 cups Water
to deep fry Oil
Instructions
Dry roast urad dal on a medium heat until lightly golden brown in color.
Cool and place them in a mixie jar and grind until a fine powder.
In a wide bowl, sieve the rice flour, urad dal flour and mix well.
Then add salt, ajwain seeds or cumin seeds and asafoetida powder, mix well.
Then add butter, mix well until combined.
Sprinkle water and start mixing to make a soft dough and cover it with a wet cloth.
Meanwhile, heat oil in a pan over medium high heat.
Place a thenkuzhal murukku plate in a murukku maker.
Then fill the mould with enough dough and press it on the perforated ladle (back side).
When the oil is hot enough, gently drop the murukku in the hot oil.
Fry both sides evenly. When they turn golden brown, remove it from the oil and place them on a kitchen tissue.
Repeat the same process for the leftover dough. Cool murukku and store it in an airtight container.
By Santhi Therese
The Indian Claypot
You may also like my other Diwali Sweets posts and recipes like Exploring the Rich Flavors of Popular Indian Sweets and Savouries, Javvarisi Semiya Payasam Recipe, Pasi Paruppu Halwa / Ashoka Halwa, Milk Cake Recipe, Pottukadalai / Fried Gram Murukku Recipe, Mango Sago Dessert, Restaurant Style Rava Kesari Recipe, Badusha Recipe, Kasi Halwa Recipe / White Pumpkin Halwa Recipe, Sweet Shakarpara Recipe / Kalakala / Diamond Biscuit, Moong Dal Murukku, Traditional Mysore Pak Recipe, Baked Chakli/Murukku, Green Gram Payasam/Kheer, Kozhukattai Recipe, Kara Boondi Recipe, Moong Dal Susiyam, South Indian Mixture Recipe, Pepper Kara Sev Recipe, Sweet Boondi .