Beetroot Dates Halwa
Looking for a sweet and healthy dessert? Try out this delicious and flavorful Beetroot Dates Halwa!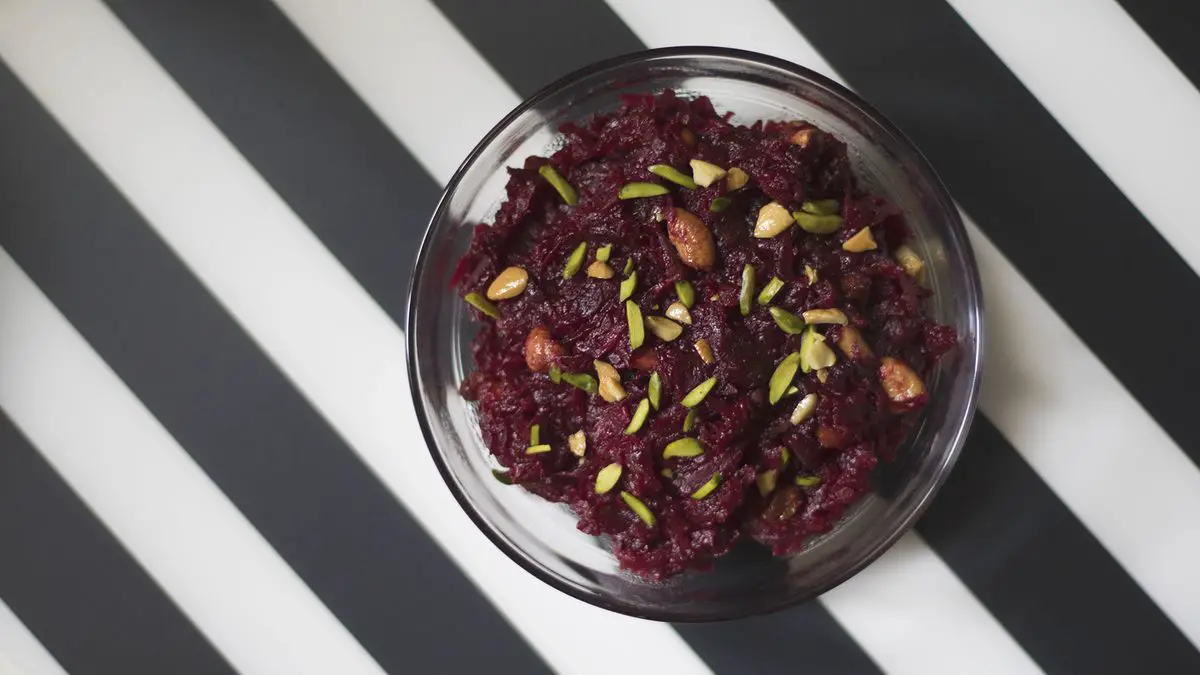 Looking for a sweet and healthy dessert? Try out this delicious and flavorful Beetroot Dates Halwa! Made with the nutritious combination of beetroots and iron-rich dates, this dessert is perfect for serving with your main meal for lunch or dinner or at any special event.
Not only is this halwa tasty, but it is also packed with health benefits. Beetroots are known to improve blood flow to the brain and help with mental performance, while dates contain essential vitamins, minerals, and iron. Both ingredients are also good for purifying the blood.
Although not as popular as carrot halwa, beetroot dates halwa is a great choice for those who want a healthy and nutritious dessert option, especially for kids who may not enjoy beetroots.
To make the perfect beetroot dates halwa, start by stir-frying the grated beetroot in ghee until the raw smell disappears. You can also use milk instead of water for cooking the beetroots, and add a tablespoon of condensed milk for a richer taste. Saute the halwa until the ghee oozes out for the perfect consistency.
Try out this delicious and healthy dessert and let us know your thoughts in the comments!
You may also like Pumpkin Halwa.
Beetroot Dates Halwa 2017-06-26 05:40:47
Beetroot Dates Halwa
Serves 4
Prep Time: 00:15
Cook Time: 00:15
Total Time: 00:30
Ingredients
300 grams or 2 medium sized, peeled and grated (1&1/2 cups) Beetroots
1/2 cup chopped Dates
2 to 3 tbsp or 1 tbsp sweetened condensed milk as you like Sugar
1/4 tsp Cardamom Powder
1 tbsp chopped Cashew Nuts
1 tbsp chopped Pistachios
1 tbsp Raisins
1&1/4 tbsp, divided Ghee
Pinch Salt
Instructions
Heat a non-stick pan with 1 tbsp of ghee over medium heat. When the ghee melts, fry chopped cashews until browned, remove from the pan and keep it aside.
Then add raisins and fry until they puffed, remove from the pan and keep it aside.
In the same pan, add grated beetroot and a pinch of salt, stir-fry for about 2 mins or until the raw smell goes.
Then add chopped dates and fry for about 1 minute or until mushy.
At this stage add 1 cup of water, turn the heat to low, close the pan with a lid and cook it for about 10 mins or until cooked through (Stir in between).
Also add sugar or condensed milk and remaining ghee, stir continuously for about 2 to 3 mins or until the halwa oozes ghee.
When the mixture starts to thicken, stir continuously to prevent it from sticking to the pan.
At this stage, add cardamom powder and give a good stir.
Switch off the heat and finally, garnish it with fried cashews, raisins and chopped pistachios. Then allow it to cool and enjoy!
By Santhi Therese
The Indian Claypot
You may also like my other Diwali Sweets posts and recipes like Exploring the Rich Flavors of Popular Indian Sweets and Savouries, Javvarisi Semiya Payasam Recipe, Pasi Paruppu Halwa / Ashoka Halwa, Milk Cake Recipe, Pottukadalai / Fried Gram Murukku Recipe, Mango Sago Dessert, Restaurant Style Rava Kesari Recipe, Badusha Recipe, Kasi Halwa Recipe / White Pumpkin Halwa Recipe, Sweet Shakarpara Recipe / Kalakala / Diamond Biscuit, Moong Dal Murukku, Traditional Mysore Pak Recipe, Baked Chakli/Murukku, Green Gram Payasam/Kheer, Kozhukattai Recipe, Kara Boondi Recipe, Moong Dal Susiyam, South Indian Mixture Recipe, Pepper Kara Sev Recipe, Sweet Boondi .