Channa Masala / Chic Peas Gravy
Looking for a tasty and popular North Indian street food that pairs perfectly with roti dishes? Look no further than channa masala!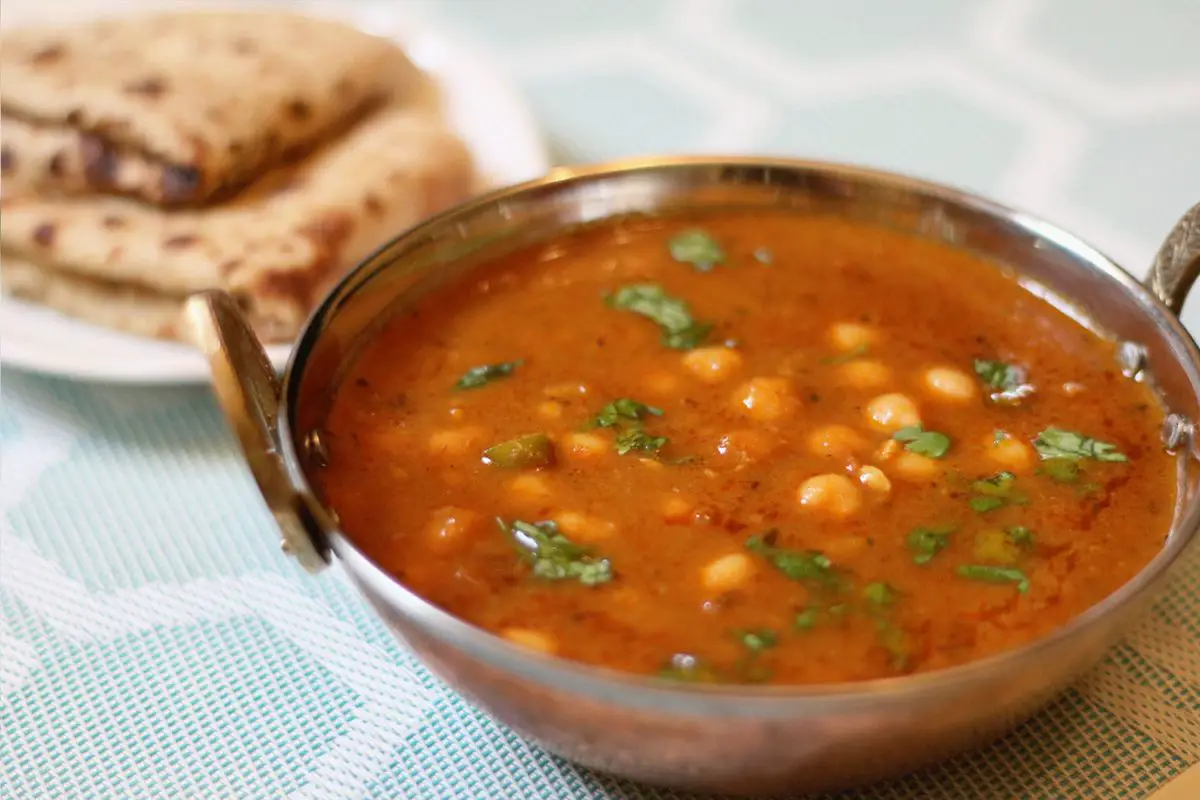 Looking for a tasty and popular North Indian street food that pairs perfectly with roti dishes? Look no further than channa masala! This delicious curry is a family favorite and can be served with bhatura, roti, or even ghee rice or jeera rice.
While there are many ways to prepare channa masala, this recipe is both simple and tasty, using canned chickpeas for convenience. If you prefer to use dry chickpeas, be sure to soak them for at least 6 hours and pressure cook for a minimum of 6 to 7 whistles to ensure they are fully cooked.
For the best flavor, try adding ripe tomatoes for color and tanginess, and mashed chickpeas or potatoes for texture. When roasting the masalas, be sure to do so on low heat for just a few seconds to avoid burning.
Give this delicious channa masala recipe a try and share your thoughts and comments!
You may also like Rajma Masala, Paneer Butter Masala and Butter Chicken Masala.
Channa Masala / Chic Peas Gravy 2017-04-04 06:55:40
Channa Masala / Chic Peas Gravy
Serves 3
Prep Time: 00:05
Cook Time: 00:25
Total Time: 00:30
Ingredients
400 grams Canned Chic Peas
1 medium-sized Onion
2 (200 grams) Tomatoes
1-inch Fresh Ginger
4 to 5 Garlic Pods
2 finely chopped Green Chilies
1 tbsp Coriander Powder
1 tsp Red Chili Powder
1/4 tsp Turmeric Powder
to taste Salt
1/2 tsp Garam Masala
1 tsp Crushed Dry Fenugreek Leaves
3 tbsp Olive Oil
1/2 tsp Cumin Seeds
3 Cloves
1-inch Cinnamon Stick
1 Black Cardamom
2 Green Cardamoms
1/2 Bay Leaf
1 tbsp Coriander Leaves
Instructions
Drain and then wash canned chickpeas and keep them aside.
Then chop onion, tomatoes, ginger and garlic roughly and place them in a blender, blend until a smooth paste.
Meanwhile, heat a pan with oil over medium heat, when the oil heats, add all the ingredients given under 'temper' and fry until spluttering.
Then add finely chopped green chilies and fry for a few seconds. Be careful of the hot oil because the chilies cause a lot of spluttering otherwise add onion paste.
Then bring the heat to low.
Add coriander powder, red chili powder and turmeric powder, and stir continuously till a nice aroma comes. It takes only a few seconds. Don't let it burn.
Then add onion paste and salt, and saute continuously until the oil oozes out from the masala. It takes 8 to 10 mins.
Then add fenugreek leaves and saute for a few seconds.
Also, pour 1 & 1/2 cups of water, mix well and bring it to a boil.
Meanwhile, mash 2 tbsp of chickpeas and add it to the masala, mix well until combined.
Then add the remaining chickpeas and garam masala powder, close the pan with a lid and cook for 2 to 3 mins or until it becomes a thick gravy.
Switch off the heat and finally, garnish it with coriander leaves.
By Santhi Therese
The Indian Claypot
You may also like my other Indian Curries posts and recipes like Mutton Kulambu, Vendakkai Mor Kuzhambu / Okra Yogurt Gravy, Kadai Paneer Recipe, Mutton Peas Masala, Kadai Paneer Masala, Bitter Gourd Curry, Pachai Mochai Curry / Fresh Field Beans Curry, Spinach Cottage Cheese Curry/Palak Paneer, Egg Omelette Curry, Fish Curry Recipe, Mutton Liver Stir fry, Homemade Ginger Garlic Paste, Mutton Chukka, Paneer Jalfrezi Recipe, Chole Bhature / Chola Poori, Crab Masala, Chettinad Egg Masala, Peas Paneer Masala, Mutton Curry, Paneer Butter Masala .