Kadai Paneer
Looking for a flavorful and easy-to-make vegetarian dish? Look no further than kadai paneer!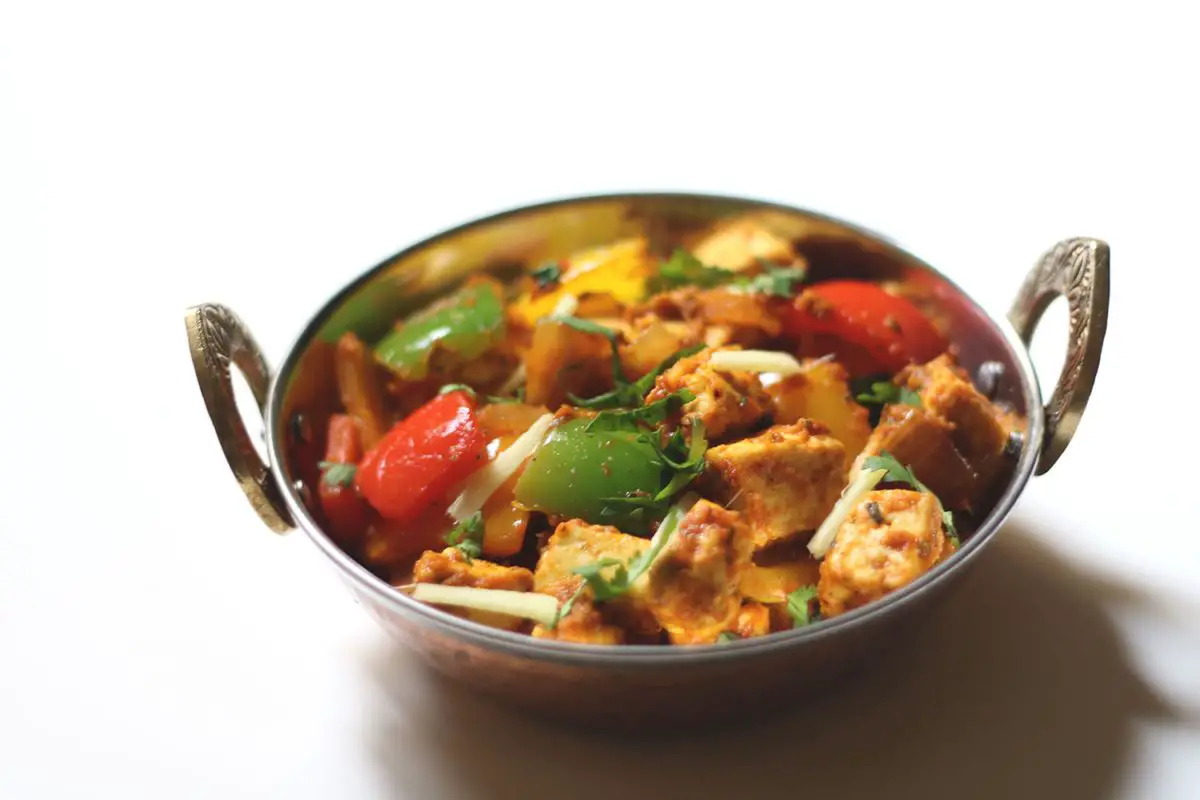 Looking for a flavorful and easy-to-make vegetarian dish? Look no further than kadai paneer! This delicious semi-dry gravy is made with paneer, bell peppers, and spices, and is sure to be a hit with your family.
I personally love serving kadai paneer with jeera rice, but it also pairs well with roti or chapathi. And when you're in the mood for something vegetarian but still crave bold flavors, kadai paneer is the perfect go-to dish.
Not only is it a tasty meal option, but it's also a great way to spice up your day! So why not give it a try and share your thoughts with us? We'd love to hear what you think of this delicious and versatile dish.
If you are looking for more Paneer Recipes then do check Paneer Butter Masala, Paneer 65, Paneer Manchurian and Paneer Lababdar.
Furthermore, Paneer is one of the best meat substitutes for vegetarians. Although animal products like meat or eggs are rich in protein, they also come with saturated fat and cholesterol. But paneer is a good substitute because it only contains a good amount of protein. So try to add paneer to your diet as much as possible. While making this kadai paneer, if you don't have coriander seeds, then add cumin seeds. But the crushed coriander seeds give a nice aroma. Another important thing is that the vegetables must be crunchy. So don't overcook it.
Kadai Paneer 2018-03-25 05:34:23
Kadai Paneer
Serves 3
Prep Time: 00:10
Cook Time: 00:15
Total Time: 00:25
Ingredients
200g paneer cubes
1 medium sized onion, cubed
1 large sized tomatoes, chopped
1 cup mixed capsicum, cubed
1 tsp ginger & garlic paste
3/4 tsp red chili powder
1/2 tsp coriander powder
1/4 tsp turmeric powder
1/2 tsp garam masala
1 tsp crushed fenugreek leaves (dry)
1/2 tsp salt
2 tbsp olive oil
1 tsp crushed coriander seeds
1 tsp ginger juliennes
1 tbsp coriander leaves
Instructions
Immerse the paneer cubes in hot water until you cook it.
Then place the tomatoes in a blender and blend until pureed and keep it aside.
Heat a non-stick pan with oil, over medium heat. When the oil heats, add coriander seeds or cumin seeds and fry until spluttering.
Once it splutters, add cubed onions and saute till it turns transparent.
Then add ginger and garlic paste and saute well till the raw smell goes.
Then add the tomato puree and stir well, cover the pan with a lid and cook until the gravy becomes slightly thick.
At this stage add all the powders and salt and stir well until its raw smell leaves, stir continuously. When the gravy becomes thick or the oil from the gravy oozes out, add all the capsicum and stir-fry until the veggies are half cooked but crunchy.
Then add paneer cubes (drain all the water and squeeze the paneer cubes slightly) and saute well. Now add 3 tbsp of water to the gravy and stir continuously.
Then add fenugreek leaves and saute for one more minute.
Once the gravy becomes thick switch off the heat and finally, garnish it with coriander leaves and ginger juliennes.
By Santhi Therese
The Indian Claypot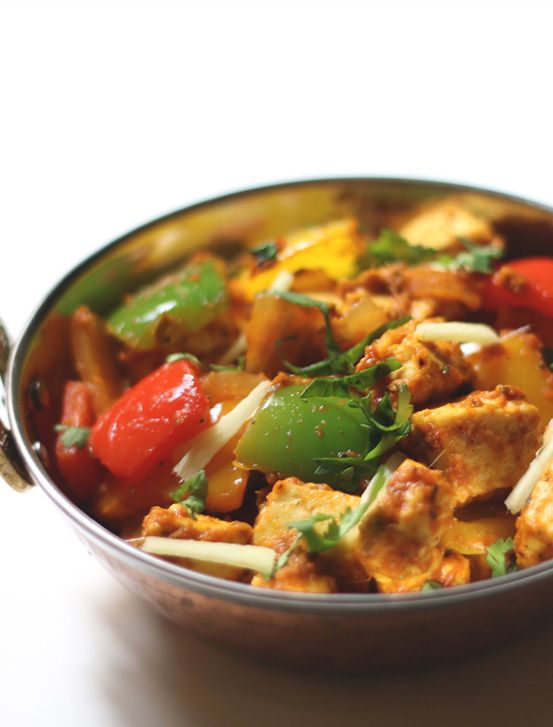 You may also like my other Paneer recipes posts and recipes like Pan Fried Paneer Tikka, Paneer Manchurian Recipe, Paneer Tikka, Spinach Cottage Cheese Curry/Palak Paneer, Paneer Jalfrezi Recipe, Paneer Butter Masala, Soya Chunks Paneer Korma, Paneer Manchurian Dry, Paneer 65, Spicy Paneer Tacos, Paneer Bhurji, Paneer Lababdar /Cottage Cheese gravy, Stuffed Palak Paneer Paratha, Shahi Paneer (Cottage Cheese gravy) .