Spicy Paneer Tacos
Looking for a delicious vegetarian alternative to meat-filled tacos? Look no further than Paneer Tacos!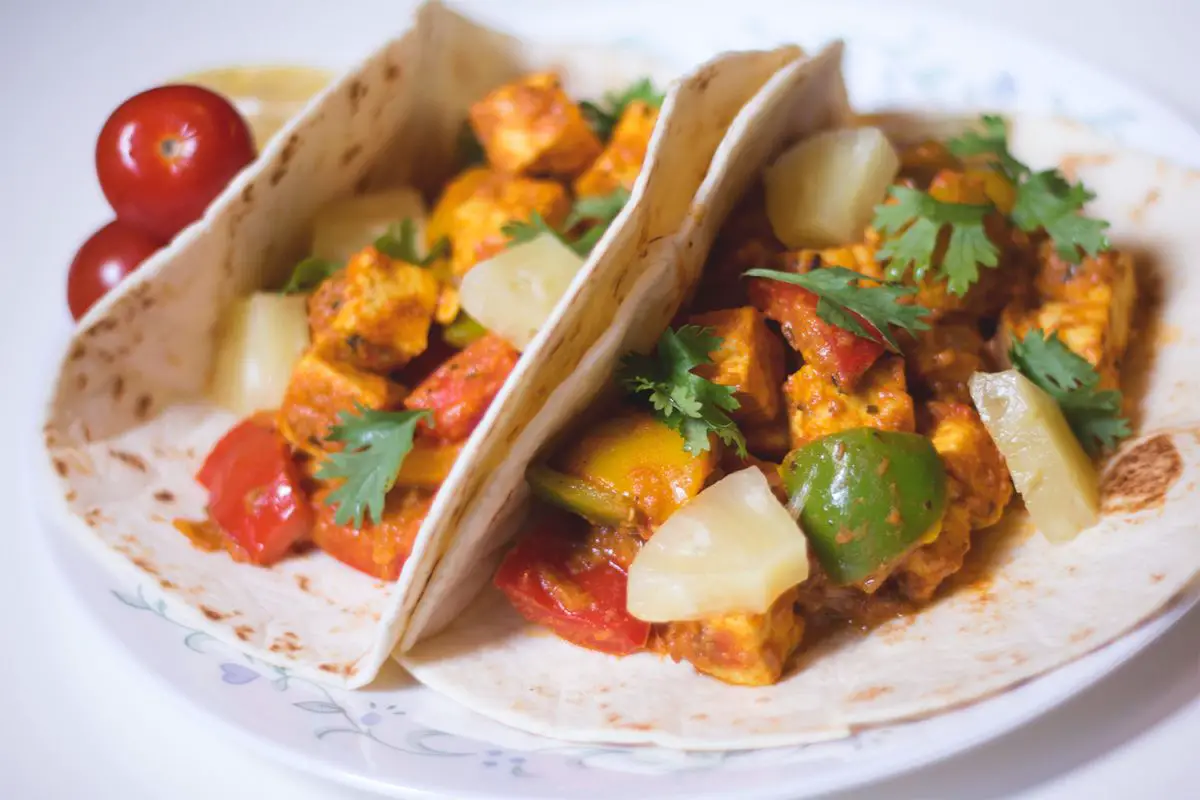 Looking for a delicious vegetarian alternative to meat-filled tacos? Look no further than Paneer Tacos! This simple lunch recipe puts an Indian twist on the classic Mexican dish, with spicy paneer curry and sweet pineapple pieces stuffed into soft tortillas. Trust us, your taste buds will thank you. Give these paneer tacos a try and let us know what you think in the comments below!
But that's not all! Did you know that paneer is a fantastic meat substitute for vegetarians? While animal products like meat and eggs can be high in saturated fat and cholesterol, paneer provides a good source of protein without these downsides. And don't forget about the importance of crunchy vegetables in this recipe – be sure not to overcook them for the perfect texture.
You may also like Chicken Tacos and Shrimp Tacos.
Paneer Tacos 2017-07-24 07:00:09
Spicy Paneer Tacos
Serves 3
Prep Time: 00:10
Cook Time: 00:20
Total Time: 00:30
Ingredients
200 g paneer cubes
one medium-sized onion
2 small-sized tomatoes
1 cup cubed mixed capsicum
1&1/2 tsp ginger & garlic paste
3/4 tsp red chili powder
1 tsp coriander powder
1/4 tsp turmeric powder
1/2 tsp garam masala powder
1 tsp (dry) crushed fenugreek leaves
1/2 tsp salt
2 tbsp (I used olive oil) oil
1 tsp crushed coriander seeds
1/2 tsp cumin seeds
3 flour tortillas
1/2 cup canned pineapple pieces
1 tbsp, chopped coriander leaves
Instructions
Immerse the paneer cubes in hot water until you cook it.
Then place the tomatoes in a blender, blend until a smooth puree or paste and keep it aside.
Meanwhile, heat a nonstick pan with oil over medium heat.
When the oil heats, fry coriander or cumin seeds until spluttering.
Then add finely chopped onions, saute until it turns transparent.
Also add ginger and garlic paste and saute well until the raw smell goes.
Then pour the tomato puree and stir well, Close the lid and cook for 2 mins. or until the gravy becomes slightly thick.
Furthermore, add all the powders and salt and stir well continuously, until the gravy becomes thick or the oil from the gravy oozes out, add capsicum cubes and stir well for 1 minute.(The vegetables must be crunchy. So don't overcook it)
Then add paneer cubes (drain all the water and squeeze the paneer cubes slightly) and saute well. Also add 3 tbsp of water to the gravy and stir continuously and cook until the paneer cubes are cooked.
Then add fenugreek leaves and saute for one more minute.
When the gravy becomes thick, switch off the heat and let it cool for few mins.
Meanwhile, heat a nonstick pan over medium heat, place the tortilla and toast until charred.
Then place the paneer veg gravy in the tortillas and top it with pineapple pieces and coriander leaves.Serve it immediately.
By Santhi Therese
The Indian Claypot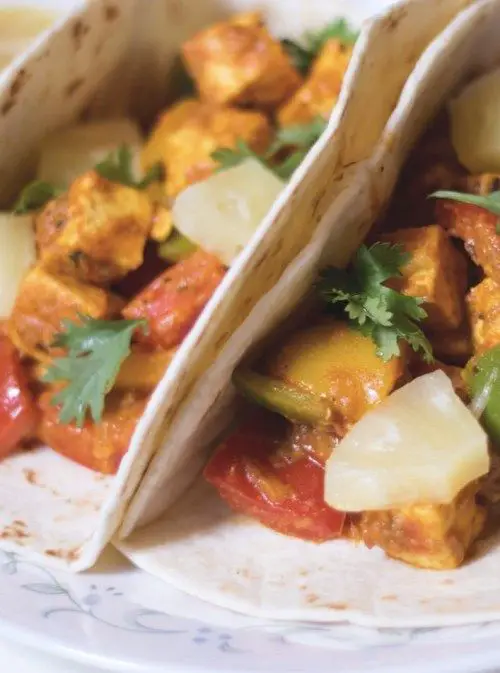 You may also like my other Paneer recipes posts and recipes like Pan Fried Paneer Tikka, Paneer Manchurian Recipe, Paneer Tikka, Spinach Cottage Cheese Curry/Palak Paneer, Paneer Jalfrezi Recipe, Kadai Paneer, Paneer Butter Masala, Soya Chunks Paneer Korma, Paneer Manchurian Dry, Paneer 65, Paneer Bhurji, Paneer Lababdar /Cottage Cheese gravy, Stuffed Palak Paneer Paratha, Shahi Paneer (Cottage Cheese gravy) .