Paneer Lababdar /Cottage Cheese gravy
Looking for a flavorful and spicy paneer gravy recipe? Look no further than Paneer Lababdar!
Looking for a flavorful and spicy paneer gravy recipe? Look no further than Paneer Lababdar! Unlike other bland and buttery paneer gravies, this North-Indian dish is packed with spice, tang, and creaminess thanks to the addition of cashews. Perfect for pairing with rotis and chapatis, or serving with jeera rice or navratan pulao, Paneer Lababdar is sure to be a crowd-pleaser.
To make this delicious dish, simply soak cashews in hot water for 10 minutes and grind into a fine paste. Use fresh ripe tomatoes for a tangy taste and vibrant color, and don't be afraid to make the gravy ahead of time and refrigerate until ready to serve. When you're ready to eat, simply heat up the gravy, add the paneer cubes, and enjoy the spicy kick of Paneer Lababdar. Try it out in your kitchen today and share your comments with us!
You may also like my other paneer recipes such as Paneer 65, Paneer Manchurian, Paneer Butter Masala and Kadai Paneer.
Paneer Lababdar 2017-05-30 11:50:28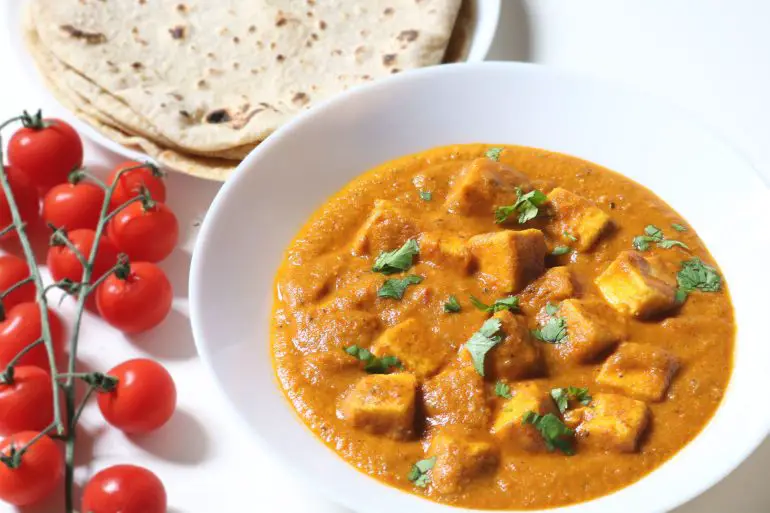 Paneer Lababdar /Cottage Cheese gravy
Serves 4
Prep Time: 00:15
Cook Time: 00:20
Total Time: 00:35
Ingredients
200 grams Paneer/Cottage Cheese Cubes
100 grams Onion
2 medium sized (200 g) Tomatoes
1 to 2 Green Chilies
12 whole Cashew Nuts
2 tsp Ginger and Garlic Paste
3/4 tsp Red Chilly Powder
2 tsp Coriander Powder
1/8 tsp Turmeric Powder
1/4 tsp Garam Masala Powder
1 tsp Dried Fenugreek Leaves (crushed)
3 tbsp Olive Oil or any other cooking oil
1 small piece Cinnamon Stick
2 Green Cardamoms
1/2 piece Bay Leaf
3/4 tsp or as needed Salt
1 tbsp finely chopped Coriander Leaves (for garnishing)
Instructions
Soak paneer cubes in hot water until you cook.
Chop onion, green chilies and tomatoes roughly.
Soak cashews in hot water for about 10 mins and grind until a fine paste.
Heat a pan with oil over medium heat, add bay leaf, cardamoms and cinnamon stick and fry until spluttering.
Add the chopped onion and saute until browned.
Add green chilies and ginger and garlic paste and saute for a minute or until the raw smell goes away.
Add chopped tomatoes and cook until tomatoes turn tender. Remove from the heat, discard the bay leaf and let it cool, blend until a smooth paste.
Place the onion and tomato paste, cashew paste, all the spice powders and salt in the same pan, stir well and cook until the oil oozes out from the masala over medium heat.
Add 3/4 cup water and bring it to boil then reduce to the simmer and cook for 3 mins.
Add paneer cubes and fenugreek leaves, cook until the gravy becomes thick.
Garnish it with finely chopped coriander leaves.
By Santhi Therese
The Indian Claypot
You may also like my other Indian Curries posts and recipes like Mutton Kulambu, Vendakkai Mor Kuzhambu / Okra Yogurt Gravy, Kadai Paneer Recipe, Mutton Peas Masala, Kadai Paneer Masala, Bitter Gourd Curry, Pachai Mochai Curry / Fresh Field Beans Curry, Spinach Cottage Cheese Curry/Palak Paneer, Egg Omelette Curry, Fish Curry Recipe, Mutton Liver Stir fry, Homemade Ginger Garlic Paste, Mutton Chukka, Paneer Jalfrezi Recipe, Chole Bhature / Chola Poori, Crab Masala, Chettinad Egg Masala, Peas Paneer Masala, Mutton Curry, Paneer Butter Masala .