Prawn Fried Rice
Looking for a low-fat and protein-rich meal? Prawn Fried Rice is the perfect dish for you!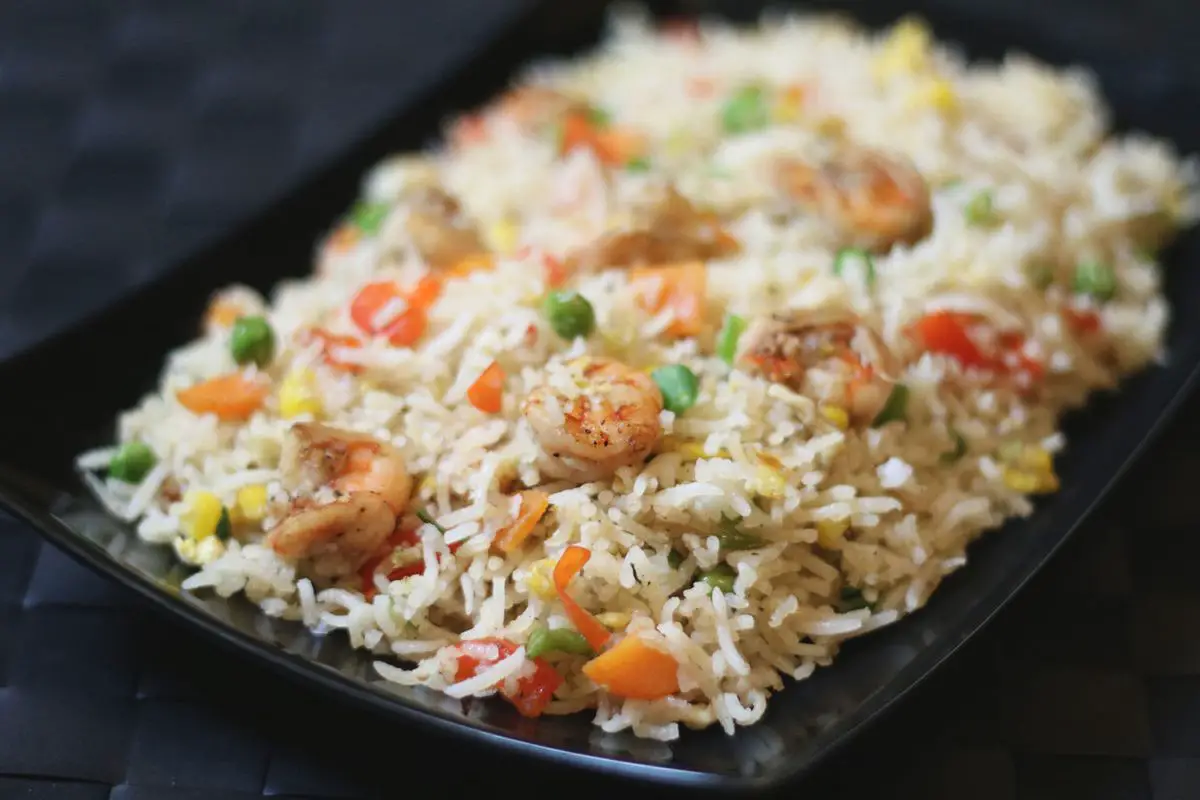 Looking for a low-fat and protein-rich meal? Prawn Fried Rice is the perfect dish for you! Not only is it packed with nutritious veggies, but it's also an easy-to-make Indo-Chinese dish. Try making it at home and share your thoughts with me in the comments below!
To make the perfect prawn fried rice, I recommend following these tips. First and foremost, the key to great fried rice is the rice itself. Cook it until it's fluffy and dense, and use a fork to fluff it up. If you have leftover rice, even better! Secondly, marinate the prawns and sauté them separately before adding them to the rice. This will make the fried rice more flavorful and delicious.
Finally, you may also like my other Indo Chinese Recipes such as Gobi Manchurian, Veg Hakka Noodles, Orange Chicken, Honey Glazed Salmon and Schezwan Sauce.
Prawn Fried Rice 2017-03-05 08:22:00
Prawn Fried Rice
Serves 2
Prep Time: 00:10
Cook Time: 00:30
Total Time: 00:40
Ingredients
2 cups cooked basmati rice
150 grams medium sized cleaned and de-veined prawns
1 tsp light soy sauce
1/4 tsp pepper powder
2 tsp olive oil
1/2 cup chopped mixed vegetables (carrots, beans, green peas and sweet corn)
1/4 cup chopped mixed capsicums
1 tbsp finely chopped garlic
2 tbsp chopped spring onions (green and white separated)
1 egg, lightly beaten
1 tsp light soy sauce
1 tsp white or black pepper powder
1/2 tsp white vinegar
3 tbsp olive oil
to taste salt
Instructions
Marinate prawns with soy sauce and pepper powder, and mix well until well combined, set aside for 10 mins.
While cooking the rice, add salt as needed and 1 tsp of lemon juice and 1 tsp of oil. Rice should be separated and fluffy.
Spread the rice on a plate and cool down completely. You can also use the leftover rice.
Heat a small pan with 2 tsp of olive oil. When the oil heats, add the marinated prawns and stir-fry for 3 minutes or until cooked and keep it aside.
Then heat a wide pan over high heat, add olive oil.
When the oil heats, add chopped garlic and stir well till the aroma comes or it turns into light golden brown.
Also add spring onion whites and stir well.
Now add mixed vegetables and fry till they are almost cooked, but crunchy.
Then add capsicum and give a quick stir.
Turn the heat to medium, make a well in the center of the vegetables and pour the lightly beaten egg in it.
When the bottom starts to set, scramble the egg, then stir through the vegetables.
Again turn the heat to high, add pepper powder (1/2 tsp only), salt and soy sauce and give a quick stir.
Then add the cooked prawns and saute well.
At this stage, add rice and mix well for 1 or 2 mins.
Then add vinegar and 1/2 tsp of pepper powder and mix well for one minute or until well combined.
Check the salt, if needed.
Finally, garnish prawn fried rice with spring onion greens and switch off the heat and serve hot. Enjoy!
By Santhi Therese
The Indian Claypot
You may also like my other Indo-Chinese Cuisine posts and recipes like Schezwan Chicken, Tofu Manchurian, Veg. Schezwan Noodles, Chicken Schezwan Noodles, Veg Fried Rice, Chicken Hakka Noodles, Sweet and Sour Pineapple Chicken, Schezwan Sauce Recipe, Paneer Manchurian Dry, Veg. Hakka Noodles, Easy Cashew Chicken, Honey Glazed Chicken, Dry Gobi Manchurian (Cauliflower), Orange Chicken .