Sweet and Sour Pineapple Chicken
Easy and Delicious Sweet and Sour Pineapple Chicken Recipe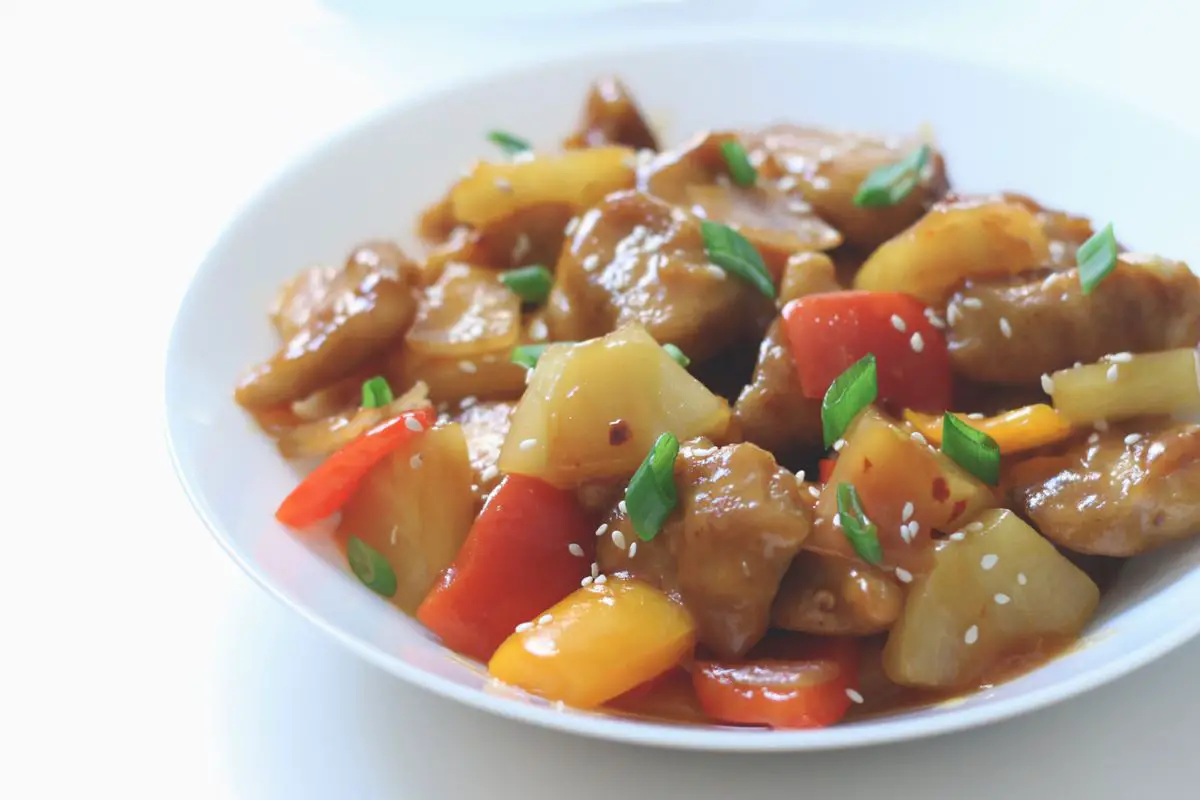 Easy and Delicious Sweet and Sour Pineapple Chicken Recipe
Pineapple Chicken is a mouth-watering Indo-Chinese recipe that is perfect for a quick and easy dinner. The sweet taste of pineapple perfectly complements the tangy sauce, crunchy bell peppers, and chicken. This restaurant-style dish can be prepared in just 10 minutes, and it is also a healthy option.
Tips:
If you prefer a thicker sauce, you can increase the amount of cornstarch and water in the slurry.
You can also add other vegetables such as mushrooms, baby corn, or Chinese cabbage to the dish.
Sweet and Sour Pineapple Chicken is a delicious and easy recipe that you can make in no time. By following the tips mentioned above, you can make this dish even more colorful and flavorful. Serve it with white rice or noodles and enjoy a tasty and healthy meal. So, try out this recipe and share your comments with us!
You may also like my other Indo Chinese Recipes such as Orange Chicken, Orange Honey Glazed Salmon, Gobi Manchurian, Chicken Talumein Soup, Paneer Manchurian and Prawn Fried Rice.
Sweet and Sour Pineapple Chicken 2017-11-19 23:52:48
Sweet and Sour Pineapple Chicken
Serves 3    
Prep Time   00:20        Cook Time   00:10        Total Time   00:30         
For Marination:
2 boneless chicken breast halves, cut into medium sized pieces.
3 tbsp corn flour
2 tbsp olive oil
1 tbsp light soy sauce
1/4 tsp black pepper powder          
For Cooking
1 tbsp olive oil, divided
one medium sized onion, diced
2 capsicums, (1 red bell pepper and 1 orange bell pepper) diced
1 tbsp finely chopped garlic
one canned pine apple
1 green chili, finely chopped
pinch of salt          
For Sauce
1/2 cup orange juice or pine apple juice ( I used fresh orange juice)
2 tbsp honey
1 tbsp light soy sauce
2 tbsp apple cider vinegar
4 tsp tomato ketchup or 1 tablespoon
1 tsp red chili flakes
1/2 tbsp corn flour          
For garnishing
1 tsp white sesame seeds
some green onion, thinly sliced          
Instructions
First of all, cut the onion, capsicums, and pineapple rings into 1-inch pieces.
Then marinate the chicken with the ingredients, mix well until well coated and set aside for 15 mins.
Finally, whisk together all the sauce ingredients in another bowl.
Heat a nonstick pan with 1/2 tbsp olive oil over medium-high heat.
When the oil heats, stir-fry the marinated chicken in one or two batches until browned.
Also, heat a pan with remaining 1/2 tbsp oil, add onions and fry until browned.
Then add garlic, green chili and bell peppers, saute for 1 to 2 minutes.
Further add the pineapple pieces, saute for another 1 minute.
Pour the sauce mixture into the pan, bring it to boil and cook until the sauce thickens.
Then add the cooked chicken to the pan, mix well and cook for 3 minutes or until the sauce coats the chicken well.
Finally, garnish it with sesame seeds and green onions.         By Santhi Therese    The Indian Claypot https://theindianclaypot.com/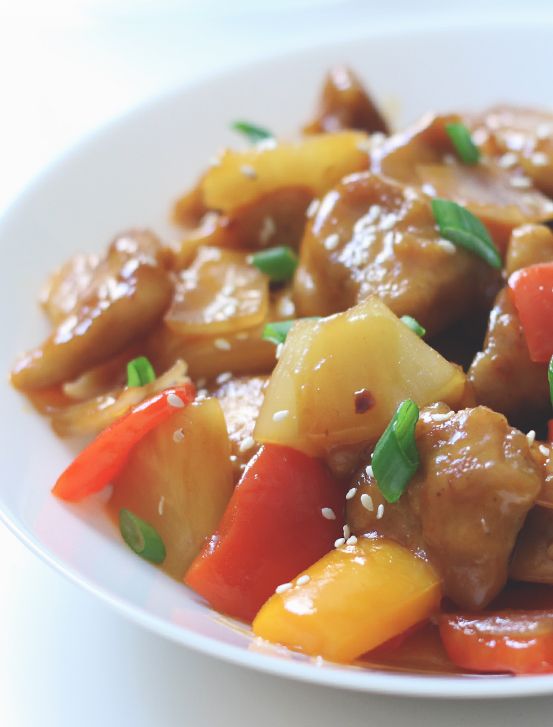 You may also like my other Chicken Recipes posts and recipes like Chicken Varuval, Pallipalayam Chicken Fry, Crispy Chicken Strips, Schezwan Chicken, Penne Pasta with Minced Chicken, Chicken Schezwan Noodles, Chicken Curry Recipe, Chicken Fajitas, Methi Chicken, Chicken Meatball Curry, Healthy Chicken Salad bowl, Green Chili Chicken, Chicken Cutlets, Chicken Hakka Noodles, Butter Chicken Masala, Chicken Alfredo Pasta, Chicken Tacos with Mango Salsa, Sweet Corn Chicken Soup, Grilled Chicken Burger, Chicken Talumein Soup .