Rajma Masala (Red Kidney Bean Gravy)
"Discover the Best Recipe for Rajma Masala - A Protein-Packed and Easy-to-Make Dish from Northern India"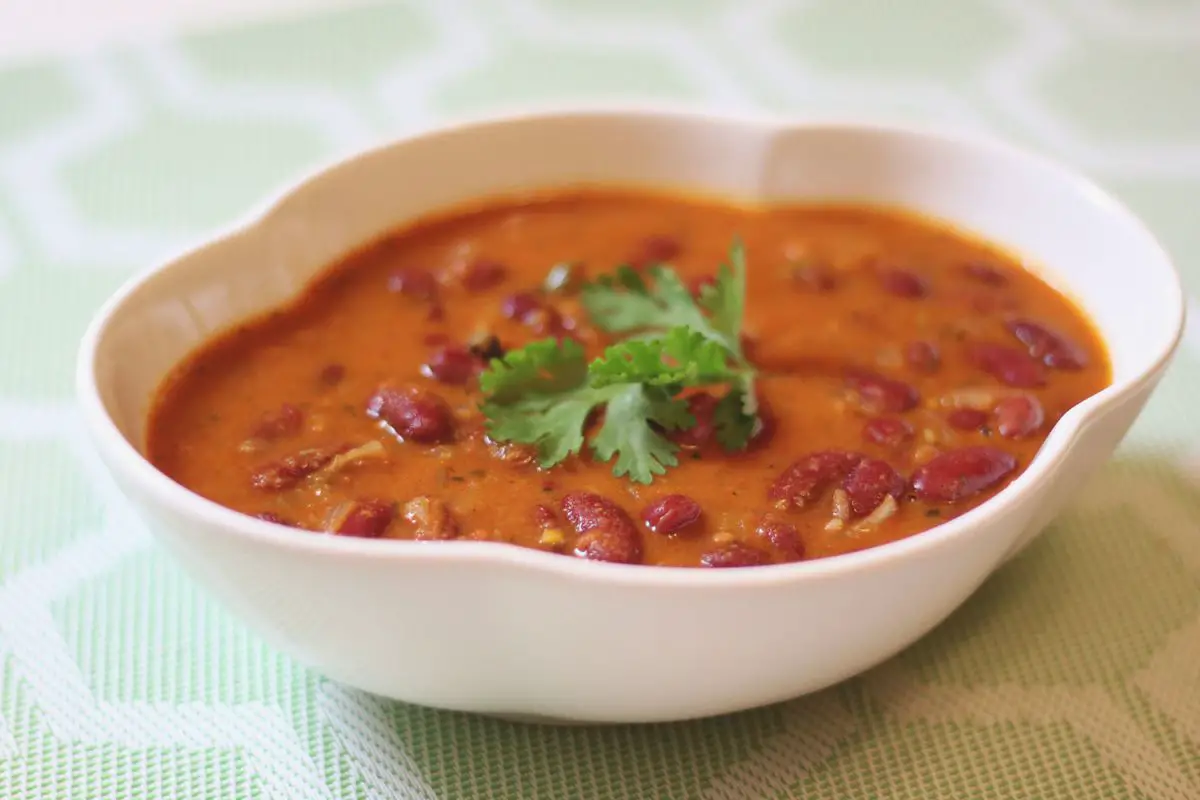 "Discover the Best Recipe for Rajma Masala - A Protein-Packed and Easy-to-Make Dish from Northern India"
Rajma Masala is a popular dish that originates from the Northern parts of India. Not only is it delicious, but it is also healthy and protein-rich, making it a perfect addition to your diet. This spicy gravy pairs perfectly with white rice, which is why it's also known as rajma chawal (chawal means rice in Hindi). However, it can also be enjoyed with rotis and parathas.
Here are some tips to help you make the perfect rajma masala. Firstly, I recommend using canned beans, as it saves you the time and effort of soaking and cooking them. If you don't have canned beans, soak rajma or red kidney beans for 12 hours or overnight and drain the water. Then, pressure cook them for 6 to 7 whistles with enough water. This ensures that the beans are properly cooked and taste great.
Secondly, adding ripe tomatoes to the recipe will give your curry a beautiful color and tangy taste. Finally, if you want more gravy, add 1 or 2 tbsp of coriander powder and adjust the red chili powder and salt to your liking.
We hope you enjoy making and eating this delicious and nutritious dish. Don't forget to share your comments with us and let us know how it turned out!"
You may also like Channa Masala, Paneer Butter Masala and Butter Chicken Masala.
Rajma Masala (Red Kidney Bean Gravy) 2017-03-02 07:15:04
Rajma Masala (Red Kidney Bean Gravy)
Serves 4
Prep Time: 00:05
Cook Time: 00:20
Total Time: 00:25
Ingredients
400 grams Canned Red kidney beans or Rajma beans
1 medium sized, finely chopped Onion
150 grams Tomato
1, finely chopped Green chili
1&1/2 tsp Ginger and garlic paste
1 tsp Red chili powder
1 tsp (optional) Coriander powder
1/4 tsp Turmeric powder
1/4 tsp Garam masala powder
Salt to taste
Coriander leaves for garnishing
To temper:
2 tbsp Olive oil or any other oil
1/2 tsp Cumin seeds
3 Cloves
1 inch Cinnamon stick
Instructions
Drain and then wash the canned beans thoroughly and keep it aside.
Chop and place the tomatoes in the blender and blend until pureed, keep it aside.
Meanwhile, heat a pan with oil, add all the ingredients given under 'to temper' and fry until spluttering.
Add finely chopped onion and green chili, fry until browned.
Then add ginger and garlic paste, stir-fry until raw smell leaves.
Pour the tomato puree and saute well for 2 to 3 mins.
Then add turmeric powder, red chili powder, coriander powder, garam masala powder and salt, saute well until the oil separates out from the masala.
Then add 1 cup of water and mix well.
When it starts to boil, add red kidney beans, close the lid and cook for 5 mins or until the gravy becomes thick.
Switch off the heat and finally, garnish it with coriander leaves.
By Santhi Therese
The Indian Claypot
You may also like my other Indian Curries posts and recipes like Mutton Kulambu, Vendakkai Mor Kuzhambu / Okra Yogurt Gravy, Kadai Paneer Recipe, Mutton Peas Masala, Kadai Paneer Masala, Bitter Gourd Curry, Pachai Mochai Curry / Fresh Field Beans Curry, Spinach Cottage Cheese Curry/Palak Paneer, Egg Omelette Curry, Fish Curry Recipe, Mutton Liver Stir fry, Homemade Ginger Garlic Paste, Mutton Chukka, Paneer Jalfrezi Recipe, Chole Bhature / Chola Poori, Crab Masala, Chettinad Egg Masala, Peas Paneer Masala, Mutton Curry, Paneer Butter Masala .