Saffron Butter Cookies
Don't leave those mason jars empty this Christmas! Fill them up with yummy saffron butter cookies that scream happiness to everyone who has a bite of em!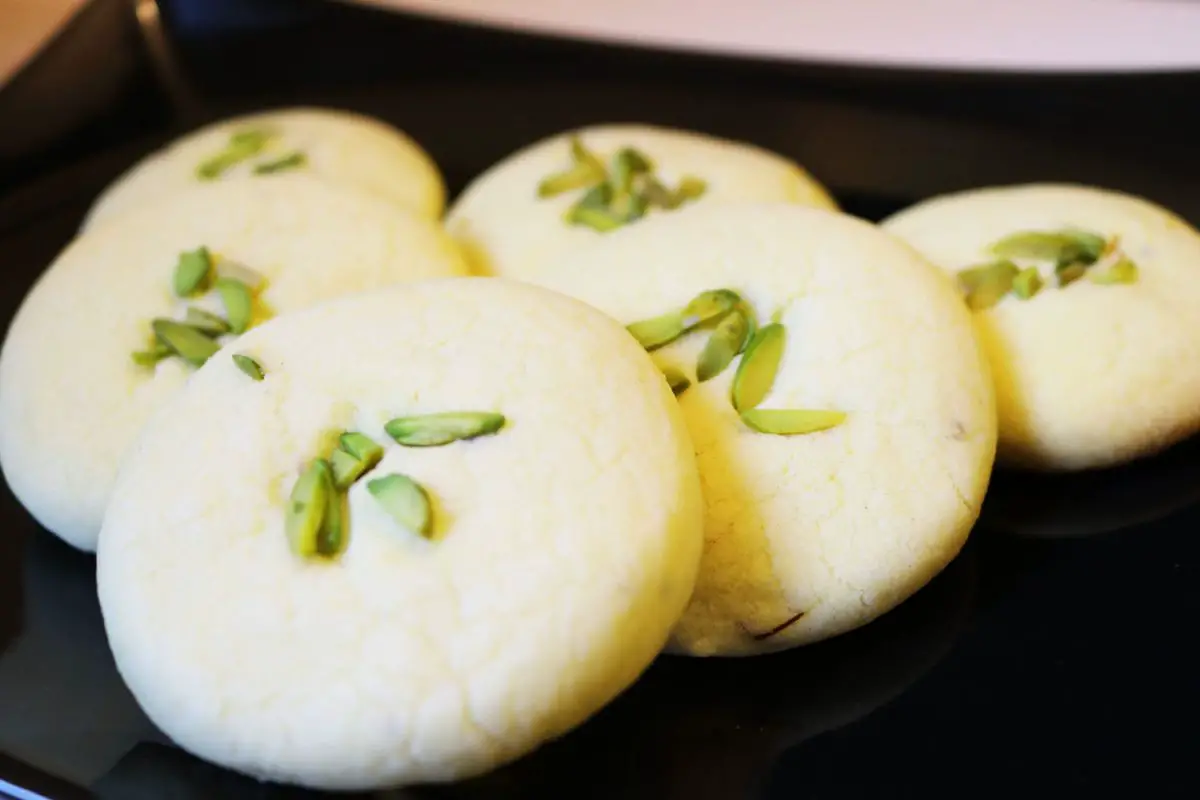 Don't leave those mason jars empty this Christmas! Fill them up with yummy saffron butter cookies that scream happiness to everyone who has a bite of em! These are the most delicious butter cookies you have ever tasted. So try these saffron butter cookies and share your comments!
Are you looking to make the perfect saffron butter cookies? Look no further! Here are some expert tips to help you achieve the perfect cookie every time.
Firstly, start by whisking together your butter and sugar until it becomes creamy and fluffy. For the best results, use the highest quality saffron you can find to get the most natural and delicious flavor.
Next, consider using whole wheat flour instead of all-purpose flour. While this will make your cookies a bit less soft, it's a healthier option. If you find that your dough is too sticky, simply add some more flour and mix well. Alternatively, chill the dough in the refrigerator before shaping the cookies. If your dough is too hard to shape, try adding a bit of hot milk to soften it up.
Once your cookies are baked, they will be soft and crumbly, but they will firm up as they cool. For an extra touch, try garnishing the top of your cookies with some almond slivers.
Lastly, store your saffron butter cookies in an airtight container to maintain their crispness. With these tips in mind, you're sure to have the perfect saffron butter cookies every time!
You may also like Chocolate Chip Cookies.
Saffron Butter Cookies 2016-11-21 11:43:18
Saffron Butter Cookies
Serves 8
Prep Time: 00:10
Cook Time: 00:20
Total Time: 00:30
Ingredients
1/2 cup all purpose flour
4 tbsp powdered sugar
3 tbsp (45g) at room temperature unsalted butter
Few saffron strands
A pinch cardamom powder
A pinch salt
1 tbsp hot milk
1 tbsp for garnishing chopped pistachios
Instructions
Preheat the oven to 180 C, then line a baking sheet with parchment paper.
Soak the saffron in hot milk, mix well until combined and keep it aside.
In a wide bowl, add softened butter and powdered sugar and whisk well until smooth and creamy.
Then add the saffron milk and mix well.
Then add the flour, salt and cardamom powder, mix well with a spatula until a smooth dough. The dough should be very soft.
Take a small portion of the dough, roll like a ball and then flatten it with your palms to bring it to a cookie shape.
Make all the cookies and place them on the baking sheet, spacing them about one inch apart. Then place the pistachios over each cookie.
Finally, bake it in the preheated oven for 15 to 20 mins or until light golden brown around the edges but still a little soft in the center.
Remove them from the oven and let them cool down for few mins.
By Santhi Therese
The Indian Claypot
You may also like my other Diwali Sweets posts and recipes like Exploring the Rich Flavors of Popular Indian Sweets and Savouries, Javvarisi Semiya Payasam Recipe, Pasi Paruppu Halwa / Ashoka Halwa, Milk Cake Recipe, Pottukadalai / Fried Gram Murukku Recipe, Mango Sago Dessert, Restaurant Style Rava Kesari Recipe, Badusha Recipe, Kasi Halwa Recipe / White Pumpkin Halwa Recipe, Sweet Shakarpara Recipe / Kalakala / Diamond Biscuit, Moong Dal Murukku, Traditional Mysore Pak Recipe, Baked Chakli/Murukku, Green Gram Payasam/Kheer, Kozhukattai Recipe, Kara Boondi Recipe, Moong Dal Susiyam, South Indian Mixture Recipe, Pepper Kara Sev Recipe, Sweet Boondi .