Mixed Millet Bisi Bele Bath
Healthy and Delicious Millet Bisi Bele Bath Recipe!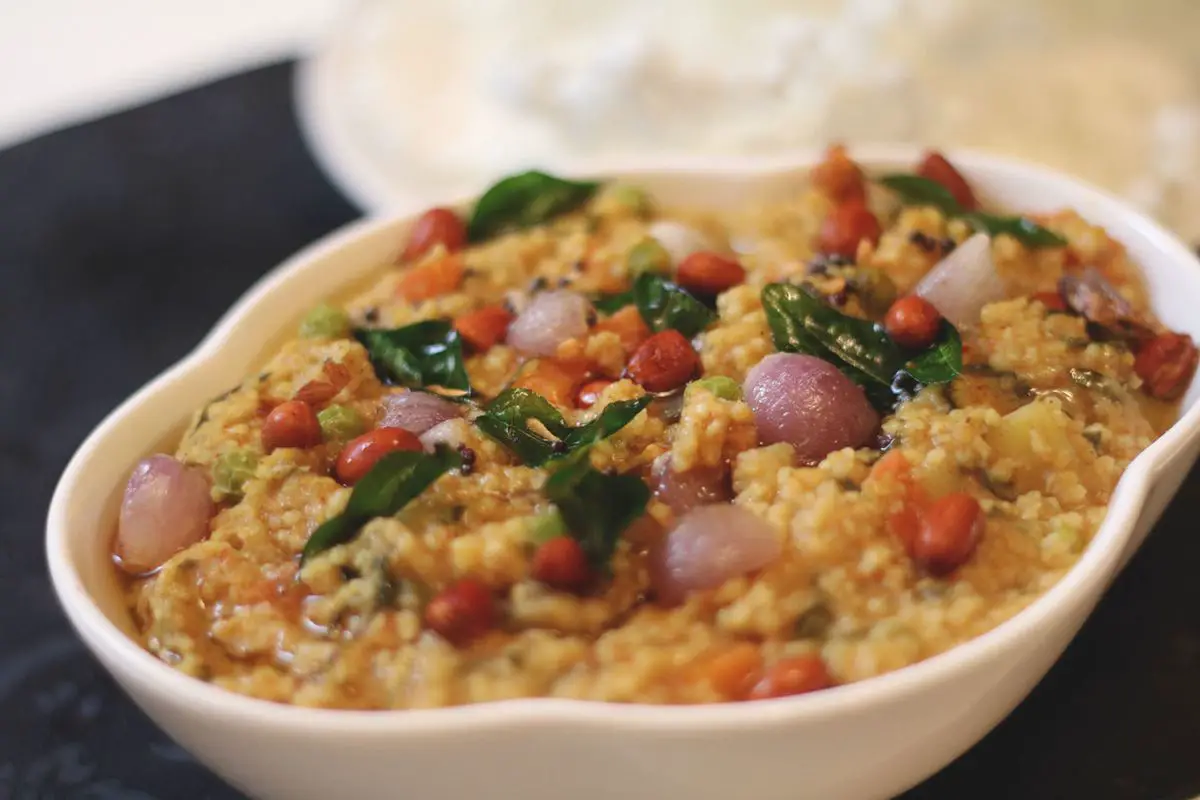 Healthy and Delicious Millet Bisi Bele Bath Recipe
Bisi bele bath is a traditional dish from Karnataka that is usually prepared with rice and dal. However, to give it a healthy twist, we are using mixed millet instead of rice. This Millet Bisi Bele Bath is not only healthy but also delicious, making it the perfect lunch for diabetes. Here are some suggestions to make this tasty dish even more amazing!
Firstly, start by dry roasting all the ingredients for the bisi bele bath powder until they are nicely browned and fragrant. Once they have cooled, blend them in a mixer or blender to create a homemade masala powder. This powder adds a great taste and aroma to the millet bisi bele bath, but you can also use MTR bisi bele bath powder instead.
When cooking the vegetables, add the harder or solid vegetables first and cook until they are about 3/4th done. Then add the softer vegetables like raw banana, spinach, and tomato. This helps prevent the soft veggies from getting mashed. Once the veggies are cooked, add cooked dal and tamarind water. Finally, add parboiled mixed millet to the mixture.
Season the mixed millet bisi bele bath with ghee and serve it hot for the best taste. This dish is not only fibrous and healthy but also incredibly delicious. So go ahead and try it out and let us know your thoughts in the comments below!
You may also like Vallarai Rice for lunch.
Millet Bisi Bele Bath 2017-02-02 08:39:20
Serves 2             
Prep Time   00:20        Cook Time   00:30        Total Time   00:50         
For cooking millet
mixed millet -1 cup (parboiled foxtail millet,little millet,banyard millet and kodo millet)
water -2 &1/2 cups
salt -1/2 tsp          
For cooking dal
toor dal -1/2 cup
water -2 &1/2 cups
garlic pods -4
asafoetida powder -1/4 tsp
turmeric powder -1/4 tsp
oil -1/4 tsp          
For bisi bel bath masala powder
channa dal -1 tbsp
black pepper corns -1/2 tsp
cumin seeds -1/2 tsp
red chilies -4
coriander seeds 1/2 tbsp
fenugreek seeds -1/4 tsp
grated coconut -2 tbsp          
Vegetables
medium-sized tomato -1
small brinjals or egg plants -2
small carrot -1
half raw banana
small-sized potato -1
white pumpkin slices -1/4 cup
fresh green peas -1/4 cup
finely chopped spinach -1/2 cup
red chili powder -3/4 tsp
pinch of turmeric powder
salt -1/2 tsp
small ball sized tamarind          
To temper
mustard seeds and urad dal -1/2 tsp
sesame oil -2 tbsp
ghee -1 to 2 tsp
shallots /small onions -10
a pinch of asafoetida powder
some curry leaves
1 handful of peanuts or cashewnuts          
Preparations
Firstly, wash and soak one cup of millet with 2 & 1/2 cups of water in a wide pan and keep it aside.
Then cut all the veggies into medium size and keep it aside.
Finally, soak the tamarind in 1/2 cup of hot water and then extract puree.          
How to cook dal
In a small pressure cooker, add all the ingredients given under for cooking dal and pressure cook until you hear at least 4 whistles or until fully cooked and keep it aside.         
For masala powder
Meanwhile, heat a pan and dry roast all the ingredients given under bisi bele bath powder one by one until a nice aroma comes and browned.
2.   Let it cool completely, and place them in a blender or mixie jar and blend until    powdered without adding any water and keep it aside.          
How to cook the millet bisi bele bath
Cook the soaked millet with 1/2 tsp salt in one stove.
Once the water boils, turn the heat to low and cover the pan with lid, cook it for about 10 to 15 mins, stir in between.
Meanwhile, heat a separate wide pan over medium heat, add in 1 cup of water.
When it starts to boil add chopped brinjal (small eggplants), carrot, potato, green peas and pumpkin and cook it for 5 mins. until 3/4th cooked.
Then add raw banana, tomato and spinach.
Also add  3/4 tsp of red chili powder, a pinch of turmeric powder and 1/2 tsp of salt and cook until all the veggies are fully cooked.
Once the vegetables are cooked, then add cooked dal and tamarind water and bring it to boil.
At this stage add bisi bele bath powder and mix well and cook it for 3 to 4 mins or until it becomes slightly thick.
When it becomes slightly thick add cooked millet and mix well and turn the heat to low.
Meanwhile, heat a small pan with oil and ghee, add mustard seeds and urad dal, fry until spluttering.
Then add shallots, curry leaves asafoetida powder and peanuts and fry till they turn into golden brown and pour this over millet and dal mixture.
Serve millet bisi bele bath with papads.         By Santhi Therese    The Indian Claypot https://theindianclaypot.com/
You may also like my other Spicy Recipes posts and recipes like Mutton Kola Urundai, Pav Bhaji Recipe, Homemade Gooseberry Pickle, Homemade Sweet Chili Sauce, Mutton Chukka, Kadai Paneer, Vendakkai/Okra Sambar, Fresh Tomato Salsa, Potato and Cauliflower Stir Fry, Pan Fried Elephant Yam, Spicy Mushroom Pepper Fry, Mutton Chops /Lamb Chops, Tangy And Spicy Chicken Steak .