Strawberry Spinach Salad
Try This Refreshing and Healthy Strawberry Spinach Salad in Just 10 Minutes!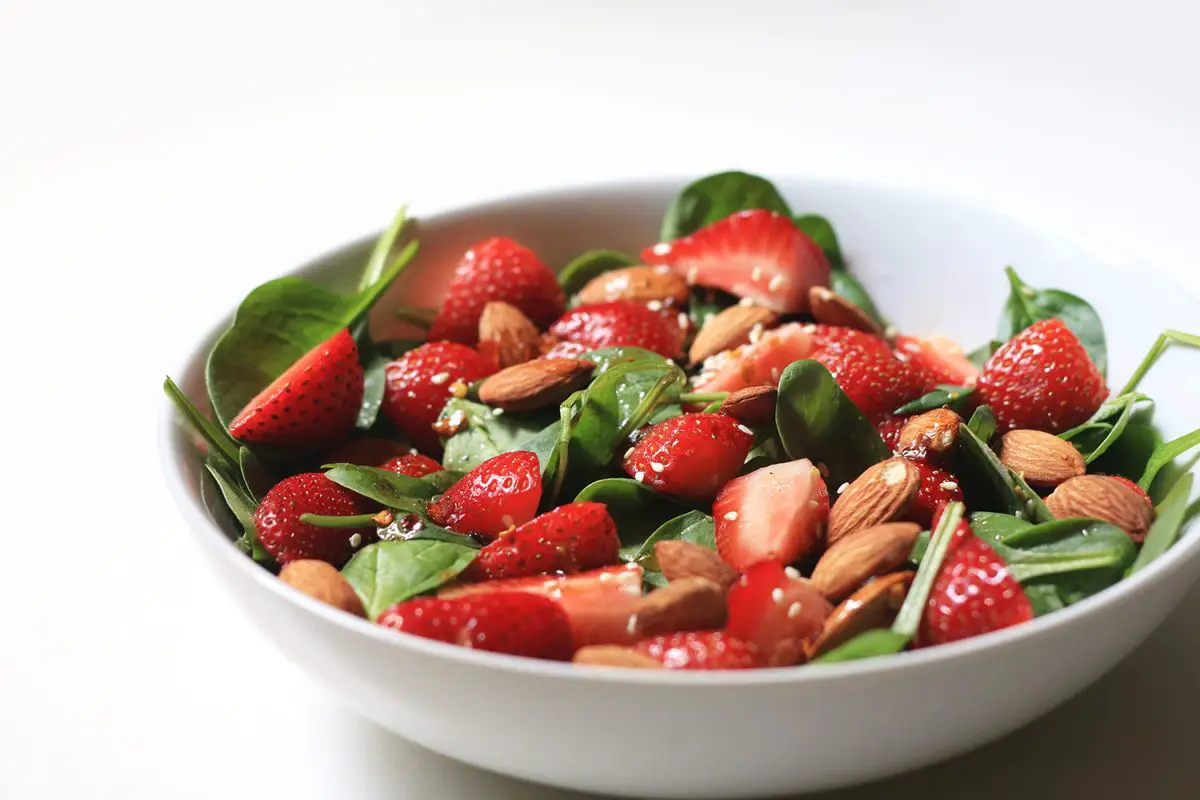 Try This Refreshing and Healthy Strawberry Spinach Salad in Just 10 Minutes!
Looking for a quick and healthy refresher during the hot summer months? Look no further than this delicious and colorful strawberry spinach salad with crunchy almonds, sesame seeds, and a sweet and sour dressing. This salad is sure to leave you feeling fresh and energized all day long!
To make this salad, simply toss together fresh spinach leaves, juicy strawberries, toasted almonds, and sesame seeds. Then drizzle on a simple dressing made with honey and vinegar. In just 10 minutes, your refreshing and healthy salad will be ready for lunch.
Here are some additional tips to make your strawberry spinach salad even more delicious and nutritious. To add more protein and crunch, try toasting the almonds by placing them on a baking sheet and baking them in the oven at 180 degrees Celsius for about 8 minutes. If you don't have an oven, you can also dry roast them in a pan over medium heat until they are fragrant. You can also add roasted walnuts to this salad for even more variety.
If you want to mix things up, try adding other types of berries to this salad, such as raspberries or blackberries. Berries are highly nutritious and will add a sweet and tangy flavor to your salad.
Finally, don't be afraid to adjust the quantity of honey and vinegar in the dressing to suit your personal taste. This salad is highly customizable, so feel free to experiment and share your thoughts in the comments below!
In conclusion, this strawberry spinach salad is a delicious and healthy way to stay refreshed during the summer months. It's quick and easy to make, highly customizable, and packed with nutritious ingredients. Give it a try and let us know what you think!
You may also like my other salad recipes such as Chicken Salad, Yogurt Salad, Carrot Moong Dal Salad and Beetroot Salad.
Strawberry Spinach Salad 2018-05-01 05:40:24
Strawberry Spinach Salad
Serves 3
Prep Time: 00:10
Total Time: 00:10
Ingredients
2 cups lightly packed baby spinach
1 cup hulled and sliced strawberries
1/4 cup almonds
1 tsp roasted sesame seeds
2 tbsp honey
1 tbsp vinegar
2 tbsp olive oil
pinch salt
pinch pepper powder
1/2 tsp red chili flakes
Instructions
Place the almonds in the baking sheet and place it in the oven (180 degrees C) and toast them for about 8mins or until lightly browned and a nice aroma comes.
Then remove from the oven and keep it aside for further use.
Meanwhile, in a small bowl whisk together the honey, vinegar, olive oil, red chili flakes, salt and pepper until combined.
In a serving bowl, place the spinach, sliced strawberries, toasted almonds and sesame seeds.
Then pour the dressing over the salad evenly.
Finally, toss gently until the salad is evenly coated with dressing.
Now healthy strawberry spinach salad is ready to serve. Serve immediately.
By Santhi Therese
The Indian Claypot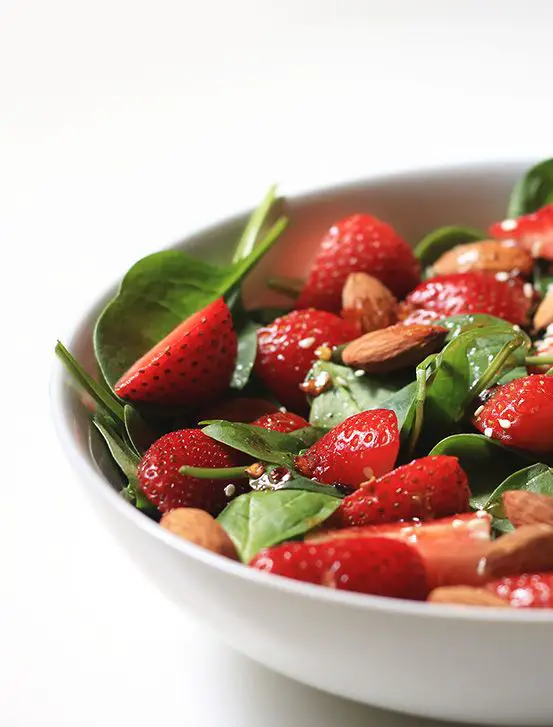 You may also like my other Healthy Salads posts and recipes like Healthy Green Apple Salad, Greek Salad and Dressing Recipe, Strawberry Romaine Salad, Healthy Chicken Salad bowl, Beetroot Salad, Chicken Salad with Dijon Mustard Sauce, Fruit and Veg Yogurt Salad, Brain Boosting Fruit Salad, Carrot Moong Dal Salad .