Tomato Tagliatelle Pasta
Looking for the perfect pasta dish to satisfy all your cravings? Look no further than Tomato Tagliatelle Pasta!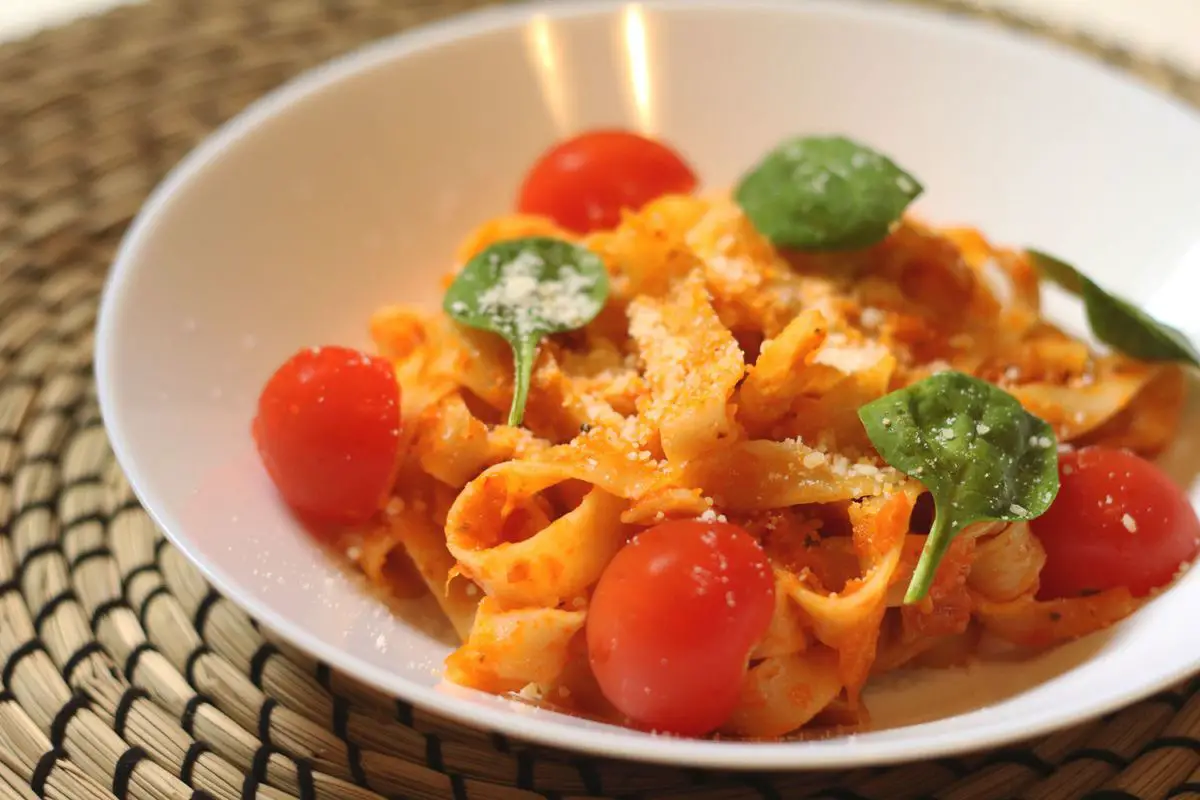 Looking for the perfect pasta dish to satisfy all your cravings? Look no further than Tomato Tagliatelle Pasta! This easy-to-handle pasta is packed with flavor, and is sure to become your new favorite.
To make this dish, start by cooking the pasta in a pot of boiling salted water until it's perfectly al dente. From there, it's all about nailing the sauce. I recommend using homemade tomato puree for the best possible flavor, but canned tomatoes will work just fine as well.
And if you're looking to add some extra veggies to your dish, feel free to get creative! Asparagus, red capsicum, and even carrot can all make great additions to this classic dish.
So what are you waiting for? Give this delicious Tomato Tagliatelle Pasta a try and let us know what you think in the comments below!
You may also like my other pasta recipes such as Red Sauce Pasta, Creamy White Sauce Pasta and Chicken Alfredo Pasta.
Tomato Tagliatelle Pasta 2017-03-29 12:21:38
Tomato Tagliatelle Pasta
Serves 3
Prep Time: 00:10
Cook Time: 00:40
Total Time: 00:50
Ingredients
For cooking tagliatelle:
200 g Tagliatelle
10 cups Water
1 tbsp Salt
For sauce:
300 g Tomatoes
3 tbsp Olive Oil
1 tbsp finely chopped Garlic
1 medium sized finely chopped Onion
1/4 cup grated Carrot
1/4 cup finely chopped Mixed Capsicum (red and orange)
1&1/2 tbsp Tomato Paste (store bought)
1/2 tsp Dried Origano
1/4 tsp Chilly Paprika
1/2 tsp Salt
Extra Virgin Olive Oil to serve
Parmesan Cheese to serve
Instructions
Cook tagliatelle pasta as per instructions given in packet or boil 10 cups of water in a pan, add pasta and salt and cook it till they are springy and chewy. Then drain, reserving some of the pasta water for further use.
How to prepare tomato puree:
Meanwhile, boil 3 cups of water in a separate pan.
Then remove the stem from the tomatoes by using a sharp knife.
When the water starts to boil add whole tomatoes and cook until the skin of the tomato begins to crack (It takes 30 seconds to 1 minute).
Then remove the tomatoes from the hot water and place them into the bowl of ice water.
Let them cool for few seconds and then remove the skin and seeds of the tomatoes.
Place them in a blender and blend until pureed.
How to cook tomato tagliatelle pasta:
Heat a pan with olive oil, when the oil heats, add garlic pieces and saute till they turn into golden brown.
Add chopped onion and saute well till they become translucent and tender.
Then add grated carrot and chopped capsicums, saute well.
Now add tomato puree, tomato paste, chili paprika, dried oregano and salt and cook it for 5 mins in medium heat or until the veggies are fully cooked and mash the veggies well.
Then turn the heat to low, cover the pan with a lid and cook it for 20 to 30 mins, stir in between.
Now the tasty tomato sauce is ready.
Also add the cooked pasta and give a quick stir.
Then add 2 to 3 tbsp of reserved pasta water to loosen and cook it for another 1 minute.
Switch off the heat and serve with a drizzle of olive oil and plenty of Parmesan cheese.
Now tasty tomato tagliatelle pasta is ready to serve.
By Santhi Therese
The Indian Claypot
You may also like my other Italian posts and recipes like Creamy White Sauce Pasta, Penne Pasta with Minced Chicken, Eggless Chocolate Mousse Parfait, Chicken Alfredo Pasta, Turkey Frittata, Panna Cotta Parfaits with Raspberry Compote, Strawberry Panna Cotta, Vegetable Frittata Recipe, Creamy Chicken And Sweet Corn Pasta, Spicy Red Sauce Pasta, Creamy White Sauce Pasta .