Black Gram Laddu
This black gram laddu is a healthy alternative snack for everyone from kids to adults.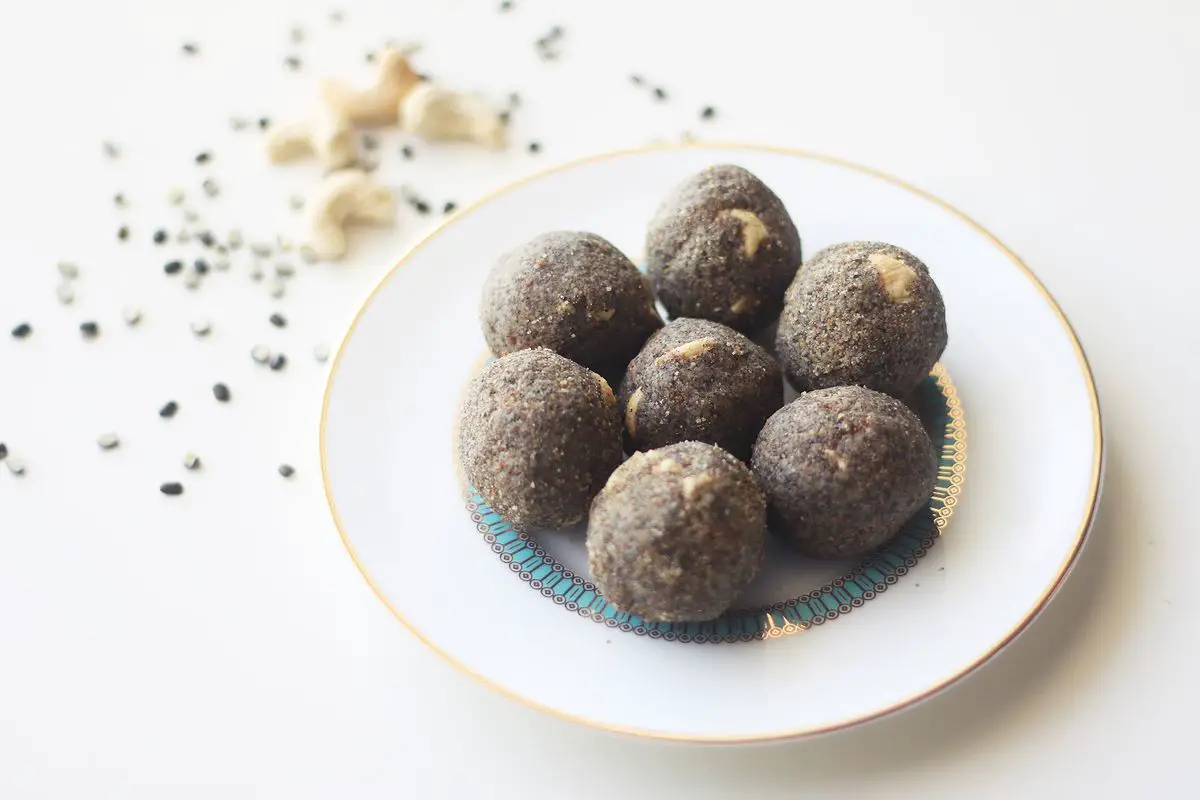 In India, Laddu is one of the most famous dessert recipes during festival times! Known for it's amazing flavors and taste, these Laddus are the best dessert option for everyone! This black gram laddu is a healthy alternative snack for everyone from kids to adults. Black urad dal is one of the richest sources of proteins and vitamin B, and is also beneficial for women and kids especially during puberty and menopause. This simple lentil laddu is full of iron, folic acid, calcium, magnesium and potassium, which makes this a perfect health package for pregnant women and It is also a good home remedy for back pain! Other than its health benefits, black gram laddu is also known to please everyone's taste palettes. It is easy to prepare and can be eaten as a snack also. So what are you waiting for? Go ahead and try it right now!
Furthermore, I would like to share some of my suggestions for making a perfect black gram laddu. Firstly, While roasting take care not to burn it. Secondly, The color of the laddu depends on the color of the jaggery. So try to buy good quality of jaggery. You can also add any dry fruits and nuts like badam or pista of your choice to make it nutricious. Finally, make the laddu when the mixture is warm. If the mixture is dry, add a tbsp of more melted ghee. and if the mixture turns watery, then allow to rest for 10 mins, so it absorbs and thickens.
Finally, you may also like my other Diwali sweet recipes like Milk Halwa, Rava Ladoo, Boondi Ladoo, Pineapple Kesari, Badam Burfi, Carrot Halwa, Pumpkin Halwa, Beetroot Dates Halwa, Badam Kheer, Rasmalai Recipe, Milk Peda, Gulab Jamun, Kalakand, Kesari, Custard Halwa, Butter Murukku, Thenkuzhal Murukku, Saffron Butter Cookies, Paruppu Vadai, and Urad Dal Vadai.
Black Gram Laddu 2020-07-16 05:11:05
Black Gram Laddu
Serves 12
Prep Time: 00:05
Cook Time: 00:15
Total Time: 00:20
Ingredients
1 cup Black Gram Split and Skinned / Karuppu Ulundhu / Black Urad Dal
1/4 cup Peanuts
1/4 cup Fried Gram / Pottukadalai
4 to 5 Green Cardamoms
3/4 cup Powdered Jaggery
3 tbsp Ghee
One handful Chopped Cashews
Instructions
Dry roast black gram/urad dal on low to medium heat until you get a nice aroma and the dal becomes golden brown. Remove from the heat and keep it aside.
Then add peanuts and fry until crisp and remove from the heat and keep it aside.
Then add fried grams and cardamoms and fry for few seconds.
Cool down completely.
Then add to a mixie jar and grind until you get a fine powder.
Now add powdered jaggery and give a quick blend or until fully incorporated.
Transfer the mixture to a mixing bowl. The mixture will be slightly coarse.
Meanwhile, heat a pan with ghee.
When the ghee heats, add chopped cashews and fry until golden brown.
Add the ghee and the fried cashews to the dal mixture. Mix well with a spoon.
Pinch a small lemon sized portion and shape them as ladoos.Repeat to finish the mixture.
Store in an air tight container. Store well atleast for 5 days in room temperature itself.
By Santhi Therese
The Indian Claypot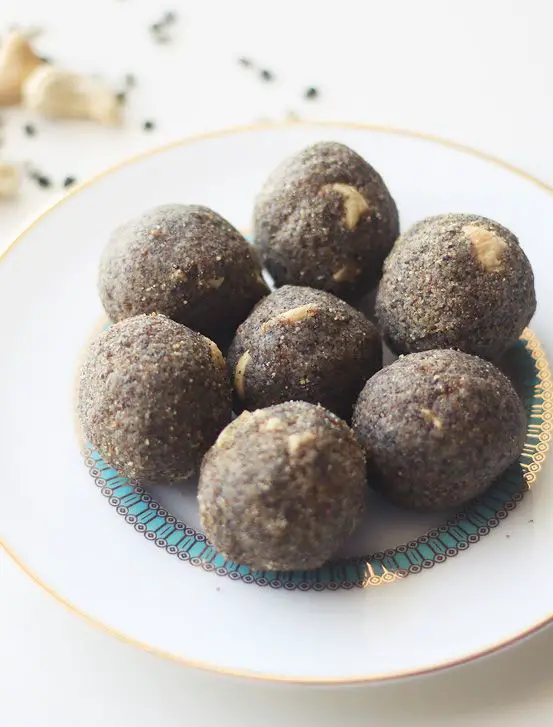 You may also like my other Healthy Snacks posts and recipes like Easy Bruschetta Recipe, Sweet Paniyaram with Idli / Dosa Batter, Oats Chocolate Brownie Recipe, Ragi Aval Sweet Kozhukattai, Instant Wheat Flour Sweet Appam, Mysore Bonda Recipe, Pottukadalai / Fried Gram Murukku Recipe, Wheat Butter Cookies, Fried Gram / Pottu Kadalai Urundai, Baked Chakli/Murukku, Green Gram Payasam/Kheer, Moong Dal Susiyam, Banana Oatmeal Cookies, Microwave Chocolate Mug Cakes, Homemade Peanut Butter, Vazhaipoo Vadai, Eggless Raspberry Pudding, Raspberry Bread, Coconut Sweet Bun, Spicy Potato Buns .