Paneer Manchurian Dry
One of the most loved vegetarian dishes in Indian-Chinese cuisine, Paneer Manchurian Dry.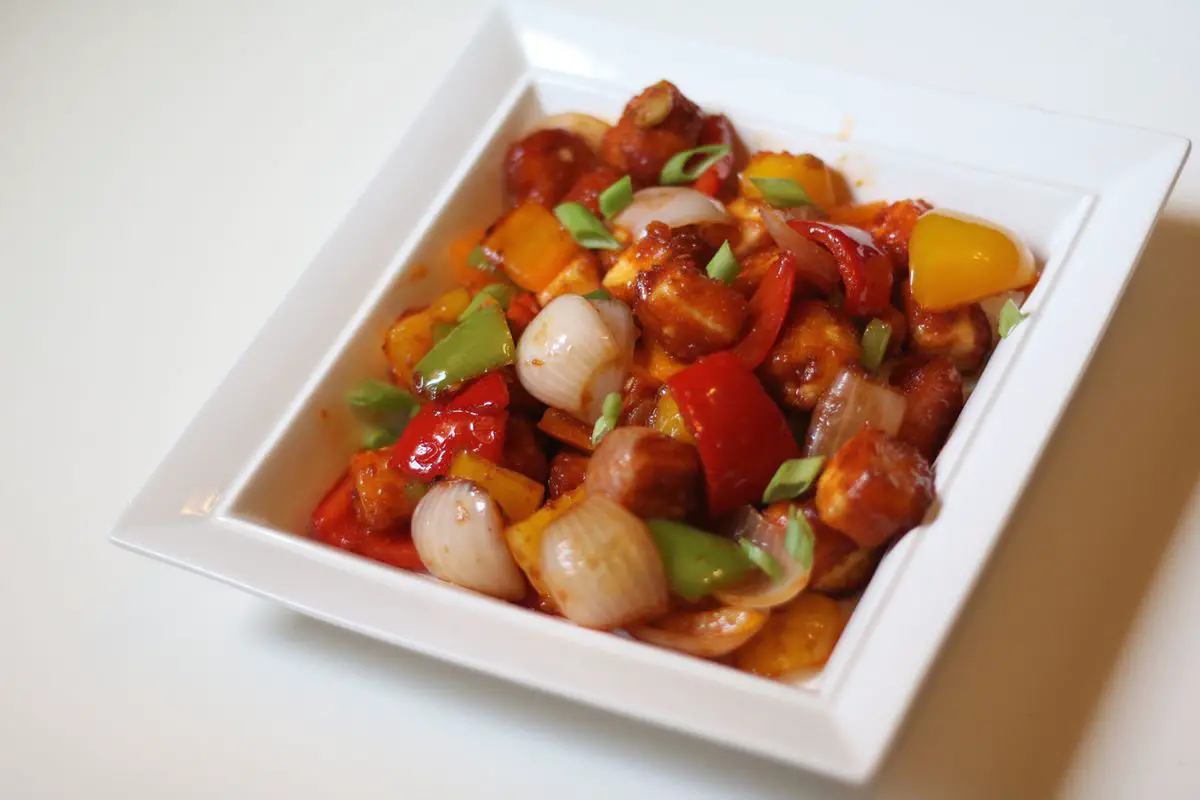 One of the most loved vegetarian dishes in Indian-Chinese cuisine, Paneer Manchurian Dry. The mouth-watering taste and addictive texture make it a favorite of many, and it pairs perfectly with Fried Rice. I have already shared Gobi Manchurian on my blog, and Paneer Manchurian Dry is just as delicious. It's a dish that I prepare at least once a week, and it's very easy to make. Give it a try and share your feedback!
Now, let me share some tips for preparing the perfect Paneer Manchurian Dry. Firstly, mix all the ingredients for the paneer marinade and then add the paneer cubes. Gently toss the mixture and add 1 tbsp of water to ensure that the paneer is well coated with the marinade. Shallow fry the paneer cubes with 3 tbsp of oil or you can opt to deep fry them.
Be careful not to fry them for too long, as the paneer cubes can become rubbery. Finally, stir-fry all the veggies until they are crunchy, and don't overcook them. Green onions should be added at the end to enhance the dish's flavor and make it a true Chinese dish.
You may also like Gobi Manchurian.
Paneer Manchurian Dry 2017-08-09 05:32:36
Paneer Manchurian Dry
Serves 2
Prep Time: 00:10
Cook Time: 00:10
Total Time: 00:20
Ingredients
200 g paneer cubes
2 tbsp corn flour
1 tsp ginger garlic paste
1/4 tsp turmeric powder
1 tsp red chili powder
as needed salt
For Manchurian sauce:
3 tbsp oil for shallow frying
one cup mixed capsicums, diced
1 medium-sized onion, diced
4 garlic pods, chopped
3 to 4 tbsp tomato ketchup
2 tsp soy sauce
1 tsp white vinegar
1/4 tsp white or black pepper powder
3/4 tsp sugar
green onions for garnishing
Instructions
In a wide bowl, combine paneer cubes with other ingredients then gently toss well or until combined. Then sprinkle 1 to 2 tbsp water and mix well until the paneer cubes are coated evenly with the flour.
Meanwhile, heat a small pan with 3 tbsp of oil over medium heat.
When the oil heats, add paneer cubes in 1 or 2 batches, fry till all the sides of the paneer cubes become golden brown. Don't fry them for a longer period because the paneer cubes become rubbery.
Then remove the paneer cubes from the pan and keep it aside.
In the same pan, with the remaining oil, add chopped garlic and diced onions, fry until onions become transparent.
Turn the heat to high, add diced capsicums, saute until they are cooked but still, crunchy.
Then add soy sauce, tomato ketchup, vinegar, sugar and pepper powder and give a quick stir. Now add fried paneer cubes and toss the paneer in the sauce well to coat evenly. Finally, garnish it with spring onion.
Serve the paneer manchurian with fried rice.
By Santhi Therese
The Indian Claypot
You may also like my other Indo-Chinese Cuisine posts and recipes like Schezwan Chicken, Tofu Manchurian, Veg. Schezwan Noodles, Chicken Schezwan Noodles, Veg Fried Rice, Chicken Hakka Noodles, Sweet and Sour Pineapple Chicken, Schezwan Sauce Recipe, Veg. Hakka Noodles, Easy Cashew Chicken, Honey Glazed Chicken, Dry Gobi Manchurian (Cauliflower), Prawn Fried Rice, Orange Chicken .