Masala Peanuts (Healthy Snack)
How to Make Delicious Masala Peanuts/Kadalai at Home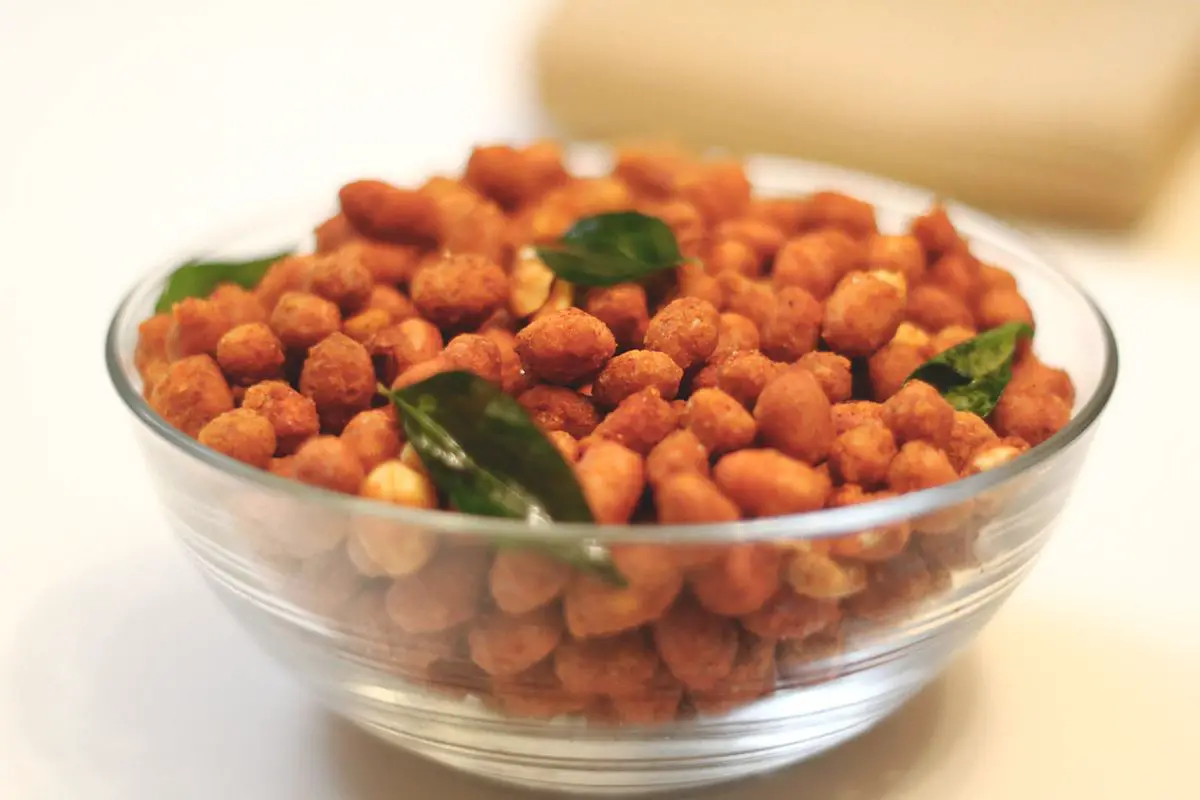 How to Make Delicious Masala Peanuts/Kadalai at Home
Masala peanuts, also known as Masala kadalai in Tamil Nadu, are a popular tea time snack in South India. If you are looking for a tasty and easy-to-make snack to enjoy with your evening tea, then look no further than masala peanuts!
If you've already tried our roasted peanut recipe, then it's time to add some flavor with this masala peanut recipe. Here's how you can make it at home:
Pro tips:
Use good quality peanuts for the best taste.
Adding crushed garlic with skin gives the masala peanuts a more intense flavor.
Sprinkle little water (3&1/2 tbsp of water is enough) over the peanuts and mix well to ensure that each peanut is coated with the masala.
If you try this recipe, we would love to hear your feedback. Share your comments below and let us know how it turned out for you!
Though peanuts are very rich in protein, this deep fried recipe is not very healthier. If you want healthy masala peanuts then try this Roasted Peanuts.
You may also like my other healthy snack recipes such as Fruit and Nut Balls, Fruit and Nut Choco-Bar and Dark Chocolate Nut Balls.
Masala Peanuts (Healthy Snack) 2017-02-27 08:01:25
Masala Peanuts (Healthy Snack)
Serves 5
Prep Time: 00:10
Cook Time: 00:15
Total Time: 00:25
Ingredients
250 grams peanuts
1/2 cup chickpeas flour
1/4 cup rice flour
2 tsp red chili powder
1/4 tsp asafoetida powder
1/4 tsp cumin powder
4 garlic pods
3/4 tsp or to taste salt
5 tbsp, divided water
few curry leaves
to fry oil
Instructions
Crush the garlic pods along with the skin, roughly.
Place the peanuts in a microwave plate and microwave it on high for 1 and 1/2 mins.
Meanwhile, heat a pan with enough oil to fry the peanuts, over medium heat.
In a wide bowl, combine chickpeas flour, rice flour, red chili powder, asafoetida powder, cumin powder, crushed garlic, and salt, mix it well until incorporated.
Sprinkle 1&1/2 tbsp of water over the peanuts and mix well, so that the masala gets coated in the peanuts well and makes them separate.
Then add the wet peanuts to the flour and mix it thoroughly.
Sprinkle some water and mix well until each peanut is coated well with the masala.
But while adding water, take care not to add more. Only 3&1/2 tbsp of water is enough.
Once the oil is heated, deep fry the masala coated peanuts in hot oil in batches and deep fry until it becomes golden brown and crunchy.
Fry till bubbles cease and place it on a kitchen towel to observe the excess oil.
Do the same process for the remaining peanuts also.
Wash and pat dry curry leaves and fry them in the oil till it becomes crispy and finally, add it to the fried peanuts.
By Santhi Therese
The Indian Claypot
You may also like my other Healthy Snacks posts and recipes like Easy Bruschetta Recipe, Sweet Paniyaram with Idli / Dosa Batter, Oats Chocolate Brownie Recipe, Ragi Aval Sweet Kozhukattai, Instant Wheat Flour Sweet Appam, Mysore Bonda Recipe, Pottukadalai / Fried Gram Murukku Recipe, Wheat Butter Cookies, Fried Gram / Pottu Kadalai Urundai, Baked Chakli/Murukku, Green Gram Payasam/Kheer, Black Gram Laddu, Moong Dal Susiyam, Banana Oatmeal Cookies, Microwave Chocolate Mug Cakes, Homemade Peanut Butter, Vazhaipoo Vadai, Eggless Raspberry Pudding, Raspberry Bread, Coconut Sweet Bun .