Oven Roasted Baby Potatoes
Looking for a delicious and easy side dish to serve with your dinner? Look no further than these Oven Roasted Baby Potatoes!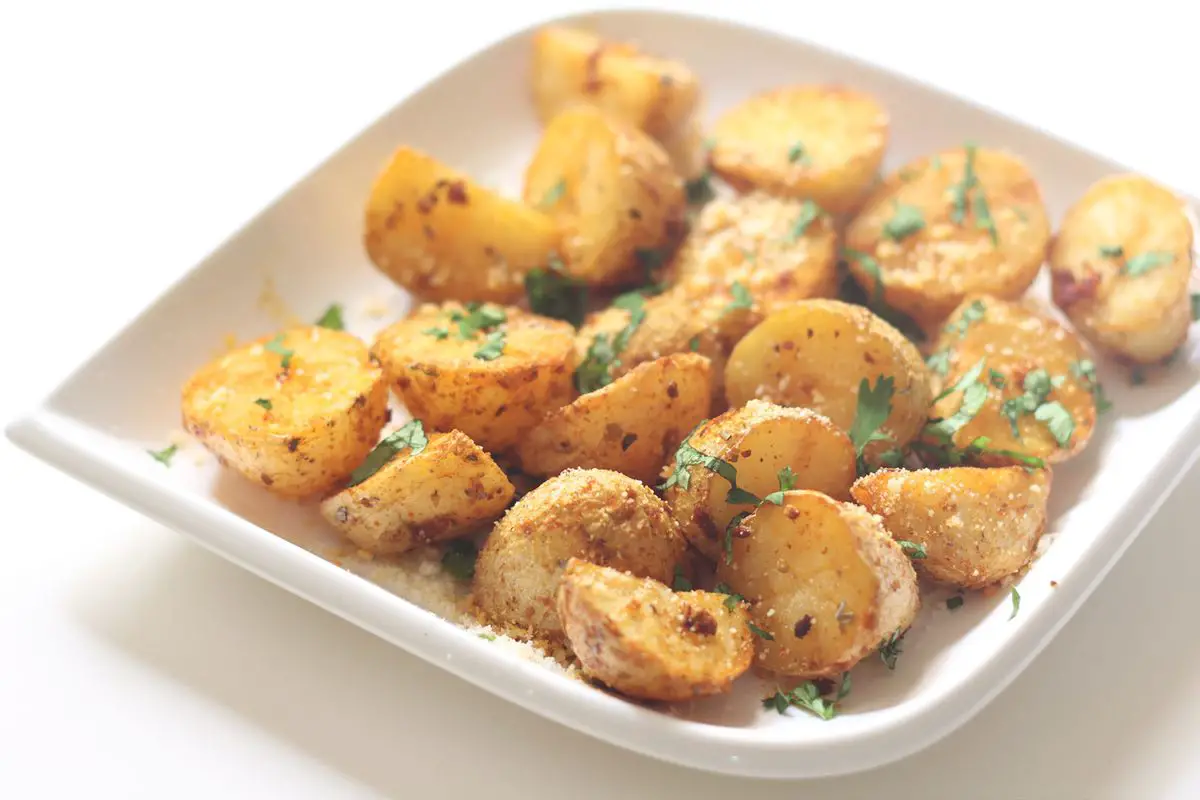 Looking for a delicious and easy side dish to serve with your dinner? Look no further than these Oven Roasted Baby Potatoes! The parmesan cheese adds a cheesy aroma that will fill your home with a wonderful scent. These potatoes pair perfectly with chicken, making them a great addition to any meal. So why not give them a try and share your comments with us?
To ensure your oven roasted baby potatoes turn out perfectly, here are a few tips. First, choose firm potatoes without any green patches or sprouting unless you plan to use them the same day. If there are any eyes on the potatoes, simply cut them off with a knife. Second, be gentle when cleaning the potatoes so that the skin doesn't peel off. Finally, adjust the baking time to suit your oven and keep an eye on them to avoid overcooking.
You may also like Oven Fried Chicken and Potato Wedges.
Oven Roasted Baby Potatoes 2017-12-04 05:11:19
Oven Roasted Baby Potatoes
Serves 2
Prep Time: 00:05
Cook Time: 00:25
Total Time: 00:30
Ingredients
250g baby potatoes
1 tbsp olive oil
2 cloves garlic, pressed
1/2 tsp Italian seasoning
1/2 to 1 tsp (as per your taste) paprika or red chili powder
to taste salt
15g unsalted butter, cut into small cubes
1 tbsp grated parmesan cheese
some finely chopped parsley leaves
Instructions
Clean and rinse the baby potatoes, drain and then cut into halves.
In a small bowl, mix together olive oil, pressed garlic, Italian seasoning, salt and paprika, then toss potatoes with the seasoning mix until evenly coated.
Then transfer the potatoes to a large oven safe skillet or pan and place skin side down.
Meanwhile, preheat oven to 200 degrees C.
Bake it for 10 mins or until the surface turns crispy.
Remove the skillet from the oven and flip the potatoes by using tongs.
Then add butter cubes over the potatoes, again bake it for 15 to 20 mins or until browned.
Finally, sprinkle the parmesan cheese and finely chopped parsley on top of the roasted potatoes and serve immediately.
By Santhi Therese
The Indian Claypot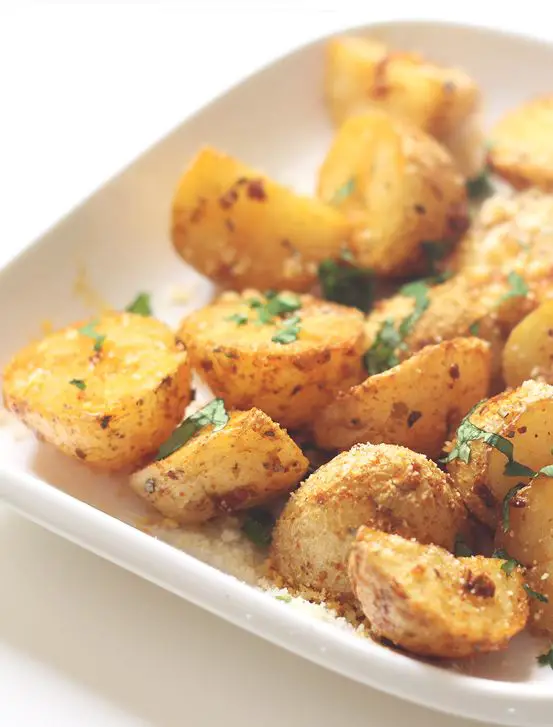 You may also like my other Healthy Snacks posts and recipes like Easy Bruschetta Recipe, Sweet Paniyaram with Idli / Dosa Batter, Oats Chocolate Brownie Recipe, Ragi Aval Sweet Kozhukattai, Instant Wheat Flour Sweet Appam, Mysore Bonda Recipe, Pottukadalai / Fried Gram Murukku Recipe, Wheat Butter Cookies, Fried Gram / Pottu Kadalai Urundai, Baked Chakli/Murukku, Green Gram Payasam/Kheer, Black Gram Laddu, Moong Dal Susiyam, Banana Oatmeal Cookies, Microwave Chocolate Mug Cakes, Homemade Peanut Butter, Vazhaipoo Vadai, Eggless Raspberry Pudding, Raspberry Bread, Coconut Sweet Bun .