Pumpkin Scones
Are you a fan of baking? Then you must try out these soft and moist Pumpkin Scones with a crispy outer layer and crunchy chocolate chips that melt in your mouth!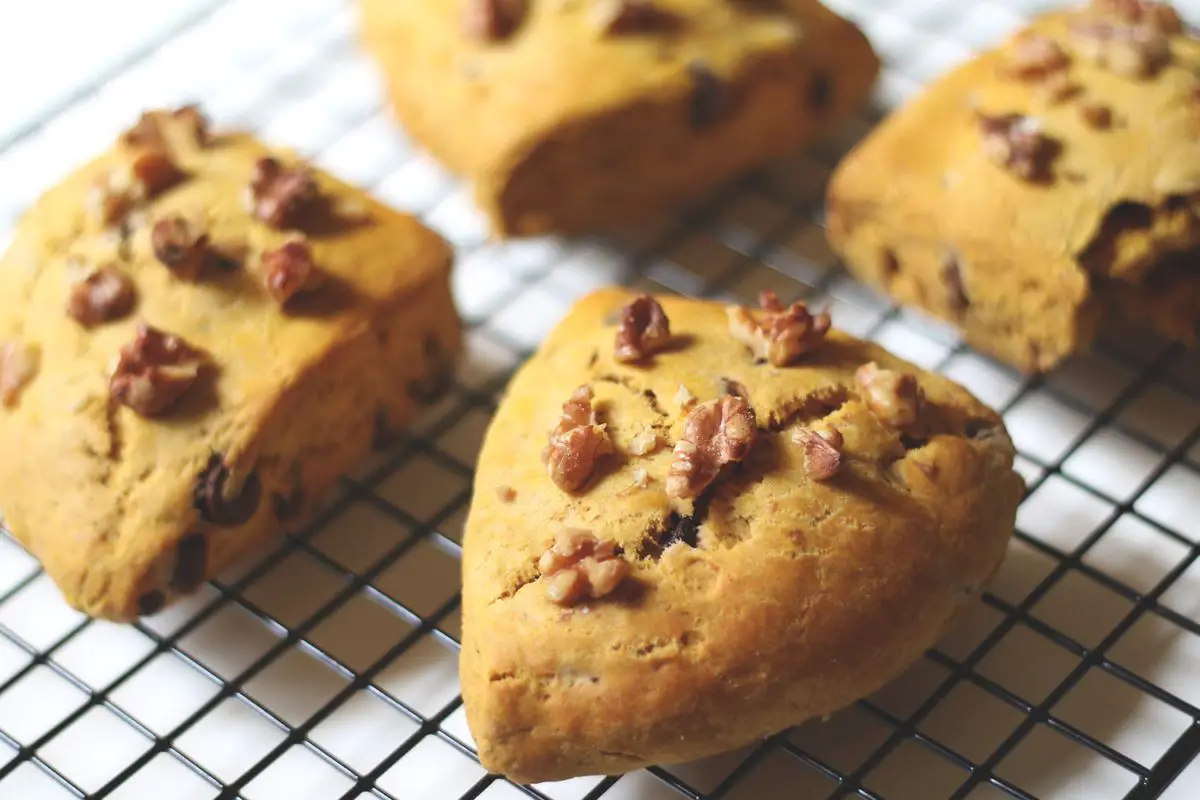 Are you a fan of baking? Then you must try out these soft and moist Pumpkin Scones with a crispy outer layer and crunchy chocolate chips that melt in your mouth! Don't forget to share your feedback with me after trying them out!
To make the perfect pumpkin scones, I have a few suggestions for you. Firstly, these scones are baked at a higher than normal oven temperature which gives them a crispy crust on the outside. Secondly, buttermilk adds a thick, creamy texture with a rich and tangy buttery taste. However, if you don't have buttermilk, you can easily make your own by adding 1/2 tablespoon of lemon juice or vinegar to 1/2 cup of milk and letting it stand at room temperature for about 10 minutes before using. Start by adding 1/3 cup (80ml) of buttermilk while mixing the dough and add more if needed.
For convenience, you can use canned pumpkin puree instead of making it from scratch. But be careful not to buy the pumpkin puree with added spices.
How to make homemade pumpkin puree :
If you prefer to make your own pumpkin puree, start by buying a smaller pumpkin variety. Cut it in half lengthwise, remove all the seeds and stringy fibers, and place it cut-side down on a greased baking sheet. Bake at 180 degrees C for about 45 to 75 minutes depending on size, or until easily pierced with a knife. Scoop out the pulp and blend it until it forms a smooth paste. Strain the puree through a cheesecloth-lined strainer and let it cool before using.
So, go ahead and try making these delicious Pumpkin Scones at home with these easy tips and tricks. I'm sure you'll love them just as much as I do!
You may also like my other pumpkin recipes such as Pumpkin Soup, Pumpkin Cupcakes, Pumpkin Halwa and carrot and pumpkin soup.
Pumpkin Scones 2017-10-13 06:32:44
Pumpkin Scones
Serves 8
Prep Time: 00:15
Cook Time: 00:20
Total Time: 00:35
Ingredients
2 cups (260g) all purpose flour
1/2 cup (100g) firmly packed light brown sugar
3/4 tsp (3g) baking powder
1/2 tsp (2g) baking soda
3/4 tsp ground cinnamon powder
1/2 tsp ground ground ginger powder
1/4 tsp ground cloves powder
1/4 tsp salt
1/2 cup (113 g), cut into small pieces cold unsalted butter
2/3 cup (115 g) semi sweet chocolate chips
1/3 to 1/2 cup (80 to 120 ml) cold buttermilk
1/2 cup (120 g) canned pumpkin puree
1 tsp vanilla essence
1/4 cup chopped walnuts
60 ml (1/4 cup) milk
Instructions
Preheat oven to 200 degrees C and place the oven rack in the center of the oven. Then line a baking sheet/tray with parchment paper.
In a wide bowl, whisk together the flour, baking powder, baking soda, brown sugar, salt and all spices until combined.
Then add chopped, cold butter pieces into the flour mixture, mix well by using a pastry cutter or by hand until it becomes coarse crumbs. Then add chocolate chips, mix well.
In a separate bowl, whisk together 80 ml (1/3 cup) buttermilk, pumpkin puree, and vanilla essence until incorporated.
Add this buttermilk mixture to the flour mixture, mix until it forms a smooth dough. (add the remaining buttermilk, if needed). Do not over mix.
Place the dough on a floured surface and knead gently until just smooth.
Form the dough like a ball. Then pat the dough into 18 cm circle.
Cut the circle into 8 triangle pieces. (first cut in half, then cut each half into 4 pie-shaped wedges)
Place the scones on the prepared baking sheet. Then brush the tops of the scones with milk by using a pastry brush.
Finally, sprinkle chopped walnuts over the scones and press gently.
Place the baking sheet inside another baking tray to prevent the bottom of the scones from over browning.
Bake it for 20 mins or until it becomes golden brown and a toothpick inserted in the center comes out clean.
Remove from the oven and transfer to a wire rack to cool.
By Santhi Therese
The Indian Claypot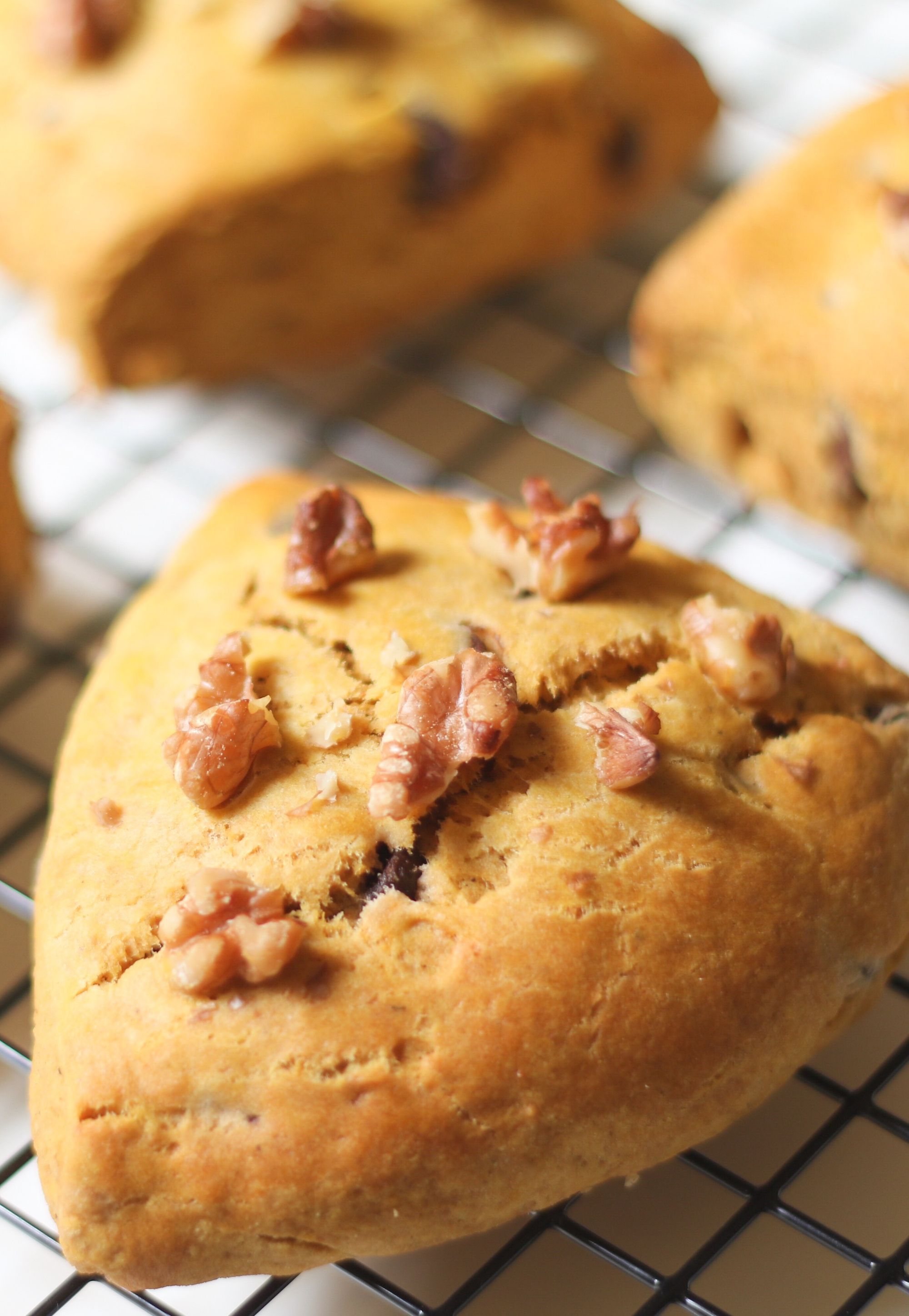 You may also like my other Healthy Snacks posts and recipes like Easy Bruschetta Recipe, Sweet Paniyaram with Idli / Dosa Batter, Oats Chocolate Brownie Recipe, Ragi Aval Sweet Kozhukattai, Instant Wheat Flour Sweet Appam, Mysore Bonda Recipe, Pottukadalai / Fried Gram Murukku Recipe, Wheat Butter Cookies, Fried Gram / Pottu Kadalai Urundai, Baked Chakli/Murukku, Green Gram Payasam/Kheer, Black Gram Laddu, Moong Dal Susiyam, Banana Oatmeal Cookies, Microwave Chocolate Mug Cakes, Homemade Peanut Butter, Vazhaipoo Vadai, Eggless Raspberry Pudding, Raspberry Bread, Coconut Sweet Bun .