Kingfish Fry
Discover the Delightful Flavor of Kingfish Fry: A Must-Try South Indian Dish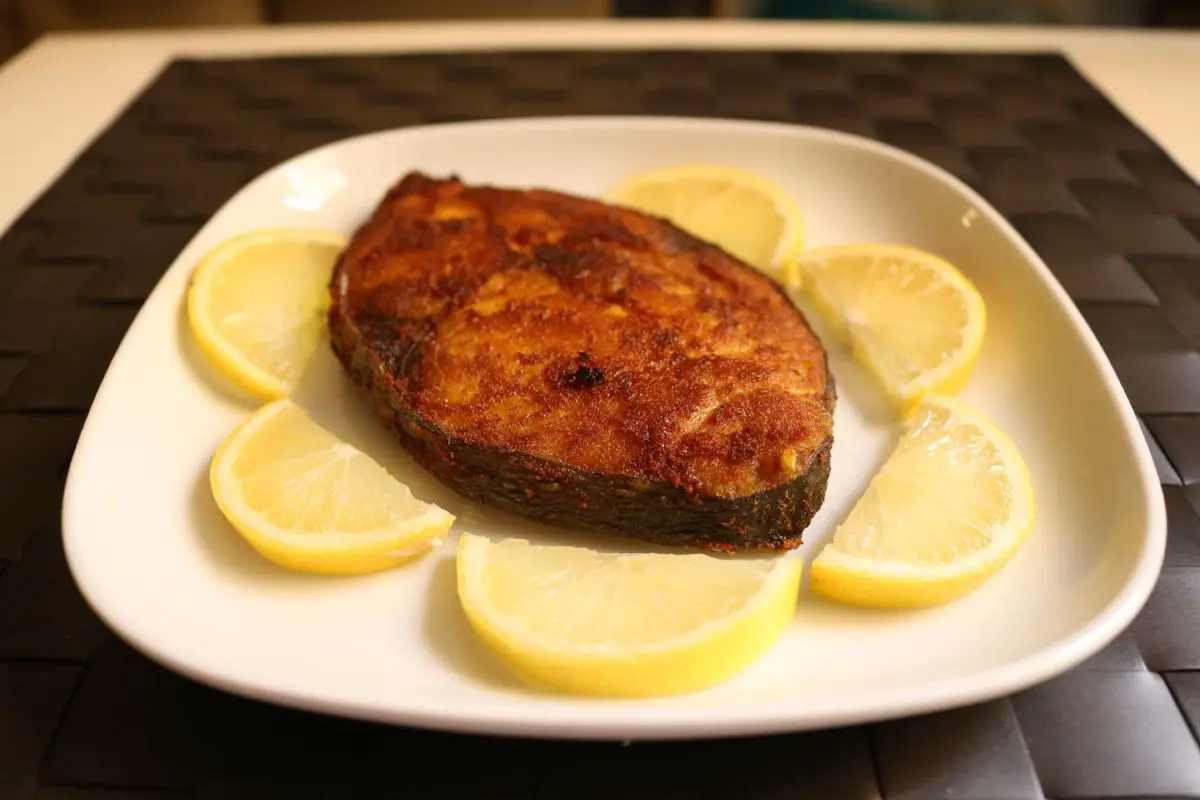 Discover the Delightful Flavor of Kingfish Fry: A Must-Try South Indian Dish
Kingfish Fry is a popular and nutritious dish that is loved by many in South India. It's a simple fish fry that can be made with any white-fleshed fish, but for the best taste, we recommend using kingfish.
Our recipe is a favorite among many, including my son, who can't wait until lunchtime to indulge in its delicious flavors. If you're looking to try something new or are a fan of South Indian cuisine, then Kingfish Fry is a must-try dish that is sure to become one of your favorites.
To make the perfect Kingfish Fry, start by cleaning the fish with lemon and salt water to get rid of any unwanted fish smell. Then, heat the oil over medium heat to ensure that the fish cooks properly.
If you're health-conscious, try pan-frying the fish with just 2 to 3 tbsp of oil, and add some chopped curry leaves while stir-frying to enhance the flavor of the dish.
Here's a helpful tip: if you have any leftover marinade, store it in a ziplock bag in the freezer for another meal.
In conclusion, give Kingfish Fry a try and let us know what you think! Don't forget to share your comments and experiences with us.
Kingfish Fry
Serves: 5
Prep Time: 00:05
Cook Time: 00:15
Total Time: 00:20
Ingredients:
one king fish (cut into thin pieces)
2 tbsp lemon juice
1 tsp salt
For Marination:
1&1/2 tbsp red chili powder
1/2 tsp black pepper powder
1/2 tsp turmeric powder
1 tsp salt
1 tbsp vinegar or fresh lemon juice
one tbsp olive oil
Enough oil to fry
Instructions:
In a wide bowl, add fish pieces, salt, lemon juice and water. Clean the fish well, drain the water.
In another bowl, add all the ingredients given under marination, mix well until a smooth paste without adding any water.
Then apply this paste to each piece on both sides or until well coated and keep it aside for 3 hours or overnight in the refrigerator.
Heat a pan with enough oil over medium heat, when the oil heats, place fish pieces in batches and fry them until they turn into golden brown in color on both sides.
Do the same process for the remaining pieces also.
If you have any leftover marinade, store it in the ziplock bag in the freezer for another meal.
By: Santhi Therese
Source: The Indian Claypot
https://theindianclaypot.com/
You may also like my other Sea food recipes posts and recipes like "Delicious and Nutritious Seafood Recipes for a Healthy Diet", Pan Fried King Fish Steak Recipe, Lemon Honey Glazed Salmon, Breaded Fried Prawns, Grilled Kingfish Steak, Golden Fried Prawns, Spicy Grilled Salmon, Orange Honey Glazed Salmon, Shrimp Stir Fry, Tangy and Spicy Salmon Fillet (Brain Food) .