Tuna Cutlets
Tuna Cutlets are the perfect snack to enjoy in the evening with your family, especially the kids!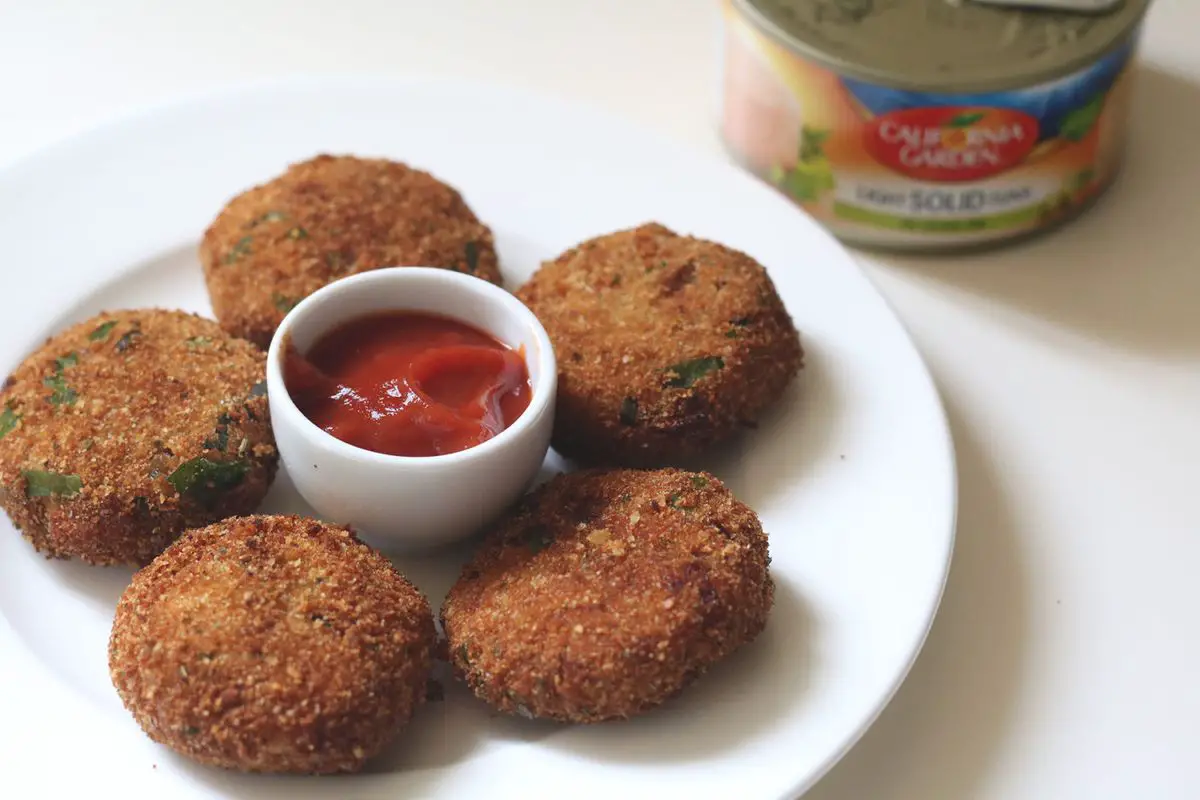 "Tuna Cutlets are the perfect snack to enjoy in the evening with your family, especially the kids! Not only are they healthy and delicious, but they are also crispy and make for a great appetizer. If you're feeling extra creative, you can even place the cutlets in a bun for a tasty tuna burger."

If you are a vegetarian, then try this Vegetable Cutlets as a healthy snack for your kids!
Furthermore, I would like to give some of my suggestions for making crispy tuna cutlets. Firstly, drain the oil or water from the can completely. Secondly, if you don't have Italian style breadcrumbs with romano cheese, then add some chili powder and salt with the plain breadcrumbs. You can also add some dry Italian herbs to the breadcrumbs. Finally, try to fry the tuna cutlets in the oil over medium heat. But you can also stir fry the patties, if you want it to be more healthier.
Tuna Cutlets
Serves 4
Tuna Cutlets are a healthy, tasty, and crispy evening tea-time snack that your kids are sure to enjoy!
Prep Time: 00:10
Cook Time: 00:30
Total Time: 00:40
Ingredients
240g canned tuna fish
250 grams potato, boiled, peeled, and smashed
2 tsp olive oil
1/4 tsp fennel seeds
1 medium-sized onion, finely chopped
1 green chili, finely chopped
a small piece (1 inch) of ginger, grated
a few curry leaves, finely chopped
1/2 tsp red chili powder
1/4 tsp turmeric powder
1/2 tsp garam masala powder
1/4 tsp black pepper powder
salt to taste
1 tbsp finely chopped coriander leaves
1 egg, lightly beaten
1/2 cup breadcrumbs (I used Italian style breadcrumbs with Romano cheese)
oil to fry
Instructions
Drain the oil or water from the can and keep it aside.
Heat a pan with olive oil. When the oil heats, add fennel seeds and fry until spluttering.
Then add chopped onion, green chili, curry leaves, and grated ginger. Stir fry until they turn golden brown.
Add the tuna, mash it with a wooden spatula, and fry for one minute.
Further add red chili powder, turmeric powder, garam masala powder, pepper powder, and salt. Stir-fry until the tuna turns golden brown (3-5 minutes).
Remove from heat and let it cool for a few minutes.
In a wide bowl, combine mashed potato and cooked tuna. Mix well until incorporated. Add chopped coriander leaves and divide the mixture into 10-12 equal parts.
Shape each part into a ball and flatten it.
Take the beaten egg in a small bowl and place the breadcrumbs in another small plate.
Dip each patty in the egg mixture and then roll in breadcrumbs until well coated. Repeat for remaining patties.
Meanwhile, heat a pan with enough oil over medium heat. Place 3-5 patties at a time and fry until they turn golden brown. Flip and fry the other side.
Transfer to a plate over kitchen tissue.
Crispy Tuna Cutlets are ready to serve.
By Santhi Therese
The Indian Claypot
https://theindianclaypot.com/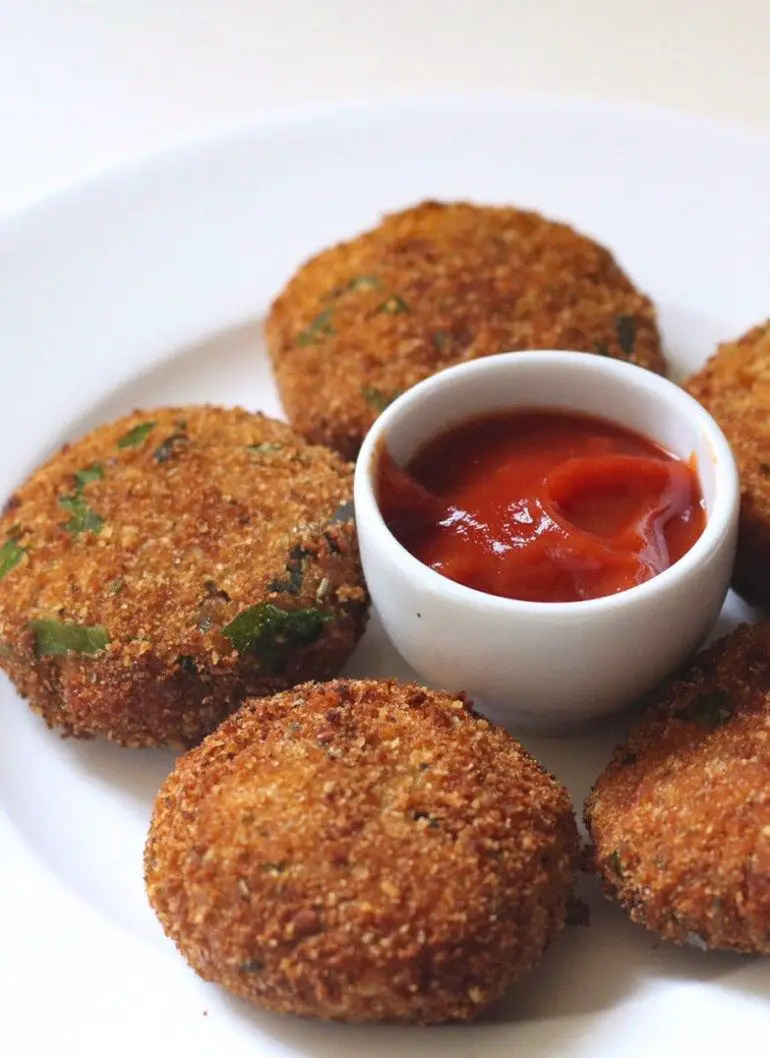 You may also like my other Healthy Snacks posts and recipes like Easy Bruschetta Recipe, Sweet Paniyaram with Idli / Dosa Batter, Oats Chocolate Brownie Recipe, Ragi Aval Sweet Kozhukattai, Instant Wheat Flour Sweet Appam, Mysore Bonda Recipe, Pottukadalai / Fried Gram Murukku Recipe, Wheat Butter Cookies, Fried Gram / Pottu Kadalai Urundai, Baked Chakli/Murukku, Green Gram Payasam/Kheer, Black Gram Laddu, Moong Dal Susiyam, Banana Oatmeal Cookies, Microwave Chocolate Mug Cakes, Homemade Peanut Butter, Vazhaipoo Vadai, Eggless Raspberry Pudding, Raspberry Bread, Coconut Sweet Bun .