Eggless Sponge Cake
A Delicious Festive Treat for Vegetarians. If you're a vegetarian and struggling to find a suitable dessert option? Worry not! We've got you covered with this scrumptious Eggless Sponge Cake recipe.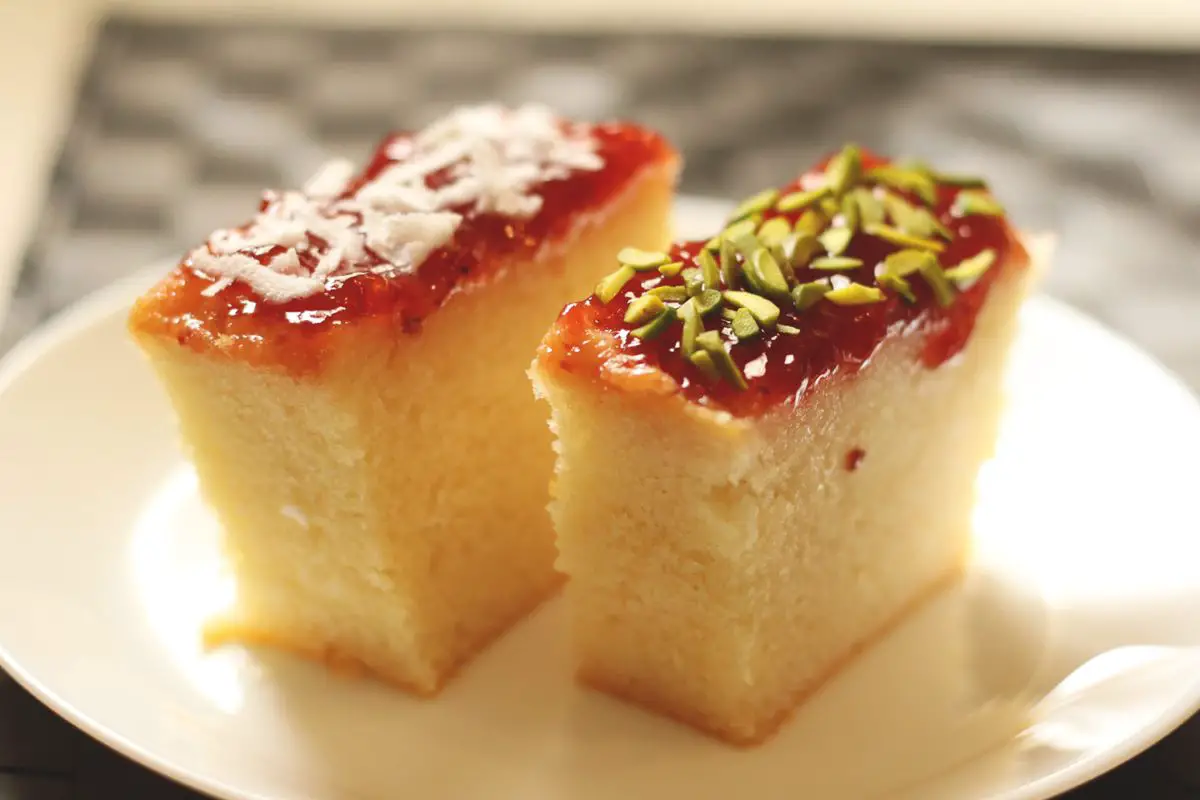 As the festive season approaches, we can't help but get excited about the delicious treats that are about to come our way. But what if you're a vegetarian and struggling to find a suitable dessert option? Worry not! We've got you covered with this scrumptious Eggless Sponge Cake recipe.
This cake, also known as Honey Cake, has its roots in South India, particularly at the famous Iyengar Bakery. Despite the word "honey" in its name, this cake uses a sugar syrup instead of actual honey. The syrup gives it a similar appearance, hence the name.
This eggless sponge cake is a must-try for anyone who loves a good dessert. Whether you're a seasoned baker or just starting out, this cake is easy to make and guaranteed to be a hit with family and friends. So why not give it a shot and let us know what you think in the comments section? Happy baking!
Furthermore, I would like to share some of my suggestions for making perfect eggless sponge cake.Firstly, I have used strawberry jam in this recipe. But you can also use any bright colored jam like raspberry or even mixed fruit jam. Secondly, you can easily store this cake for 4 to 5 days in the refrigerator. You can also add any nuts like almonds instead of pistachios. Finally, if you want this cake as the bakery-style cake, then double the amount of sugar syrup. Because this cake is a juicy, moist and spongy cake.
You may also like Orange Chiffon Cake, Yogurt Lemon Cake, Coffee Cake, Pineapple Cake and Red Velvet Cake.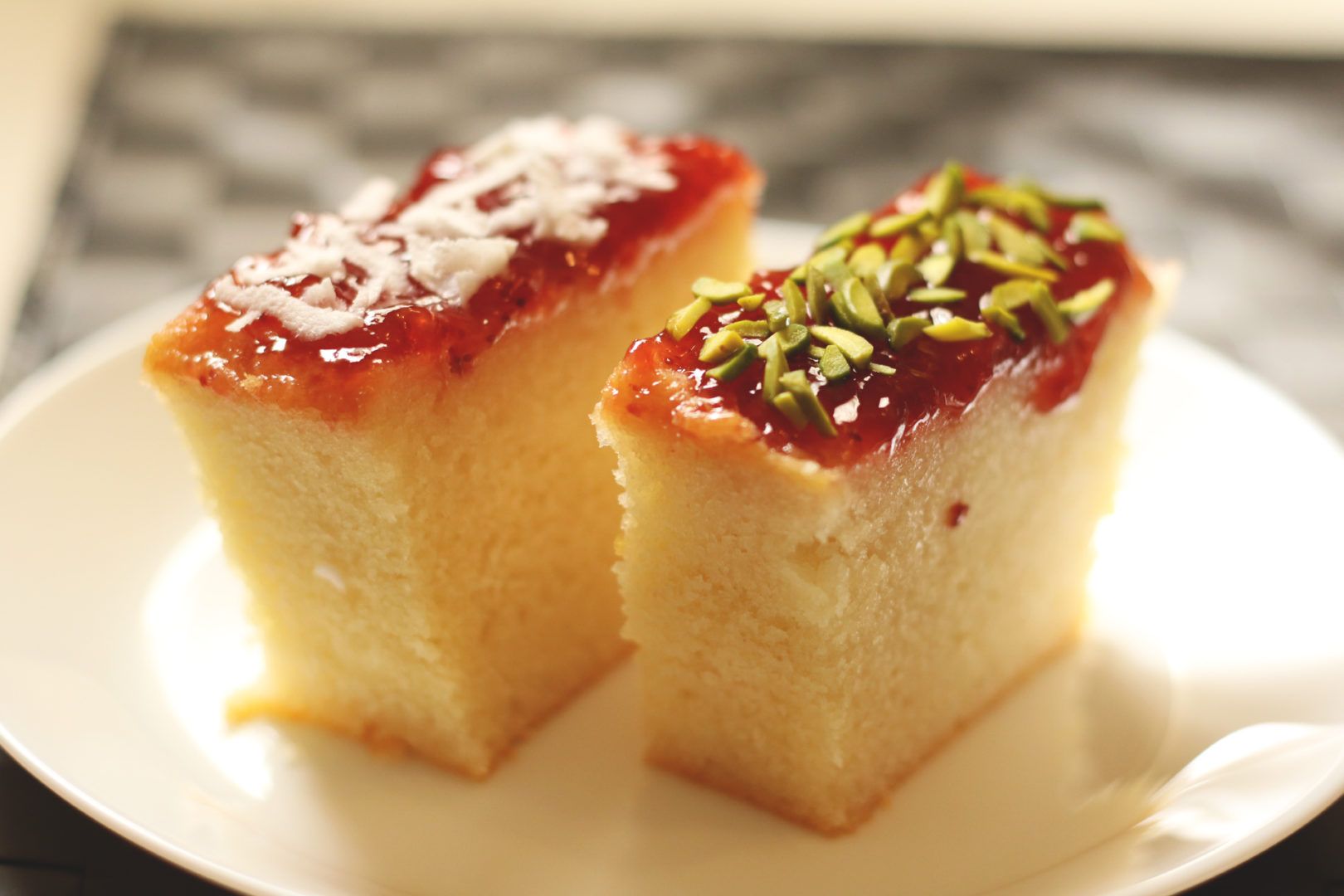 Eggless Sponge Cake
Serves 12
Prep. Time:15 mins
Baking Time:30 mins
Ingredients
2&1/4 cups all purpose flour (300 grams)
1 tbsp baking powder
1/4 tsp salt
1/4 cup butter at room temperature (60 gm)
400g sweetened condensed milk (1 tin)
1/4 cup yogurt
1 tsp vanilla essence
200 ml milk /less than 1 cup milk
For sugar syrup
1/2 cup sugar
1/2 cup water
1 tsp pineapple essence
For garnishing
200g strawberry jam
Coconut flakes
Pistachios
Instructions
Preheat oven to 180 degree C. Grease an 8-inch square pan with butter and dust with flour. Set aside.
Sieve together the all purpose flour, salt, and baking powder twice. Set aside.
In a large bowl, cream together the butter and condensed milk using a hand mixer or electric stand mixer with a paddle attachment.
Add yogurt and beat well, then add the vanilla essence and beat until combined.
With the mixer on low speed, alternately add the milk (in three additions) and the flour mixture (in two additions), starting and ending with milk.
Pour the batter into the greased pan, tap to avoid air bubbles, and bake for 30-35 minutes or until a toothpick inserted into the center comes out clean.
Cool for a few minutes and then flip onto a wire rack to cool completely.
While the cake is baking, mix the sugar and water in a saucepan, bring to a boil, and then remove from heat once the sugar has melted. Add the pineapple essence and set aside to cool.
Once the cake is cool, trim the top with a knife and pour the sugar syrup over the cake, soaking it in.
Soften the strawberry jam and spread on top of the cake. Sprinkle coconut flakes and pistachios as desired.
Cut into even pieces.
By Santhi Therese
The Indian Claypot https://theindianclaypot.com/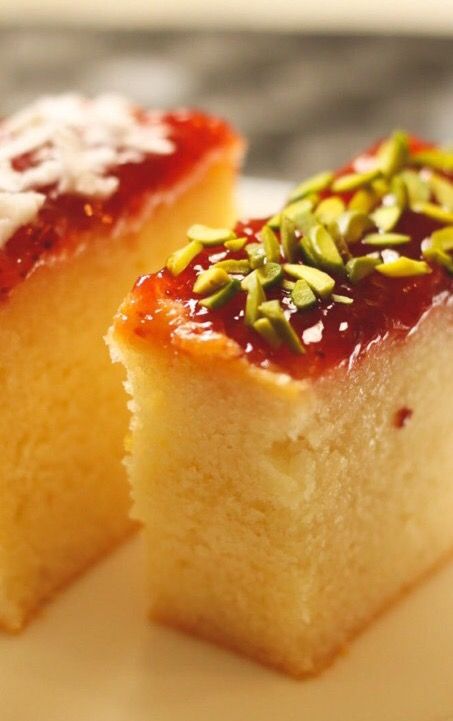 You may also like my other Christmas Cakes posts and recipes like Eggless Hot Cross Buns, Eggless Donut Recipe, Eggless Chocolate Cake Recipe, Eggless Ragi Chocolate Cake, Eggless Rava Cake, Eggless Banana Chocolate Cake, Eggless Strawberry Sauce Cake, Eggless Chocolate Cupcakes, Eggless Strawberry Cake, Eggless Apple Cake, Eggless Carrot Cake, Microwave Chocolate Mug Cakes, Eggless Orange Cake, Eggless Chocolate Marble Cake, Strawberry Streusel Coffee Cake, Christmas Plum Cake, Green Apple Streusel Cake, Meringue Cookies, Strawberry Fruit Fool, Red Velvet Cupcakes with Cream Cheese .