Orange Chiffon Cake
This scrumptious and spongy orange chiffon cake recipe is perfect for any time of day, from midnight snacks to lunch desserts.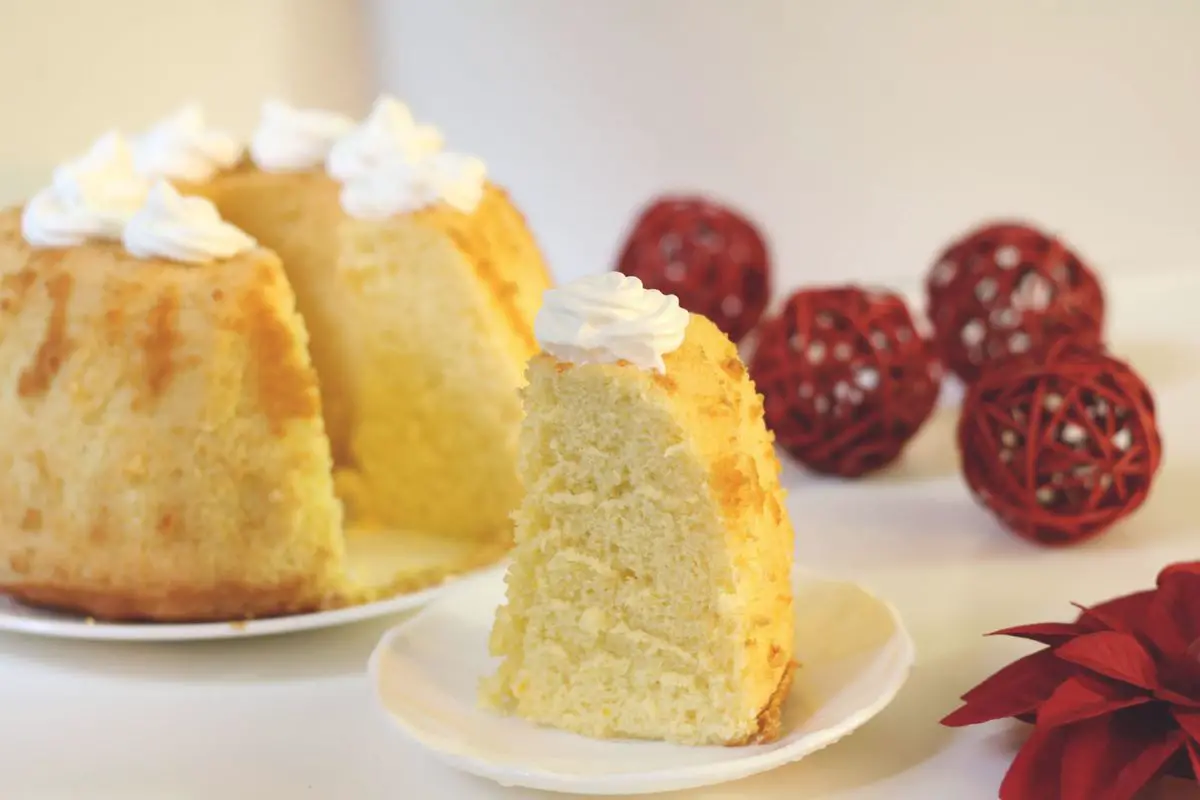 Get into the festive mood with a twist of orange! This scrumptious and spongy orange chiffon cake recipe is perfect for any time of day, from midnight snacks to lunch desserts. Plus, it's low in fat as there's no butter involved. You won't be able to resist taking another bite! Why not try this orange chiffon cake recipe and let me know what you think?
Here are some helpful tips for making the perfect orange chiffon cake. First, if you don't have cake flour, you can easily make your own by substituting 225g of sifted cake flour with 180g of sifted all-purpose flour plus 45g of cornflour. This creates the delicate texture of the orange chiffon cake.
Next, it's essential to separate the eggs and bring them to room temperature before starting the batter. To do so, separate the cold eggs 30 minutes prior to making the batter, placing the egg yolks in one bowl and the egg whites in another. Cover both with plastic wrap and bring to room temperature. This will ensure that the egg whites reach their full volume when beaten, and adding cream of tartar is optional but helpful for increasing volume and stiffness.
In this recipe, superfine sugar is used as it dissolves easily into the batter. To make superfine sugar, simply grind 1 & 1/2 cups (300 gm) of white sugar in a mixie or food processor for about 30 – 60 seconds or until finely ground.
Finally, the batter is baked in an UNGREASED 10-inch TUBE PAN, which allows the batter to cling to the sides of the pan as it bakes. This tube lets the hot air to circulate, ensuring that the heat reaches the center of the cake.
Orange Chiffon Cake 2016-12-02 01:03:13
Orange Chiffon Cake
Serves 10
Prep Time: 00:20
Cook Time: 00:55
Total Time: 01:15
Ingredients
225 grams (2&1/4 cups) sifted cake flour
300 grams superfine white sugar
1 tbsp baking powder
1/2 tsp salt
2 tbsp grated orange zest
6 large eggs
1 additional egg white
1/2 cup (120 ml) vegetable, corn, canola or sunflower oil
3/4 cup (180 ml) freshly squeezed orange juice
1 tsp orange essence
1/2 tsp cream of tartar (optional)
Instructions
Preheat the oven to 325 degrees F (170 degrees C).
Separate the eggs while they are still cold. Then place the egg yolks in one bowl and the whites (along with one extra egg white) in another bowl. Cover and bring them to room temperature. Reserve 50g (1/4 cup ) of superfine sugar in a small bowl for further use.
In the bowl of electric mixer, fitted with the paddle attachment or with a hand mixer, place the flour, superfine sugar (minus 50g), baking powder, salt and orange zest, beat until combined.
Make a well in the center of the flour mixture, add egg yolks, oil, orange juice and orange essence then beat until smooth (about 1 minute).
Scrape down the sides of the bowl and transfer it to another wide bowl, keep it aside.
In the bowl of the electric mixer (clean the same bowl or use the separate bowl), with the whisk attachment, beat the egg whites until foamy on low speed.
Add the cream of tartar (optional) and continue to beat until soft peaks form.
Then gradually add 1/4 cup of the reserved sugar ( one tbsp at once ), beat continuously until stiff peaks form. Switch off the electric mixer.
With the help of wire whisk, gently fold the egg whites (in three additions) into the batter just until blended.
Pour this batter into the UNGREASED 10-inch TUBE PAN, tap it on the table to avoid air bubbles.
Bake it for about 55 to 60 mins or until a wooden skewer inserted in the center of the cake comes out clean.
Immediately after removing the cake from the oven, invert (turn upside down) the tube pan on a plate or a flat surface as to suspend the cake from the counter.
Let the cake cool completely before removing from the pan (about one hour).
To remove the cake from the pan, run a long metal or plastic spatula around the inside of the tube pan and center core.
Then invert onto a greased wire rack and cake should fall right out.
Serve this orange chiffon cake with whipped cream frosting.
By Santhi Therese
The Indian Claypot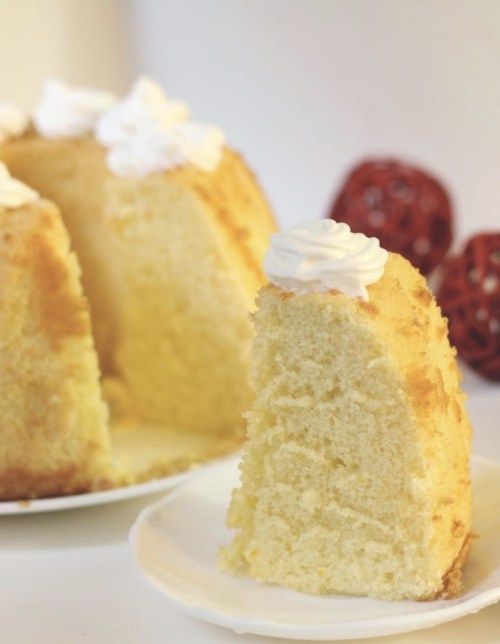 You may also like my other Christmas Cakes posts and recipes like Eggless Hot Cross Buns, Eggless Donut Recipe, Eggless Chocolate Cake Recipe, Eggless Ragi Chocolate Cake, Eggless Rava Cake, Eggless Banana Chocolate Cake, Eggless Strawberry Sauce Cake, Eggless Chocolate Cupcakes, Eggless Strawberry Cake, Eggless Apple Cake, Eggless Carrot Cake, Microwave Chocolate Mug Cakes, Eggless Orange Cake, Eggless Chocolate Marble Cake, Strawberry Streusel Coffee Cake, Christmas Plum Cake, Green Apple Streusel Cake, Meringue Cookies, Strawberry Fruit Fool, Red Velvet Cupcakes with Cream Cheese .