Gulab Jamun with Milk Powder
Delicious and easy-to-make gulab jamun is a must-have dessert for Diwali in India.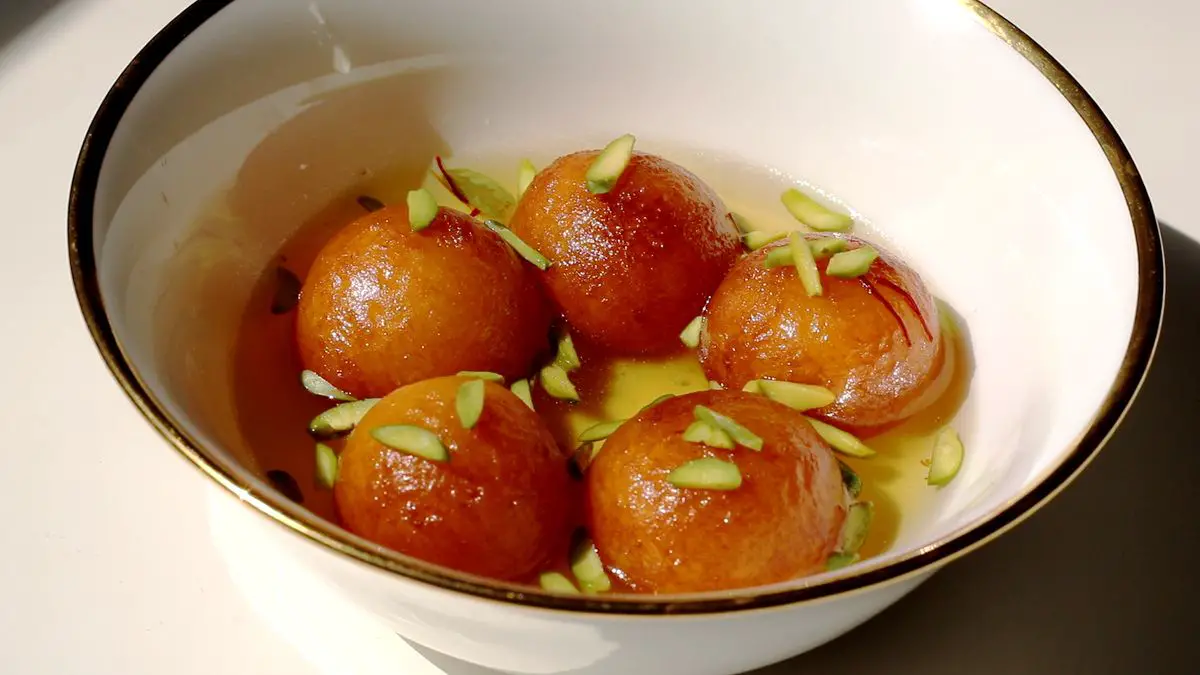 Delicious and easy-to-make gulab jamun is a must-have dessert for Diwali in India. This milk powder-based dessert is perfect for any celebration, and you can make it at home too! If you're a beginner, don't worry! This recipe is quick and easy to follow. Last month, when I went to my hometown, my in-laws asked me how to prepare the homemade gulab jamun. So, let's get started and make this sweet treat for your loved ones. Don't forget to leave your comments below!
Here are some suggestions for making perfect gulab jamun. Firstly, make sure you don't over-mix or knead the dough as it will make the jamuns hard and dense, making it difficult to absorb the sugar syrup. Also, avoid kneading the dough like chapati and add one tsp of milk powder if it's too sticky. Secondly, make the sugar syrup a little sticky, and you can add rose water for flavor instead of cardamom and saffron.
If the oil is too hot, the jamuns will not cook properly, so remove the pan from the heat and let it cool down before frying the jamuns. Lastly, you can also make gulab jamun by using 1 tbsp of ghee and 2 tbsp of milk instead of 1 tsp of ghee and 2 tbsp of yogurt, and both versions taste excellent.
You may also like my other Diwali sweets and savories recipes like Traditional Mysore Pak, Badhusha, Ashoka Halwa, Kasi Halwa, Kalakala,  Milk Halwa, Rava Ladoo, Boondi Ladoo, Pineapple Kesari, Badam Burfi, Carrot Halwa, Pumpkin Halwa, Beetroot Dates Halwa, Badam Kheer, Rasmalai Recipe, Milk Peda, Gulab Jamun, Kalakand, Kesari, Custard Halwa, Sweet Boondi, Kara Boondi, Mixture, Butter Murukku, Thenkuzhal Murukku, Saffron Butter Cookies, Paruppu Vadai, Mixture Recipe and Urad Dal Vadai.
Gulab Jamun - Diwali Sweets 2016-10-08 06:21:27
Gulab Jamun with Milk Powder
Serves 6
Prep Time: 00:05
Cook Time: 00:15
Total Time: 00:20
Ingredients
1/2 cup Full Fat Milk Powder
1 tbsp All Purpose Flour
a pinch Baking Soda
a pinch Salt
1 tsp Ghee (un melted)
2 tbsp Yogurt or Curd
1 tsp Milk
1 cup Sugar
1&1/4 cup Water
a pinch Saffron
1/4 tsp Cardamom Powder
(I used oil) Oil or Ghee for Deep Frying
Instructions
Mix milk powder, all-purpose flour, salt and baking soda in a wide bowl, mix well until combined. Then add ghee and mix well with hand.
Further, add 2 tbsp of yogurt and mix it gently. Don't over mix the dough. So, just mix it and cover the dough with the bowl and keep it aside for 10 minutes while you make the syrup.
Take the sugar and water in a saucepan, bring it to boil, simmer it for 5 to 8 mins, till it gets little sticky. Then add saffron and cardamom powder and mix it well. Remove the pan from the heat, keep it aside.
Heat the oil in a deep kadai or a small pan over medium-low heat.
Add a tsp of milk to the dough and mix gently. Meanwhile, grease your hand with ghee, divide the jamun mixture into 10 portions and shape them into marble sized balls without any crack.
(If any crack appears, add 1 or 2 drops of milk on the surface of the ball, and roll it gently.) Now the oil is ready to fry. Slowly drop the balls one by one and fry them till they become light dark golden brown.
Remove them from the oil and add these fried jamuns in the sugar syrup. The syrup has to be little hot and not boiling hot otherwise the jamuns may crack. If the syrup is not hot, then the jamuns will take more time to absorb the syrup.
Keep the jamuns in the syrup for at least 2 to 3 hours or until the jamuns are doubled in their size by absorbing the sugar syrup. Now tasty gulab jamuns are ready to serve!
By Santhi Therese
The Indian Claypot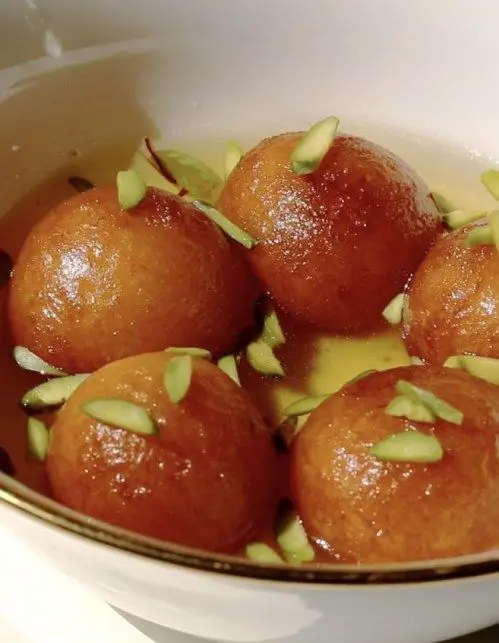 You may also like my other Diwali Sweets posts and recipes like Exploring the Rich Flavors of Popular Indian Sweets and Savouries, Javvarisi Semiya Payasam Recipe, Pasi Paruppu Halwa / Ashoka Halwa, Milk Cake Recipe, Pottukadalai / Fried Gram Murukku Recipe, Mango Sago Dessert, Restaurant Style Rava Kesari Recipe, Badusha Recipe, Kasi Halwa Recipe / White Pumpkin Halwa Recipe, Sweet Shakarpara Recipe / Kalakala / Diamond Biscuit, Moong Dal Murukku, Traditional Mysore Pak Recipe, Baked Chakli/Murukku, Green Gram Payasam/Kheer, Kozhukattai Recipe, Kara Boondi Recipe, Moong Dal Susiyam, South Indian Mixture Recipe, Pepper Kara Sev Recipe, Sweet Boondi .