Chocolate Cake with Ganache
Indulge in Decadent Deliciousness this Valentine's Day with a Rich Chocolate Cake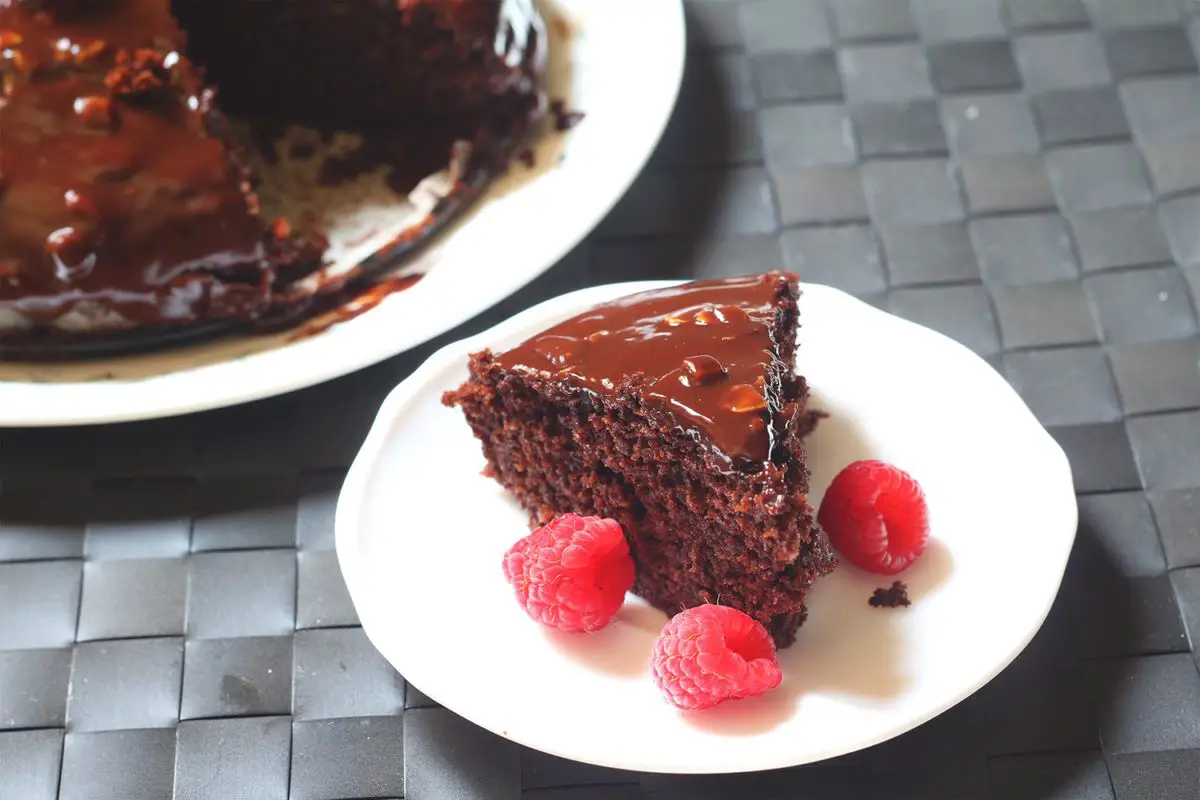 "Indulge in Decadent Deliciousness this Valentine's Day with a Rich Chocolate Cake"
Valentine's day is the perfect time to treat yourself and your loved ones to some indulgent goodness. One classic dessert that never goes out of style is the rich and gooey chocolate cake. It's the perfect way to relax and forget about the world for a moment. So why not give it a try this year and share your thoughts with us!
"Tips for Elevating Your Chocolate Cake Game"
If you're looking to make the perfect chocolate cake, we've got you covered with a few tips. Firstly, use natural unsweetened or Dutch-processed cocoa powder to give your cake an unbeatable flavor and beautiful color.
Secondly, instead of using butter, try using a flavorless oil like sunflower, vegetable, canola, corn, or light olive oil in your recipe. This will make the cake tender and soft, and it will stay that way even when stored in the fridge.
Lastly, if you're not a fan of coffee flavor, you can swap in warm water for the traditional coffee addition. The warm water will allow the chocolate flavor to shine while still giving the cake a nice touch.
You may also like my other Christmas Cake Recipes such as Orange Chiffon Cake, Yogurt Lemon Cake, Coffee Cake, Pineapple Cake, Eggless Sponge Cake, Chocolate Chiffon Cake, Vanilla Cupcakes and Red Velvet Cake.
Chocolate Cake with Ganache
Chocolate Cake with Ganache 2018-02-05 10:17:51
Chocolate Cake with Ganache
Serves 8
Prep Time: 00:20
Cook Time: 00:30
Total Time: 00:50
Ingredients
130 grams all purpose flour
200 grams sugar
3/4 teaspoon baking powder
35 grams unsweetened cocoa powder
3/4 teaspoon baking soda
1/4 teaspoon salt
1 large egg
1/2 cup milk
1/2 cup warm black coffee or water
1/4 cup sunflower oil or any other flavorless oil
3/4 teaspoon vanilla essence
85 grams semi sweet chocolate
90 ml heavy whipping cream
1/2 tablespoon unsalted butter at room temperature
finely chopped almonds (optional)
2 teaspoon grated orange zest (optional)
Instructions
Preheat oven to 350 degree F (180 degrees C, then line the bottom of the 8-inch pan with parchment paper.
In a large bowl whisk together sugar, flour, cocoa powder, baking powder, baking soda and salt until combined.
In another large bowl whisk together the egg, milk, oil, water or coffee and vanilla essence until incorporated.
Add this wet ingredients to the dry ingredients and whisk until combined. The batter should be thin.
Pour the batter into the prepared pan and bake for about 30-35 mins or until a toothpick inserted in the center of the cake comes out clean.
Then remove from the oven and let it cool completely.
Place the chopped chocolate, cream and butter in a heatproof bowl.
Place over a saucepan of simmering water and melt until smooth.
Remove from the heat and let stand at room temperature until it is of pouring consistency.
Place the cooled chocolate cake on a wire rack, and put the wire rack on top of a large baking sheet.
Then pour the ganache over the cake and spread it with a large metal spatula or knife quickly, then push the ganache over the sides of the cake and sprinkle some finely chopped almonds and orange zest on top.
Let stand until the ganache has thickened.
By Santhi Therese
The Indian Claypot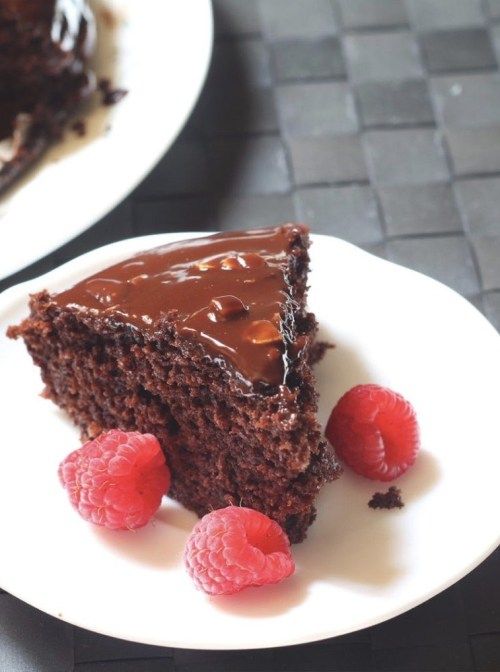 You may also like my other Christmas Cakes posts and recipes like Eggless Hot Cross Buns, Eggless Donut Recipe, Eggless Chocolate Cake Recipe, Eggless Ragi Chocolate Cake, Eggless Rava Cake, Eggless Banana Chocolate Cake, Eggless Strawberry Sauce Cake, Eggless Chocolate Cupcakes, Eggless Strawberry Cake, Eggless Apple Cake, Eggless Carrot Cake, Microwave Chocolate Mug Cakes, Eggless Orange Cake, Eggless Chocolate Marble Cake, Strawberry Streusel Coffee Cake, Christmas Plum Cake, Green Apple Streusel Cake, Meringue Cookies, Strawberry Fruit Fool, Red Velvet Cupcakes with Cream Cheese .