Chicken Clear Soup
Get ready to warm up on a cold winter's day with this delicious and healthy Chicken Clear Soup!
Get ready to warm up on a cold winter's day with this delicious and healthy Chicken Clear Soup! If you're feeling under the weather with a cold or flu, this soup is the perfect home remedy to give your body the nutrients and strength it needs to fight back. The lean protein in chicken and vitamins from the carrots make this soup a powerhouse of nutrients. The beta-carotene found in carrots and onions also helps to boost your immune system, fighting off infection. With the added benefit of ginger julienne, this soup can help relieve throat infections as well. Try out this soup and let me know how it turned out in the comments below!
You may also like my other soup recipes such as Chicken Talumein Soup and Sweet Corn Chicken Soup for non-vegetarians and Mushroom Soup, Pumpkin Soup, Carrot Soup, Beetroot Soup, Cauliflower Soup, Broccoli Soup Creamy Tomato Soup and Spinach Soup.
Chicken Clear Soup 2016-11-25 11:44:26
Chicken Clear Soup
Serves 3
Prep Time: 00:10
Cook Time: 00:15
Total Time: 00:25
Ingredients
500g chicken with bones
1 medium sized onion
1 medium sized carrot
2 garlic pods
1 inch ginger
1/4 tsp of turmeric powder
1 tbsp of olive oil
pepper to taste
salt to taste
2 cups water
fresh lemon juice as per your taste
Ginger julienne
some coriander leaves
Instructions
Firstly, clean chicken pieces well.
Then cut onion in lengthwise and carrot in round.
Finally, chop Garlic and ginger finely.
Meanwhile, heat a sauce pan with oil over medium heat.
When the oil heats, add garlic and ginger and give a quick stir until browned.
Add onion and fry until they become transparent.
Then add carrots, chicken pieces, turmeric powder, pepper powder and salt, saute well for about 2 mins. or until the chicken and carrots are softened.
Pour 2 cups of water and cook it for about 10 mins or until it is fully cooked over low heat.
Then remove the chicken pieces, shred into small pieces and then add these shredded chicken pieces to the soup, cook it for another one minute.
Ladle it in a soup bowl and garnish it with ginger julienne and coriander leaves.
Squeeze some lemon juice while serving. Enjoy!
If you want thick soup, then mix 1 tbsp cornflour in 1/4 cup of cold water and Pour the cornflour mixture in the soup, mix well and cook until it becomes thick.
By Santhi Therese
The Indian Claypot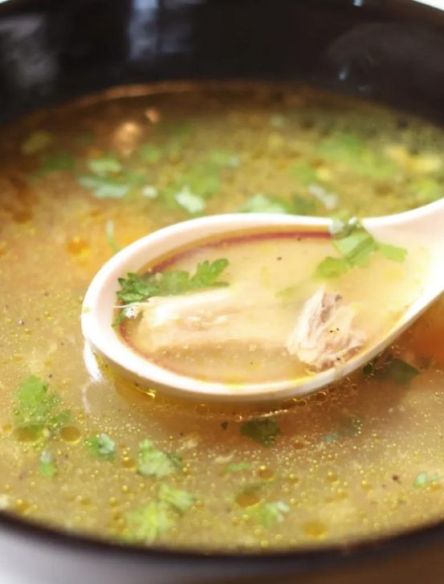 You may also like my other Chicken Recipes posts and recipes like Chicken Varuval, Pallipalayam Chicken Fry, Crispy Chicken Strips, Schezwan Chicken, Penne Pasta with Minced Chicken, Chicken Schezwan Noodles, Chicken Curry Recipe, Chicken Fajitas, Methi Chicken, Chicken Meatball Curry, Healthy Chicken Salad bowl, Green Chili Chicken, Chicken Cutlets, Chicken Hakka Noodles, Sweet and Sour Pineapple Chicken, Butter Chicken Masala, Chicken Alfredo Pasta, Chicken Tacos with Mango Salsa, Sweet Corn Chicken Soup, Grilled Chicken Burger .